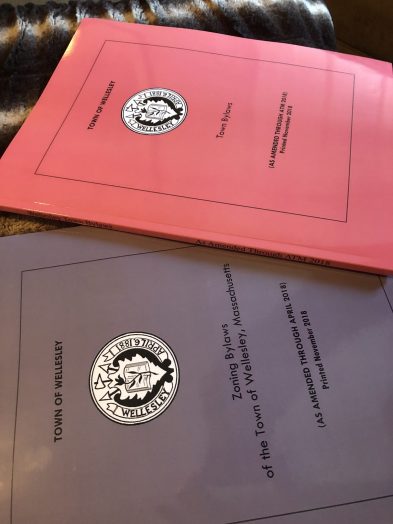 The Wellesley town bylaws might not have made any of 2018's best reads lists, but you could learn a thing or two by scrolling through the online version or by flipping through a hard copy available at town hall:
For instance, did you know that Wellesley appoints a Keeper of the Lockup? That would be Wellesley Police Chief Jack Pilecki.
It costs the same to get a birth, death or marriage certificate: $10. Add your own punchline here _______
Article 49.2A might not be long for this world. It focuses on Printed Matter Vending Machines in Public Ways and Places.
Mutilation of Plants is forbidden under Article 49.8A: "No person shall, without lawful authority, remove, cut, deface, mutilate, or apply paint to any tree, bush, flower or plant growing on land held under the jurisdiction of any Town board."
You're not allowed to use traps, under Article 49.9B. That includes any type of leghold, steel-jaw, Conibear, or padded jaw trap. Yikes.
Keep your clothes on, at least if you're not in a pretty private hot tub. No nude bathing or swimming in any of the lakes, ponds or rivers within the Town. Nope, that never happens.
No pot consumption allowed on town streets, sidewalks, public ways, etc.
Businesses face a $50 fine for their first offense re: the plastic bag ban bylaw.
I was actually a little disappointed not to find any bylaws that seemed too outdated. Did I miss any?
We did not, by the way, find a bylaw that says those providing services to residents are required to charge a Wellesley tax, but we'll keep looking.