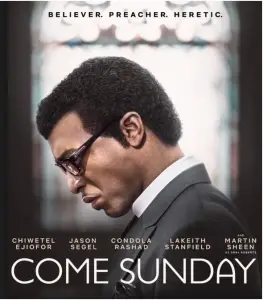 Thursday, January 10 at 7:00pm in the UU Wellesley Chapel, 309 Washington St.
UULC Film: "Come Sunday"
Oscar nominee Chiwetel Ejiofor stars as Bishop Carlton Pearson, a Pentecostal megachurch leader whose 40 year ministry ends when he is branded a heretic for abandoning his belief in hell.  As we explore the Touchstones theme of Grace, this true story speaks to the power of Universalism.  Based on a 2005 episode of This American Life.
UU Wellesley also has monthly LGBTQ Pride movie nights. Here's the schedule.