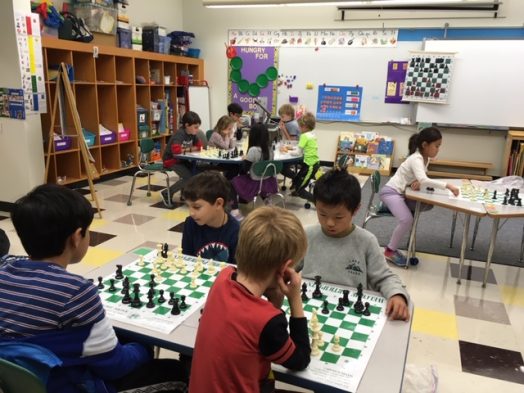 Gyula Kovacs, a special education teaching assistant at Sprague Elementary School in Wellesley, is a walking billboard for the game of chess.
"I do some free advertisement by wearing a chess shirt on Tuesdays at school," says Mr. K, who has been leading a weekly chess club at the school since the Fall of 2016.
Dozens of Wellesley kids, including from other elementary schools in town, are now playing chess after school, at Wellesley Free Library on Sundays, and in tournaments around the state.
Mr. K says that students often have their interest in chess sparked by siblings or friends, and he's glad to see kids engage vs. "real" chess opponents rather than just online ones on sites such as chess.com or chesskid.com.
At Sprague, the school provides a classroom for students to play chess, and there's a bulletin board next to it that highlights kids playing chess and participating in tournaments. A K-3 team won a big trophy 2 years ago, Mr. K says. Wellesley Recreation regularly notifies parents about upcoming chess opportunities for kids, too, he says.
"Dozens of students are able to learn and enjoy the wonderful game of chess every year," Mr. K says.