Here's a round-up of the latest Wellesley, Mass., business news:
Code Ninjas set to have Grand Opening
Code Ninjas will have its Grand Opening on Saturday, January 5, 10am – 2pm in its Linden Square location. The business helps kids crack the codes of coding, math, logic, and problem solving.
Also recently opened nearby is the Verizon Wireless store. The independently owned store can help you out with all manner of mobile devices such as phones and tablets. They don't do in-home services or take back cable boxes or cancel home or business services. But if you need to buy a device, load it up with accessories, or get help with switching your data from phone to phone or other device-related services, they are on it.
Atelier hair salon open for business
Atelier, the new hair salon at 39 Grove St., has opened for business this week over at Hair Square in Wellesley (Grove Street Barber Shop, Barber Walter's, etc.). Good luck to Meghan Andrade and her crew.
Wellesley Roche Bros. kicks in big donation to Food Bank
Roche Bros. partnered with Dietz and Watson to donate $3,500 to the Greater Boston Food Bank.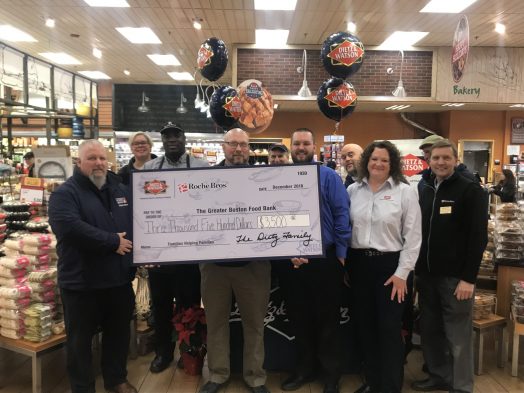 Summer camps registration has begun
But don't panic. And don't be fooled by Busy January Kids who claim they "just want to hang out and chill all summer." Those kids will quickly turn into Summer Bored Kids by the beginning of July. Find out all about summer camps here in Wellesley and beyond on our Summer Camps page.
Babson sophomore pitches coffee device on Shark Tank this week
Tune in to ABC's Shark Tank on Jan. 6 at 9pm and you'll see Babson College sophomore Max Feber pitching his business, BRUW – a mess-free cold
brew coffee device. He started the business when he was 15 years old, and during high school he raised money for the business via Kickstarter. Here's his pitch about BRUW.
Crane & Lion at a crossroads
Crane & Lion, the 4-year-old fitness clothing retailer that recently opened in Wellesley Square, has informed patrons that the business "is at a crossroads." Company Founder John Udelson says Crane & Lion has the business has some good new stuff in the works, but "cannot press 'go'" until it unloads its inventory, of which it has too much. So Crane & Lion is marking everything down by 40%. We've seen this sort marketing approach from other outfits, so it just might work.
Wellesley businesses beware man suspected of hoodwinking cashiers
Natick Police have released a video of a man they say attempted to confuse cashiers at 2 Natick stores by asking for change in such a way that the cashiers would give him more money than he gave them. He got away with it once, but the second cashier wasn't fooled.
Tufts Medical Center expands neurology services to Wellesley
Tufts MC neurologists are now available to see patients at Tufts Medical Center Specialty Center-Wellesley. They join Tufts MC physicians who are already providing specialized services to patients in Wellesley and neighboring communities. Dr. Bryan Ho specializes in movement disorders, including tremor and Parkinson Disease. Dr. Henry Querfurth is an expert in cognitive/behavioral neurology, which includes dementia-related illnesses like Alzheimer Disease. Tufts Medical Center Specialty Center-Wellesley is located in the same medical suite as Tufts Medical Center Primary Care-Wellesley at 65 Walnut Street in Wellesley.
MORE: Wellesley Business Buzz
Want to place a paid blurb in Wellesley Business Buzz? Let us know