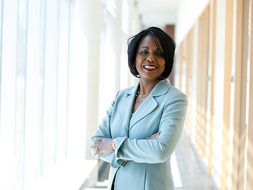 Attorney, author and Brandeis University professor Anita Hill will deliver the commencement address at Wellesley College on Friday, May 31.
Hill, who became nationally known in 1991 when she accused U.S. Supreme Court nominee Clarence Thomas of sexual harassment, has remained a strong voice on civil and women's rights. Hill's published works include her 1997 memoir, Speaking Truth to Power, as well as Reimagining Equality: Stories of Gender, Race and Finding Home, published in 2011. She received this year's Courage Award from PEN America, a literary and human-rights organization.
Last year, Poet Laureate Tracy K. Smith delivered Wellesley College's commencement address.
Subscribe to get Swellesley's daily email newsletter
Here's how to Advertise and/or Donate to support our independent journalism venture