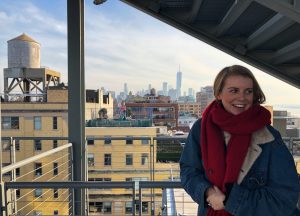 Hello, Swellesley! My name is Lara Smith and I will be interning for the Swellesley Report this summer. I am an upcoming junior at New York University studying Politics and Journalism. I've lived in Wellesley practically my entire life and graduated from Wellesley High School in 2016. I'm so excited to get to know more about my town through this experience and work on both my reporting and writing skills.
As I am studying politics at university, I'm really looking forward to getting to know the local politics of Wellesley in more depth; learning how the system works, who gets involved, and how local legislation is passed. For instance, the town's housing production plan and town elections. In addition, I'm always interested in what is going on in the public schools, how it has changed since I've been there, and Wellesley sports and athletics.
I am personally very passionate about sustainability and am keen to hear about local efforts to make Wellesley greener. For example, local businesses and recycling, and the National Resources Commission and their "Toxin-Free" gardens initiative.
Please reach out to me about any of these topics and more at [email protected]!