Here's a round-up of the latest Wellesley business news.
Want to place a paid blurb in Wellesley Business Buzz or become this regular feature's sponsor? Let us know
Rice Burg opens its doors
Rice Burg, whose food trucks have been serving burgers sandwiched in gluten-free rice cakes everywhere from the Boston Calling music festival at Harvard University to Chinatown, this past weekend had the grand opening in Wellesley Square for its first brick-and-mortar store.
Rice Burg occupies the former Yogurtology space at 552 Washington St, next to Old School Pizzeria. The space had been vacant for 2 years.
The eatery's Asian-focused menu includes rice concoctions of all varieties, with bowls and salads among the offerings. Your burgers can include shaved steak, chicken, and vegetarian options. Yogurtology's frozen yogurt gear was left behind and owner Jessica Shen and her Rice Burg team have taken advantage of that by including frozen yogurt treats as part of its mix.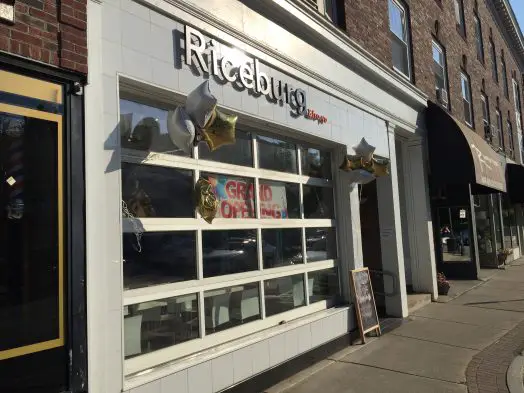 iCode Grand Opening
iCode has announced that it will officially open its doors on June 24. iCode of Wellesley is an after school and summer camp that engages children ages 6 – 18 in a dynamic STEAM learning experience using AGILE. iCode at 73 Central Street in Wellesley Square is set to open in June with summer camps designed to foster an interest in tech and computer science. The company says, "We enrich their educational experiences through an interactive, hands-on approach in coding, design and STEM learning." Kids can get exposure to coding, virtual reality, robotics, drones, game design, and more.
Mark's Pizza & Subs shows sign of new life
Mark's Pizza & Subs, which has been operating in Wellesley since the 1970s, looked like it might be gone for good last summer when its building was torn down. But the restaurant's website included a note that there were plans for a comeback at 10B Washington St., and indeed a new sign is up now indicating that will be the case.
It still looks like there's work to be done on the inside, but we'll pass along the word when Mark's gets closer to re-opening.
Fitness Advantage Boxing headed to Lower Falls
A Boxing-themed workout facility called Fitness Advantage Boxing is readying a gym in Lower Falls on Washington Street where one of the abandoned Zoots shops used to be.
The business, which currently operates in Medfield, offers personal and semi-personal training, as well as train-to-compete boxing classes. it promises a fun fitness environment featuring cardio, speed, agility, power, balance and coordination exercises.
FA Boxing will add to a crowded fitness scene in Wellesley that includes FitClub Wellesley in Lower Falls, the sweat strip through Wellesley Square, plus more fitness options in Linden Square (Pure Barre, Beacon Hill Athletic Club, Studios Fitness & Dance for Women, etc.,) and Wellesley Hills.
Babson launches campaign to raise a kajillion dollars
Babson College, celebrating its 100th anniversary this year, has announced its most audacious fundraising campaign: It wants $300 million and aims to triple the percentage of alumni who make annual donations to the College over the next four years.
Babson says alumni and friends have already committed more than $188 million during the campaign's quiet phase, and the Wellesley-based school boasts that between 2013 and 2018, total commitments have grown from $10.4 million to $67.4 million last year.
The school has certainly been doing stuff with its money in recent years, from introducing the new park this past weekend that houses the Babson Globe to revamping the athletics and recreation center to opening the Weissman Foundry, a maker center.
MassBay touts grant for therapeutics and genomics training center
MassBay Community College has received a $500,000 grant from the Baker-Polito Administration and Massachusetts Life Sciences Center (MLSC) to create a Center for Therapeutics and Genomics Training on the Wellesley Hills campus. This Center will transform the school's current biotechnology laboratories with upgraded equipment to allow for the development of an array of new credit and non-credit courses in areas such as Molecular and Developmental Biology, Gene Therapy, Edible Vaccines, Genomics, Next Generation Sequencing Technologies, and Biomanufacturing. The new Center will also offer new educational opportunities for high school students, as well as create a new model of corporate partnerships that will offer employee-training programs for regional employers.
Want to place a paid blurb in Wellesley Business Buzz or become this regular feature's sponsor? Let us know
More: Past editions of Wellesley Business Buzz