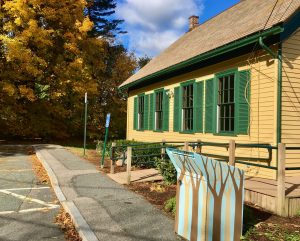 Wellesley's three public libraries — the Wellesley's Hills Branch (210 Washington St.), the Fells Branch (308 Weston Rd.), and the main library (530 Washington St.) — will take part in the 2019 cross-community Minuteman Library Crawl on Thursday, August 1, 10am – 5pm.
Start and end where you want on this self-guided tour of libraries in over 25 area towns. The challenge is to visit as many as you can and take a picture of yourself with a designated item in each library – it's a 21st century scavenger hunt! Post your pics and tag the libraries #mlncrawl2019. Each library will have handouts and giveaways – show your pictures to a librarian (or if you don't have a camera, just tell a librarian you're on the crawl (they're pretty trusting), and receive a prize.
Here are some libraries that jumped out at us:
The Fells Library is participating for the first time since its major renovation. If you haven't been to Fells recently, you haven't been to Fells. Enjoy a photo op at the Entering Wellesley sign that's inside this magical early literacy library.
Chestnut Hill: Annenberg Library, Pine Manor College, 400 Heath St. Chestnut Hill, MA 02467 (10-4pm) will feature The Giving Tree (real tree, not the book!).
Framingham: Christa McAuliffe Branch, 746 Water Street, Framingham MA 01701 will have a popcorn machine.
Medfield Public Library: 468 Main Street, Medfield, MA 02052 has a sculpture made of recycled objects.
Questions? Send them along to emaclennan@minlib.net