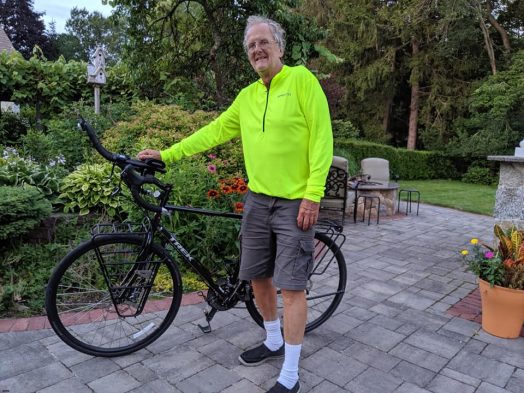 I don't know Reed Smith and Karen Haberly personally, but I know Karen's a regular Swellesley reader and they're one of those couples I recognize and seem to see around Wellesley frequently, maybe on the soccer fields in the past, maybe sitting in front of Brueggers. But neither you nor I will be seeing Reed around for the next 6-8 weeks, since he'll be biking some 3,200 miles from Seattle back to Wellesley.
"He enjoys challenging himself because there's nothing like the feeling of accomplishing a tough challenge," Karen writes. "He's always wanted to walk the Appalachian trail, until he read A Walk in the Woods and realized that there's not much to see anymore with the woods having grown up all around the trail. So it sounded pretty boring. That's when he latched onto cycling as a way to meet these lofty goals."
Two years ago, Reed rode his bike 2,000 miles to Key West. A few months later he turned North from here and rode to the Canadian border at the tip of Maine. Last summer, he cycled to Niagara Falls, up over the Great Lakes, and returned through Vermont.
"He's kind of addicted now," Karen says. "He meets the most interesting people. He gets time alone with his thoughts. He sees amazing things. And yes, he has a wife who supports him on these trips."
How does someone get this much time off for such excursions? Reed has worked hard during his career and has been semi-retired for a few years. While he teaches at MassBay Community College, he has no classes this fall.
While Reed's much more engineer than writer, Karen hopes he'll do some blogging about his adventure, or at least take a daily picture of someone he meets (though she fears it could be more pics of tents drying out and dinners and McDonalds).
We wish Reed good travels, riding and camping in the weeks to come.