Here's a round-up of a few things happening around Wellesley:
Close your eyes, these fireworks aren't for you
A fireworks display will take place this Saturday, July 27 over Lake Waban in Wellesley. The activity is part of a private celebration and has been permitted by the Wellesley Fire Department. The Fire Department is sharing this message in advance to help make residents in the area aware of this event and to prevent concerned calls to Fire dispatch.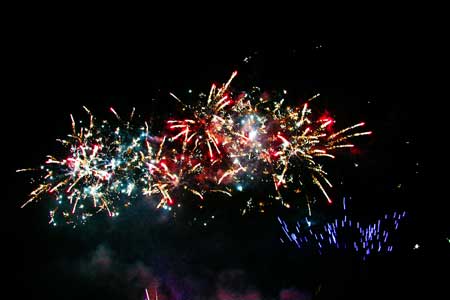 Wellesley gets props from Natick Fire Department
The Wellesley Fire Department is receiving grateful thanks from the Town of Natick. See the story, and pics from Wellesley's own Fire Chief Rick DeLorie. It was quite a scene at the 8-alarm fire that leveled a block of eight businesses in downtown Natick earlier this week.
Things will be a little bumpy on Wellesley roads
Due to maintenance work, on Wednesday, July 24 and Thursday, July 25 there will be no parking from 7pm until 6am on those days on the following roadways: Abbott Street, Church Street, Waban Street, and Weston Road.
Also on Thursday, July 25, 7am – 5pm there will be no parking on the following roads due to paving: Calvin Road, Donizetti Street, Hickory Road, Larch Road.
You can get full information about Wellesley roads projects on the Town website.
Any questions concerning the work should be directed to the Department of Public Works Highway Division at 781‐235‐7600 x3325.
Subscribe to get Swellesley's daily email newsletter
Wellesley parking lots will no longer card you
The Town of Wellesley is phasing out stored value parking cards.
Due to system changes, funds can no longer be added to these cards. Customers who currently use these cards to park in all-day parking lots (commuter and non-commuter) in Wellesley should use up any funds remaining on these cards, or request a refund for the remaining balance.
To receive a refund, please bring cards to the Treasurer's Office, 2nd floor of Wellesley Town Hall and include your contact information. A refund check will be mailed to you.
Other all-day parking options are still available:
Customers may purchase annual parking permits from the Town, or may download the Passport Parking application which allows you to pay for parking on a smart phone.
For all-day parking, vehicles registered in Wellesley receive a discounted resident parking rate. Customers who work in Wellesley should provide a license plate number to the Treasurer's Office to receive the resident rate.
For on-street (metered) parking, customers may use both coins and the Passport Parking application.
Questions? Please contact the Wellesley Parking Clerk.
Make history as a volunteer
The Wellesley Historical Society is looking for a volunteer to assist with their social media. The volunteer would work with staff to research the collection for topics to post on Facebook and Instagram. We would ask for a weekly or bi-weekly commitment during business hours. Email director@wellesleyhistoricalsociety.org if interested.
SUPPORT SWELLESLEY: Here's how to Advertise and/or Donate to support our independent journalism venture