As summer begins to roll to an end, millions of dollars worth of new turf fields are popping up all over town in preparation for the upcoming school year and sports seasons.
Two new Sprague turf fields, part of a $1M makeover, are still being rolled out. The parking lot next to the fields is piled high with bags full of plastic pellets waiting to be spread across the two fields to add buoyancy. The sheer amount of plastic used to make these fields was overwhelming.
New turf fields have also been rolled out at Dana Hall School, getting them closer to completing the Turf Field Project before the school year begins. The fields are part of a $1.8 project undertaken by Dana Hall this summer.
Wellesley College has also invested in a new turf field for its athletics department in the middle of its outdoor track. The field was being painted and is closed until this weekend when Wellesley College teams will begin using the new field for practice.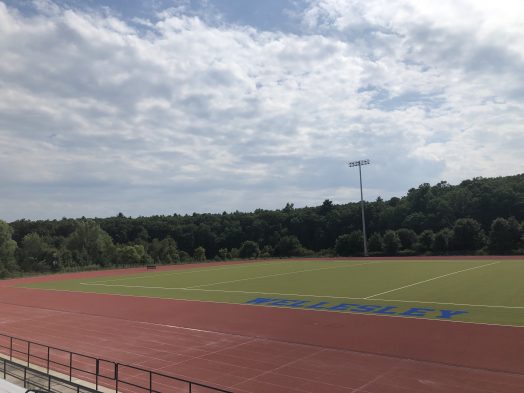 And finally, the new Boston Sports Institute on Rte. 9 has finished the indoor turf field and is almost ready for Wellesley Youth Soccer, Wellesley Youth Lacrosse and the Boston Bolts club soccer team to begin using the field. There is both an upstairs and downstairs section from which fans can watch.
Support Swellesley: We're fielding Advertisements and/or Donations to support our independent journalism venture