The story we broke last week about Wellesley's Old Town Road street signs being stolen has now gone viral. News outlets from local TV broadcasters to the New York Times ("Old Town Road is Real, and People Keep Stealing the Street Signs") to CNN to the Boston Globe have picked up the story.
NECN, the Globe, Boston.com ("There's an Old Town Road in Wellesley. People keep stealing the street sign."), Boston Magazine, MassLive ("Lil Nas X's hit song is leaving one Massachusetts town without its 'Old Town Road' street signs") and the New York Daily News ("People keep stealing the Old Town Road street signs in suburban Boston, officials blame Lil Nas X") are among those we thank for their journalistic ethics and giving us credit. I reached out a a few of these publications via email or Twitter to thank them. One responded: "It is an easy decision."
Others (including at least one usual suspect among local news stations) neglected to do so, either willfully claiming the story for their own or being too far removed from the source to bother.  Plausible deniability strengthens the longer a story stays viral, too, as the original source can get lost in the miasma and it can legitimately be tough to determine the original source. The reality is that shadier news operations will try to get away without giving credit, something they'd be a lot less likely to pull if the original source was a mainstream news entity.
Signs of trouble
We became aware of street signs being damaged or going missing earlier this summer, and had the fact corroborated by a Wellesley resident whose neighborhood has been particularly hard hit. She shared a photo with us of DPW workers in action, installing a new sign. We reached out to the DPW, Police and Town Hall at the end of July to learn more.
It was more than a week before we heard back from the town in a message on which the DPW was copied. I didn't think too much of the delay, knowing that it's peak vacation time and maybe even getting an out-of-office reply or two. Though I also suspected this wasn't necessarily a story the town would be eager to share, not wanting to encourage any more theft or vandalism. A bit of triage might have been in order. We reached out to a couple of police chiefs in other Massachusetts towns with Old Town Roads: 1 never got back, the other said he knew of no such reports.
(Any sign "borrowers" want to come forward? Message us at theswellesleyreport@gmail.com)
When Wellesley did get back to me it supplied great details, including a short list of the more popular targets (including Old Town Road) and specific costs associated with replacing signs. While I've talked to a bunch of people since this story broke that haven't even heard of the Lil Nas X song "Old Town Road," I was quite familiar with its record-breaking stay atop the Billboard charts (hey, I even saw Lil Nas X perform the song live at Boston Calling in May).
I knew right away this would be a hot story. The combination of a popular song and an opportunity to tweak Wellesley would be too much for other media outlets to resist. What's more, you can't roll a wooden hoop through Wellesley without hitting a local TV newscaster or reporter, and those locals love reporting on their town.
I swung by Old Town Road on my way home from work on Aug. 7 to take photos and shoot a short video for Facebook, much to the chagrin of my son, who was with me and hankering for a hamburger Mrs. Swellesley had on the grill (he really started to flip when we made a second pit stop to take a photo of this bike). I then banged out a post when I got home, published it and linked to it on social media platforms.
I took pictures of a few mailboxes or other address markers bearing the words Old Town Road, but decided not to run many of those, hoping not to disrupt residents' lives too much. Not that the owners of these homes (at least one valued on Zillow at $3.5M) probably need to worry too much about their Wellesley Farms home values being affected one way or the other by this media frenzy.
Playing the viral game
We've played the viral story game before, so were ready for what would come. Some past viral posts that come to mind include the Tom Hanks typewriter, Trampoline Man, and David McCullough's You're Not Special speech.
So shortly after we published our Old Town Road post on Aug. 7 I rather too snarkily tweeted: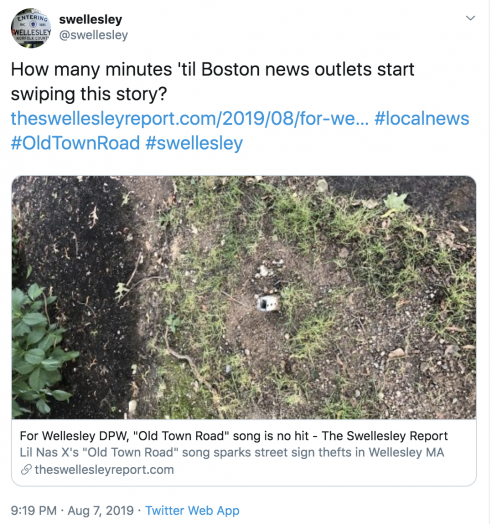 It turned out to be hours rather than minutes, but swarm they did.
Most of the local news outlets did credit us as the source, though at least one oblivious freelance TV reporter didn't despite me reaching out to her to ask if she would do so (sometimes that works, as CNN and others have agreed to cite us in the past when initially overlooking the original source). The story then spread to some of the TV station affiliates in random places, like Richmond and San Diego, that probably don't give a darn about Wellesley.
Some of the local news outlets admittedly advanced the story beyond our initial report. They knocked on some doors. They put some town officials on camera. The local news outlets went wild on social media, begging Lil Nas X and collaborator Billy Ray Cyrus for attention, hoping for retweets or likes to help fuel traffic to their websites (don't think either bit).
On Aug. 9, the town got caught up in the excitement, embraced the publicity, and gushed in a press release that it had become a TV star. That sparked a new wave of stories, and while the town cited us in its press release, most news outlets just started linking to the town website.
Wave after wave
The next wave of story pick-ups came from music and entertainment sites like Vice, Billboard, NME, Stereogum, and Consequence of Sound,  all of which did cite us. All of this has helped to double the traffic on our site over the past week, with the biggest spike coming the day after we broke the story in large part due to the first wave of publications citing us.
Following those posts came more on Aug. 12 from mainstream news sites like CNN and the New York Times. People started messaging us links to these stories, some of which linked to other stories 2 or 3 sources down the chain from us.
Entertainment Weekly and People also got in on the act, as have dozens of publications I'd never heard of (e.g., SB Dirty South Soccer). Most of the stories at this point are regurgitating from the early reports. How much more is there to say?
I ended Monday responding to an inquiry from a Time reporter, who wanted to know what this would mean for the town. I shot back a reply, and so the story continues…
Support Swellesley's original reporting: Here's how to Advertise and/or Donate to support our independent journalism venture