Not to be a summer buzzkill or anything, but Wednesday, August 28 is the the first day of school for all Wellesley Public School kids. Those summer reading books aren't going turn their own pages, so it's time for students to get down to it. Wellesley's teachers and librarians have put long thought into what makes a riveting summer read, the type that will encourage students to cozy up and enjoy the pleasures of a good book. So whether your readers are at home, on summer vacation, or at camp, supply them with a pile of reading material, then stand back and let them do their thing.
Generally, elementary students are encouraged to read at least 30 minutes per day. At the middle school each student must read two books of their choice, and each grade has an assignment attached to those books. At the high school level the assigned book(s) depends on which class the student is taking.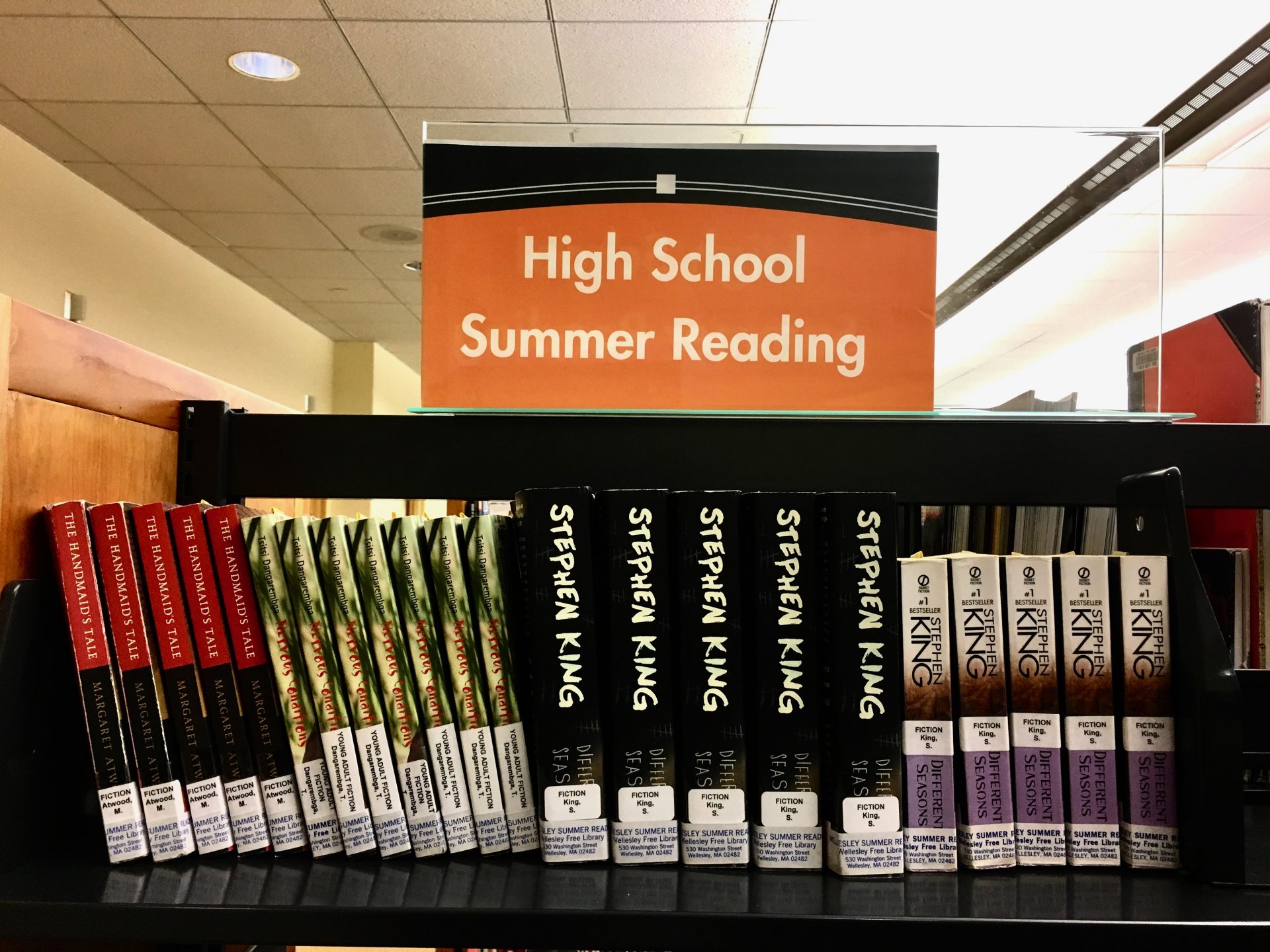 Summer reading, Wellesley elementary schools
Elementary school students are encouraged to keep a list of some of their summer reading titles and to read approximately 30 minutes per day. You can access the entire elementary schools summer reading list here. The titles on the extensive list was put together by a dream team of library teachers representing each of the seven elementary schools in town.
A new Summer Reading Challenge has been rolled out this year. Students are asked to keep track of books they've read such as "a Caldecott award winner" or "an audiobook I listened to."
There's also a "Book Buzz" form that asks six questions about their summer reading (examples:  "The book that surprised me most was…" and "The most unusual place I read was…").
More information on this will be announce by teachers in each individual elementary school.
Summer reading, Wellesley Middle School
There are three WMS summer reading lists, one for entering sixth graders, one for entering seventh graders, and one for entering eighth graders. Each list has an assignment on the final page. The list includes genres such as realistic, historical, graphic, action, adventure, non-fiction, and much more.
Summer reading, Wellesley High School
Wellesley High School students are required to read the text assigned for their specific English course plus one book of their choice. At the start of the year, their English teacher will explain how summer reading will be assessed. In the past, some examples of possible assessments are in-class essays, a Socratic seminar, a test, or a book review. See Guide to Success in English for general active reading strategies. Here's a link to the Wellesley High School summer reading list.
WHS English Department Head John Finneron notes, "If a course has two texts listed as required, a student is not required to also read an additional choice text. This is particularly relevant this summer because we have two courses requiring two specific books. Our purpose with summer reading is to foster a sense of life-long learning and a love of reading, and we strive to make book choices to this end."
Here is the WHS list for most of the individual English classes
9CP, 9ACP, and 10CP – The Poet X, Elizabeth Acevedo
9H – Frankenstein, Mary Shelley AND The Poet X, Elizabeth Acevedo
10ACP –  The Poet X by Elizabeth Acevedo
10H – Behold the Dreamers, Imbolo Mbue AND Cannery Row, John Steinbeck
11CP – American Born Chinese, Gene Luen Yang
11ACP – The Other Wes Moore: One Name, Two Fates, Wes Moore
11H – 1984, George Orwell
12CP – The story "The Body" from the book Different Seasons, Stephen King
12ACP – On Writing, Stephen King
12H – The Namesake, Jhumpa Lahiri
Beyond the Binary – The Handmaid's Tale, Margaret Atwood
DAV – The Autobiography of Malcolm X: As Told to Alex Haley
Evolutions – The Evolutions Primer; (link on Evolutions website)
Senior Creative Writing – On Writing, by Stephen King
World Lit – Nervous Conditions, Tsitsi Dangarembga
Summer reading, Dana Hall
Here are some of the titles the all-girls independent boarding and day school recommends for its upper grade students. You can see the whole list for grades 5 – 12 here.
Diary of a Tokyo Teen: A Japanese-American Girl Travels to the Land of Trendy Fashion, HighTech Toilets, and Maid Cafes, Christine Mari Inzer
Every Day, David Levithan
The Hobbit, J.R.R. Tolkien
I Believe in a Thing Called Love, Maureen Goo
I Know Why the Caged Bird Sings, Maya Angelou
Hidden Figures, Margot Lee
How to Understand Israel in 60 Days or Less, Sarah Glidden
If You Could Be Mine, Sara Farizan
Into Thin Air, Jon Krakauer
Jellicoe Road, Melina Marchetta
East of Eden, John Steinbeck
The Elegance of the Hedgehog, Muriel Barbery
Everything I Never Told You, Celeste Ng
The Fifth Season, N.K. Jemisin
Freakonomics, Steven Levitt and Stephen Dubner