The Wellesley High School senior women went on the road and shut out the Needham Rockets 10-0 in the annual pre-Thanksgiving Day flag football classic.
The Raiders went up 3-0 in the first quarter on an Isabella Turco field goal, and she completed the scoring in the fourth quarter with a long touchdown run. Wellesley put the kibosh on Needham's offense throughout the day with a defense that would have made the stingy Patriots' D envious.
As usual, the Wellesley Police Department coached the Raiders.
Isabella Turco with the walk-off TD run to seal the win for Wellesley 10-0 against Needham HS. Huge crowd on hand today in Needham witnessed a defensive battle between Wellesley and Needham. Congrats to the Wellesley Senior women for a gritty performance today and earning the W! pic.twitter.com/YvG5vMjmoP

— Wellesley Police (@WellesleyPolice) November 27, 2019
The Wellesley and Needham boys' football teams go at it on Thanksgiving morning at Wellesley High for the latest edition of the oldest public high school football rivalry.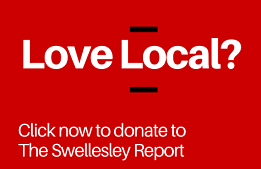 More sports: We're exploring ways to boost our coverage of Wellesley sports during the winter season, but we need your help. If you're a team manager, coach, player or parent, please reach out to us at theswellesleyreport@gmail.com if you'd like to assist.