The Wellesley Kiwanis Club honored Fire Chief Rick DeLorie at the annual Good Scout Breakfast celebration held at the Wellesley College Club. Around 40 attendees showed up for the swell spread of bacon and eggs, muffins, pastries, juice, and coffee. The main draw for the crowd was, of course, to satisfy a burning desire to stand next to Chief DeLorie's fire as he was honored for his contributions to the community.
The Kiwanis Club of Wellesley is the chartering organization for Wellesley Scout Troop 182. First chartered in 1913, Troop 182 is one of the longest, continuously active Scout Troop in the United States. Their yearly breakfast helps fund the philanthropic group's Campership Fund and the Joe Levens Eagle Scout Project Fund. $25 of each $45 breakfast celebration ticket goes directly to those two initiatives.
Gary McCabe, Kiwanis Club member and the troop's charter organization representative said, "The breakfast is to recognize someone in the community who has contributed in many ways. Chief DeLorie exemplifies the Scouting ideals of living with honor."
"I'm honored to be here and say thank you to the Kiwanis for everything," said Chief DeLorie, freshly coiffed from a Shave-Your-Head benefit held last weekend to support a firefighter and colleague who is battling cancer.
Club member Janice Coduri noted that the Kiwanis have been in Wellesley since 1922. "We have 26 members, and are always welcoming to more." The club meets Thursdays at 12:15 at the Wellesley College Club for lunch, social time and great conversation, and sometimes a speaker.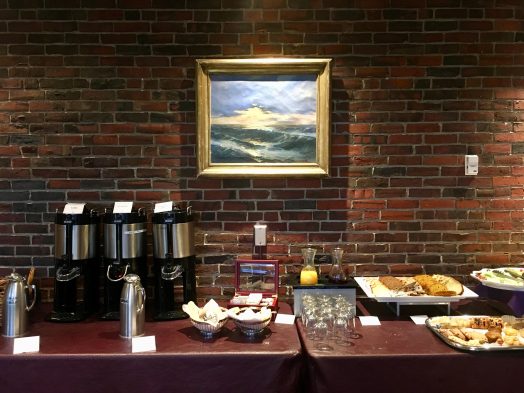 Who was Joe Levens?
Joe Levens, for whom the Eagle Scout Project Fund is named, was involved with Troop 182 as a Scout Leader for over 25 years. Levens, an Eagle Scout himself, lived life the Scout way — with honor and integrity. He devoted much of his his time, energy, and skills to Troop 182. After his death in 2010, the Eagle Scout Project Fund was created. The fund ensures that aspiring Eagle Scouts not lack for capital to see their Eagle Scout Service Project through from initial dream to completion.
MORE:
Get your Christmas wreaths from Scout Troop 182. Here's how.
Wellesley Kiwanis Club and other social clubs