As the holiday season begins, it's a time for feasting, friends and for siblings to review where they rank in terms of family favoritism. Mr. Swellesley has sewn up Golden Child status over his 3 siblings barring an epic meltdown by himself.
And so it appears that the Wellesley Park 40R project, the mixed-used proposal for Wellesley Office Park that would kick off with a 350-unit apartment complex, is the Golden Child of Wellesley housing developments.
Whereas the 40B project proposers that have descended upon the town in recent years have riled up neighbors and had Wellesley town officials squeamishly approving their plans, the Zoning Board of Appeals meetings with the John Hancock Real Estate/Hanover Wellesley reps have been mutual admiration societies. 40Rs generally allow communities more say over projects than 40Bs.
With this project located at an existing office park at the junction of Rte. 9 and Rte. 95, neighbors are not lining up at public meetings to air their concerns. Town Meeting members showed their support for the 40R proposal back in May, and both the Board of Selectmen and Planning Board like the sounds of it.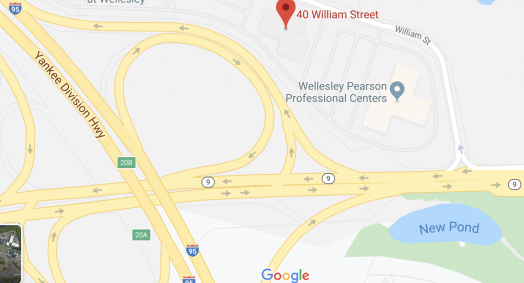 The town, armed with its Housing Production Plan, is giddy that the 350 Wellesley Park apartments would bring Wellesley to the magical 10% affordable housing mark that will enable it to fend off unfriendly developments.
The Nov. 21 ZBA meeting was one of the feel good hits of the year, as developer Hanover Wellesley disclosed its plans to go fully electrified with its apartment complex in an effort to be super sustainable. No gas hookup. Electric heating and cooling, including electric stove tops.
Hanover Company's David Hall opened the Nov. 21 meeting by revealing the project team's sustainability plans. "At the gentle prodding" of Wellesley Selectmen Tom Ulfelder and others in town, "it was suggested to us that we research electrification of the building," he said. While Hall said he didn't even realize this was a thing months ago, and he didn't expect it to pan out, electrification is now the plan, subject to locking in sweet rates from the Wellesley Municipal Light Plant.
As Hall and his business partners humbly bragged more than a few times, this effort involves going "above and beyond the obligations of" their development agreement and doing so "voluntarily," and should help on the way to earning LEED certification.
While the 40R project is moving along, and it's possible the ZBA portion could wrap up in the next month or so, plenty of work remains by the developer, town and state. Among other things, the Massachusetts Department of Transportation will need to issue a permit, as the project will impact traffic. Because the project will be along wetlands and the Charles River, the Massachusetts Environmental Policy Act Office will also likely get involved.
In some ways 40R projects are more streamlined than 40Bs, but there's always potential for delays. If things go extremely well, a building permit could be filed as early as next summer. Still, the project will likely take a couple of years to complete.
A 40R update should be coming soon to a Board of Selectmen meeting.