Early release day  — this one's a trifecta
Every Wednesday is early release day for Wellesley elementary school students. On Wednesday, December 4, the middle school and high school also will turn the kids loose mid-day so that the WMS and WHS teachers may participate in a Professional Day.
---
The Dangers of Vaping panel discussion — Dec. 5th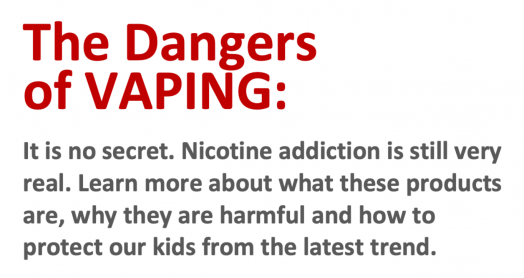 The Wellesley Middle School PTO will be sponsor a panel discussion on the Dangers of Vaping on Thursday, December 5th at 7pm in the Middle School Auditorium.  The guest speaker is Dr. Lester Hartman, Medical Home Director, Westwood-Mansfield Pediatrics.  Mark Ito, WMS Principal and Jaime Chisum, WHS Principal, as well as other WMS and WHS staff, will also be in attendance to discuss the issue.  All are invited and welcome to attend what will be an informative discussion.  For more information, please click here.
---
 Bates author visit — Rob Buyea
Bates Elementary School hosted author Rob Buyea, who read to students and talked about his writing process. Buyea is an best known for his Mr. Terupt series of novels. The E.B. White Read Aloud Award winner is a full-time author who lives with his wife, three daughters, and two dogs in North Andover Massachusetts.
---
Upcoming concerts:
The Winter Band and Orchestra Concert will take place on Tuesday, December 10, 2019, 7pm – 8:30pm at Wellesley High School, Katharine L. Babson Jr. Auditorium at Wellesley High School, 50 Rice Street.
The Wellesley Middle School Jazz Band concert will be held on Wed., Dec. 11, 7pm – 8pm, at Wellesley Middle School, 50 Kingsbury St.
---
Cold-weather recess reminders from the elementary schools
The Wellesley elementary schools would like to remind parents that as a rule of thumb, there will be outdoor arrival and recess unless the temperature drops below 20°F.  Please make sure your student comes to school with boots, hats, socks, mittens or gloves, and possibly snow pants as these items are necessary for outdoor play.
MORE:
Wellesley High School Academic Decathlon team strives to repeat trip to Nationals
Thanksgiving Day football: Wellesley shuts out Needham, game ends in skirmish
Wellesley Connects seeks mentors for first-gen college-bound high schoolers