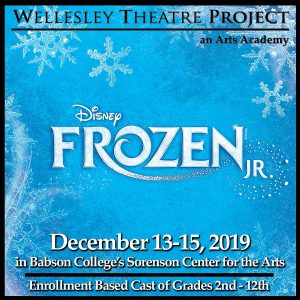 Snow and ice will be here soon as Wellesley Theatre Project (WTP) presents Disney's FROZEN, JR Friday, December 13th at 5pm and 8pm and Saturday, December 14th and Sunday, December 15th at 2pm and 5pm. All performances will take place at the Sorenson Center at Babson College, located at 19 Babson College Drive, Wellesley, MA 02482.  Tickets are priced $15 for adults and $10 for students and seniors, and may be purchased online at http://wellesleytheatreproject.org in advance, or at the door for $18 for adults and $12 for students and seniors.
Based on the 2018 Broadway musical and the 2013 Disney film, Disney's FROZEN, JR brings Elsa, Anna, and the magical land of Arendelle to life, onstage. A story of true love and acceptance between sisters. When faced with danger, Princesses Anna and Elsa discover their hidden potential and the powerful bond of sisterhood. With a cast of beloved characters and loaded with magic, adventure, and plenty of humor, it is sure to thaw even the coldest heart!
Disney's FROZEN, JR features two talented casts, composed of 88 students, between the ages of seven and sixteen. Cast members of Disney's FROZEN, JR reside in Wellesley as well as neighboring communities including Aburndale, Framingham, Medfield, Natick, Needham, Newton, Waban, Wayland, and Weston.
The Disney's FROZEN, JR production staff includes: Ben Rush, Director & Scenic Designer; Jennie McGuinness, Music Director; Christin Rills, Choreographer; Seif Cristobal, Lighting Designer; Brittany Meehan, Costume Designer; and Alexa Lambert, Stage Manager. Music and Lyrics are by Kristen Anderson-Lopez and Robert Lopez, and the book is by Jennifer Lee. FROZEN, JR is based on the Disney film written by Jennifer Lee and directed by Chris Buck and Jennifer Lee, and is produced through special arrangements with Musical Theatre International.
Wellesley Theatre Project is an arts academy and a Wellesley nonprofit devoted to providing students (PreK – 12th Grade) with the opportunity to study and experience theatre and performing arts through year round classes, staged productions, workshops and summer camps.
Registration is now open for WTP's Winter and Spring semester, which includes weekly classes in theatre, acting, musical theatre dance, tap, improvisation, private voice lessons, and musical theatre for students Pre-K through 12th grade. In addition, registration is open for WTP's Winter and Spring productions of Once On This Island, Jr. (Grades 2nd- 12th) and Into The Woods (Audition Only – Grades 7th-12th). Registration is also open for WTP's 2020 Summer Camps. Sessions include three production camps geared for students between 2nd and 12th grade in addition to one week Theatre Arts camps for Pre K- 12th grade. The production camps are: Annie, KIDS! (Grades 2-8), Newsies (Grades 2-12), and Footloose (Grades 8-12).