Our roundup of the latest Wellesley charitable efforts:
Wellesley Fire Department delivers big with Thanksgiving Dinner for seniors
The Wellesley Fire Department and friends, and they have lots of them (Select Board, Council on Aging, regular volunteers, family members, among them) delivered 180 complete Thanksgiving dinners over the weekend to residents over the age of 60.
In addition to delivering meals, the crew also supplied residents with KN95 masks, and WFD rubber jar openers and reusable bags. Wellesley Media broadcast a prerecorded Thanksgiving program featuring firefighters and other special guests.
"An extremely efficient, organized event. Everyone enjoyed the annual dinner," reported Chief Rick DeLorie about the 54th rendition of the WFD Thanksgiving Dinner.
Photos shared by WFD. We'll let you play the guessing game of who is behind all those masks…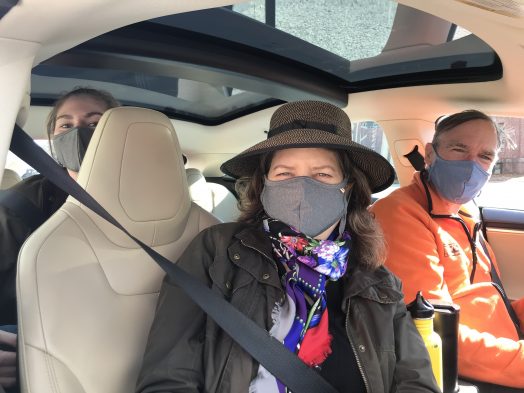 Kids Backing Kids holiday gift drive powering ahead

The
Kids Backing Kids Holiday Gift Drive
is underway and they have 70-plus sponsors supporting more than 150 children for the holidays. This represents a community commitment to buy nearly $20,000 in gifts for children in vulnerable low-income families.
Kids Backing Kids is working with social workers from Wellesley Public Schools, the Health Department, and the Housing Authority.
Volunteers have signed up for gift-wrapping shifts on Saturday, Dec. 5 to package up more than 500 gifts at 330 Washington St. (former Rockland Trust bank site). Haynes Management is donating the space.
The message from Kids Backing Kids: "As kids, we know the excitement of receiving and opening gifts during the holidays. We also know the joy of giving gifts to others—it feels good to make others happy."
More: Wellesley family launches Kids Backing Kids to aid children in need, engage those who can help
Town toy drive extended
The Wellesley Recreation Department and Youth Commission will collect new, unwrapped toys for the holiday throughDecember 5. Drop off toys at the collection bin in the Tailby commuter rail lot.
Haircuts, Ltd. collecting donations for Wellesley Food Pantry
HairCuts, Ltd. in Wellesley Square is collecting donations for the Wellesley Food Pantry throughout the holiday season (until Dec. 20). The salon is accepting donations from the pantry's current wish list to bring each Monday during their donation hours.