Here's a recap of Wellesley's Board of Health meeting from Monday, March 29.
Wellesley Public Schools COVID-19 update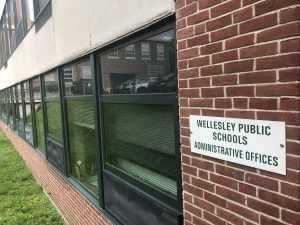 The school system is revving up for its full return in-person classes in April, with elementary, middle, and high schools returning in that order. Some 900 students in grades 3-5 have begun participating in the weekly COVID-19 viral pool testing program, which will continue through the rest of the school year for students and staff, and Supt. Dr. David Lussier was happy to report that for the fifth straight week the COVID-19 dashboard was all green across all indicators. Whispers of grade inflation are sure to follow…
Going in to the weekend about 65% of the staff had at least one vaccination, up from 62% the week before. But the state's dedicated teacher vaccinations started this past weekend, so that means even higher numbers will be known shortly, likely near 70%. An "extremely positive trajectory," Lussier said.
Expect more details on the school return plan, including challenges of scheduling lunch in a safe way at the high school, at Tuesday night's School Committee meeting. One challenge, Lussier said, is that the state is sticking with 6-foot social distancing guidance in general, but now allowing 3-foot distances between individuals in schools, creating potential for confusion.
One upcoming concern is how travel during school vacation in April could affect infection rates among the WPS community now that the state Travel Order has been relaxed to a guide.
One more immediate worry for the board was a newspaper photo of the Wellesley High football team, largely unmasked, celebrating its recent victory over rival Needham. Board of Health member Linda Oliver Grape, noting that the board has given school sports the go-ahead recently, asked that the WPS athletic director reemphasize to all teams the importance of completely adhering to COVID-19 protocols, especially given the greater preponderance of infections these days among those age 29 and below. Lussier said Athletic Director John Brown and Wellesley High Principal Dr. Jamie Chisum have reinforced the importance of following the health rules to students.
Something that surprised Director of Community and Public Health Lenny Izzo in a recent call with the Massachusetts Department of Public Health was that the bulk of COVID-19 transmission related to sports of late has been through games and practices, not outside activities involving participants.
Another topic on the WPS radar is prom, which as Lussier has pointed out, is typically not a bastion of social distancing. State guidance is expected within the next few weeks.
Discouraging numbers
COVID-19 cases have been on the upswing statewide, and the same is true in Wellesley.  Ann Marie McCauley, the town's public health nurse supervisor, says the town has been seeing about 5 new cases a day over the past, with 13 more over the weekend. Many of those infected have had only mild symptoms. Anecdotally, she's been seeing groups of kids in town close together and maskless. "I don't know if they're just sick of it…I don't know what to say," she said.
At the same time, the Health Department has seen an increase in requests for private indoor and outdoor events in light of COVID-19 restrictions lessening.
On the vaccine front, the local health department is getting vaccines for second doses at senior housing, and that's it based on current state distribution plans.
Board Chair Shep Cohen, finishing a report based on a recent mental health forum, said one goal of the department may be to seek additional funding for social service workers heading into the summer. External therapists are hard to come by for community members, he said. Senior Community Social Worker Joyce Saret reported that her team will be keeping in close contact with school health officials as students return to in-person classes and possible mental health issues can be better assessed.
Looking ahead to summer, the Board of Health meets with the Recreation Department next week to discuss Morses Pond plans.
Wellesley's Wonderful Weekend: Fall edition
Select Board member Beth Sullivan Woods says Wellesley's Wonderful weekend, which had already been scrapped for May, has been slated for the weekend of Oct. 3. That will be followed a week later by the Boston Marathon, which has been moved from its usual April date.
---