The latest Wellesley, Mass., town news:
Holiday & summer hours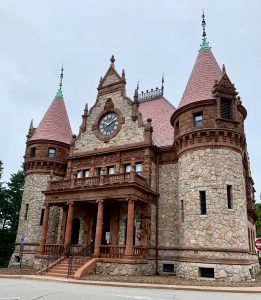 Wellesley Town Hall has begun summer hours, which means the building is open 8am-5pm Monday-Thursday. Some departments close earlier, so check department web pages to be sure. On Fridays from July 2 through Sept. 3, Town Hall closes at noon.
For this July 4 holiday weekend, town buildings and departments are closed on Monday, July 5. The RDF is closed both July 4 and 5.
Lawyering up
The town discussed at this week's Select Board meeting (about 5 minutes into the Wellesley Media recording) its year-end transfers, aka, tidying up finances by moving money from places it wasn't needed to places that ran over budget. One bigger than usual expense this past fiscal year was for legal fees (overall around half a million dollars), fueled in part by COVID-19-related issues ranging from negotiations with the teacher's union to various issues surrounding testing and vaccines. CARES Act funding covered some but not all costs.
$15oK is needed to cover legal expenses that also include litigation regarding the 40B projects at Stearns Road and 680 Worcester St., and related to licensing around the 40R project at Wellesley Office Park, for negotiations with Verizon, and associated with the North 40 property. An additional appropriation should be anticipated in the fall at Special Town Meeting, too.
A continued increase in public records requests have also added to legal costs, said Wellesley Executive Director Meghan Jop. Some of these requests have been pretty sophisticated, including from national outfits, with redactions in documents required for privacy purposes when school documents are involved.
Researching community's political priorities
Wellesley resident Elise Smith is working with the Alliance for Citizen Engagement, a non-profit, non-partisan organization that aims to increase civic engagement through research and outreach. This summer, Elise is conducting research about the political priorities of the Wellesley community, and what local government policies could be implemented to best address those priorities. In order to do this, a critical mass of Wellesley residents need to fill out the 'Political Priorities Worksheet' that ACE has developed. Make your voice and priorities heard by filling out this worksheet. The results of this first stage will be used to inform the rest of the project, including finding solutions to the problems identified by the community and addressing the priorities of Wellesley residents. Thank you!
Link to worksheet: https://ace-usa.org/political-priorities-worksheet/
QR Code:

Link to learn more about ACE: https://ace-usa.org/about/
COVID-19 Relief Fund wraps up
The Community Fund for Wellesley's COVID-19 Relief Fund wraps up with a grant to support teen summer jobs administered by the Wellesley Youth Commission, which is working with the town's Recreation Department. Jobs include camp counselors, mobile movie staff, and more.
Overall, the fund has issued grants worth $125K during the pandemic.
---
Support Swellesley's independent journalism efforts by contributing or advertising.