The increased popularity of pickleball in Wellesley has prompted various town bodies (Recreation, Natural Resources Commission, School Committee) to respond by making more court time available indoors and by carving out places to play on existing outdoor sports courts, such as at Sprague Fields and Perrin Park.
The rise of pickleball has presented territorial challenges, as the pickleball players share space previously used only for tennis or basketball, and the town has attempted to manage this situation by using an online reservation system.
The latest pickleball issue to get the Recreation Commission's attention is the noise generated by the hard plastic balls smacking against the paddles, in addition to the players' voices.
Neighbors of the pickleball courts at the Sprague Fields brought their concerns to the Wellesley Recreation Commission at its Oct. 13 meeting (about 4 minutes into the Wellesley Media recording). Neighbor John Maccini described the pickleball noise as being "very loud, it's annoying, it's intrusive, I can hear it in every room in my house. I'm sitting out on my new porch trying to read something and I really can't concentrate." He surveyed neighbors, including those the nearby townhouses, and found that the noise is also bothering them. "I don't think anybody on those boards [Recreation, School Committee] had any idea how noisy pickleball is," he said, adding his wish that the pickleball courts be moved to the Hunnewell tennis courts along Washington Street.
Recreation Commission Chair Paul Cramer said during the meeting the Wellesley High Athletic Department is against converting any Hunnewell courts for pickleball use, though notes this could be revisited.
Maccini also questioned why the pickleball courts were marked off on the southerly end of the courts area, closest to the homes, again suggesting that town bodies hadn't really considered the potential for noise.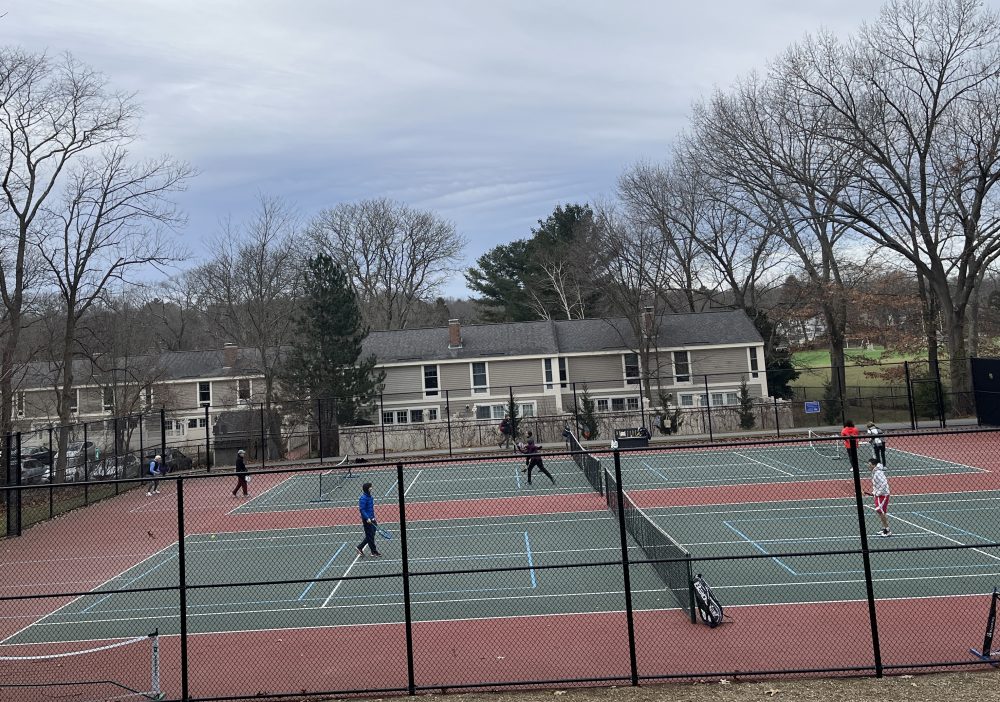 While this is yet another case where observers have said "You live near X, you should expect noise, traffic, or whatever," it's also true that pickleball has only emerged in recent years, long after some residents moved in. Some Sprague Fields neighbors feel under siege of late, with plans for a lacrosse rebound wall also generating opposition (though proponents claim the noise from this will be surprisingly unobtrusive).
The Recreation Commission picked up the pickleball noise issue at its Nov. 29 meeting (just before the 26-minute mark of the Wellesley Media recording) and said part of its response could involve restricting playing times, including using its online reservation system to make Sprague courts available only after others are filled.
But it also discussed possible use of a noise mitigation panels that could be hung from the fencing around a section of the courts. This has been used in Burlington, Mass., where the Recreation & Parks department told Cramer the noise abatement effort has worked pretty well. According to the vendor, the noise protection would work better for those on the same level as the courts as opposed to those uphill from them. The panels could cost tens of thousands of dollars.
"It does seem that pickleball in some way is here to stay," said Cramer, suggesting longer-term plans should be developed. This could involve finding a spot for dedicated courts away from homes and maybe even exploring covered courts.
Recreation Director Matt Chin suggested another public hearing on this issue is likely to get input from neighbors and pickleball players.
Separately, Department of Public Works Director Dave Cohen mentioned during the Board of Public Works meeting on Dec. 13 that it is deferring by a year work to resurface the Hunnewell tennis courts as part of budget planning (in in light of rising costs to do the job). Related to that, Cohen said there has been discussion to repurpose the practice wall at the Hunnewell tennis courts as a separate pickleball court, but that no final decision had been made on this.
Here, by the way, is what Weston has planned on the pickleball court front.
---
Enjoy reading Swellesley? Please consider supporting us with a contribution.