By contributing reporter Deed Mccollum
World of Wellesley (WOW), in partnership with The League of Women Voters, Wellesley College, and Wellesley Books, hosted a book discussion with award-winning journalist and author Ari Berman about his book, Give Us The Ballot: The Modern Struggle for Voting Rights in America.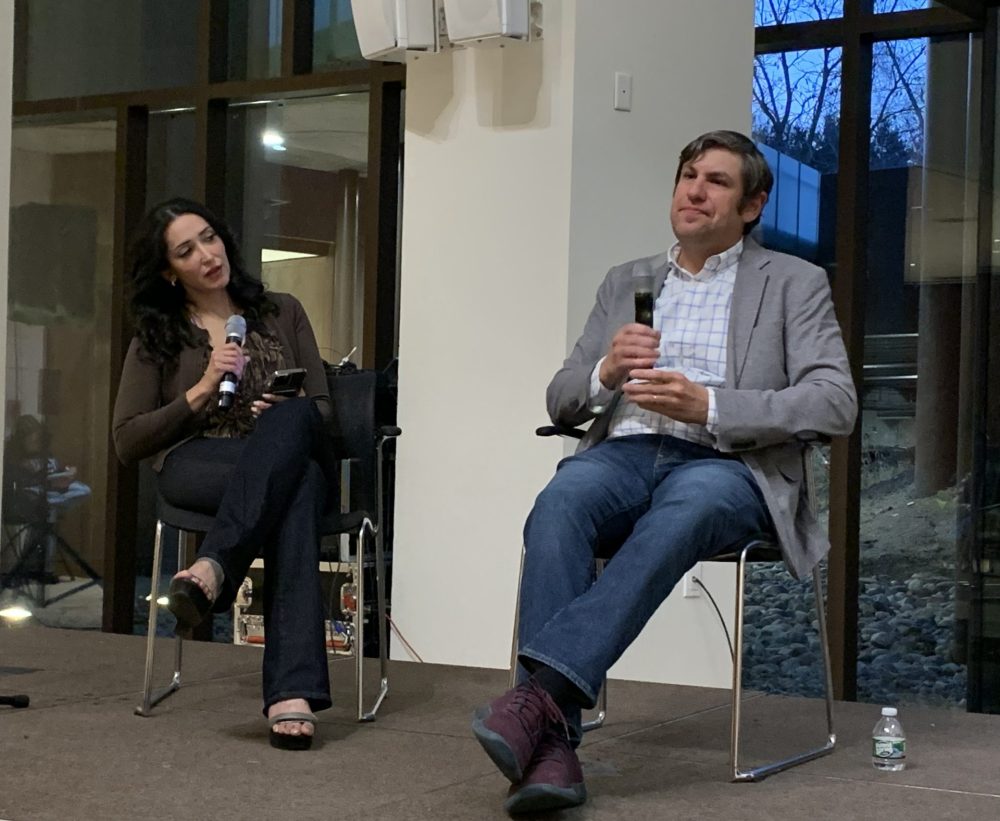 Following a short presentation, a diverse group of attendees engaged in a lively discussion about why the right to vote is still under debate; voter suppression; the history of voting rights; and more. Students in the audience asked questions about lowering the voting age to sixteen and discussed taking civics classes in the Wellesley Public Schools. Post- discussion comments included, "I learned so much I didn't know, even though I lived through the times when the voting rights act was newly enacted," and, "As a college student, it was super interesting to hear about voter suppression and how states and the federal government deal with this issue—I understand how the vote works so much better after today!"
Mr. Berman signed copies of his book and connected with members of the community after the event. WOW co-president, Rama K. Ramaswamy said, "Many who are eligible to vote take voting rights for granted. Although voting is our most fundamental constitutional right, it's also a privilege."
Since 2008, many states have passed measures to make it harder for Americans (BIPOC, elderly, students, non-English speaking citizens, and people with disabilities) to exercise this constitutional right to cast a ballot. In keeping with WOW's mission to foster and further equity, this important topic and discussion provided the opportunity for reflection on the importance of civic engagement. The World of Wellesley is a bipartisan, charitable, non-profit that provides community-driven, educational programming.
More authors coming to Wellesley
March 26, 2pm
Location: Wellesley Free Library
Author: Massachusetts resident Sue Bell, in collaboration with Civil War historian William C. Davis
Book: A Confederate Love Affair: Letters Between a General and His Outspoken Wife
---
March 30, 7pm
Location: Wellesley Free Library
Author: Wellesley resident Cynthia Wight Rossano
Book: Junkets with Julia: Cheery Memories of Julia Child, is illustrated by Mark Steele, and pays a small tribute to the author's friend of many years, Julia Child, the renowned 'French Chef,' who was arguably the most famous cook of her time throughout the culinary world.
---
April 1, 2pm
Location: Wellesley Books.
Authors: Cynthia Coddington (a Wellesley resident) and Josephine Hoppe
Cookbook:  Senza Glutine: Timeless Italian Dishes for the Gluten Free Palate
This is a ticketed event.
---
April 2, 2pm
Location: Wellesley Free Library
Author: Eric Jay Dolin
Book: Rebels At Sea
Maritime historian Eric Jay Dolin will discuss his latest book, Rebels at Sea, which focuses attention on the often- overlooked role of American privateers in winning the American Revolution. Not surprisingly in light of our maritime traditions, many of these privateers were based right here in New England.
---
April 3, 7pm
Location: Wellesley Books
Event: Poetry Night with poets DeWitt Henry, Caitlin Krause, and Adam Scheffler
Free event
---
April 4, 7pm
Location: Wellesley Free Library
Author: Sena Desai Gopal
Book: The 86th Village
Free event
Novelist, Sena Desai Gopal, will talk about the story behind the story of her book, The 86th Village. 
"I grew up in a village in Southern India whose days are numbered—in my lifetime it will drown in the backwaters of one of India's biggest, most ambitious dams, The Upper Krishna Project. One hundred and seventy-six villages will go underwater, and more than 123,000 families will be displaced. The government does not have a concrete rehabilitation plan for the people who will be left homeless and without livelihoods," Gopal says of the country's Managed Retreat program.
---
April 12, 7pm
Location: Wellesley Books
Authors: Marjorie Agosin & Susan Meyer (Meyer is an English professor at Wellesley College)
In conversation with: Celeste Kostopulos-Cooperman
Event topic: Writing Memory
Free event
---
Please support our independent journalism venture