The latest Wellesley, Mass., business news:
La Toscana's, Express Gourmet to serve alcohol
The Wellesley Select Board approved licenses that will allow La Toscana's in Wellesley Square and Express Gourmet in Lower Falls (11 River St.) to serve alcohol. Both benefit from the town's updated alcohol licensing rules that let smaller restaurants in on the revenue booster.
It sounds as though La Toscana's might be ready to roll by the time the Boston Marathon streams through town in mid-April. The business secured an all-alcohol license to give patrons more choices to pair with their pizza, salads, or lasagna.
Express Gourmet plans to continue offering its counter lunch service, but later in the day will switch over to a seated dining service with beer and wine options. Fenced-in outdoor seating is part of the plan as well.
Owner David Van Tassell says the restaurant is probably a couple of months away from the expanded menu. Hiring a staff is the biggest challenge ahead, he said.
There's potential for more new or existing businesses to secure alcohol licenses. Nine all-alcohol and 3 beer/wine licenses remain available.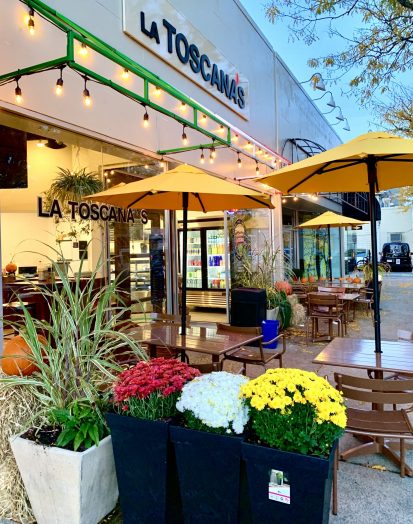 Where the town banks (not SVB!)
The dramatic images of people lined up at Wellesley's SVB branch in the wake of that institution's collapse got people wondering: Uh, so where does the actual Town of Wellesley bank?
Town Treasurer Maura O'Connor addressed that question during the March 13 Select Board meeting.
"Our banking situation is very secure," O'Connor said. None of the town's "investments are at risk or with any of the banks that are in the news recently."
Safety, liquidity, and yield, in that order, are the treasurer's priorities, O'Connor said.
Of course you can't throw a nickel around here without hitting a bank, and the town has diversified its funds among many institutions. Among those that the town uses are:
Rockland Trust, including trust, scholarship, and stabilization funds, as well as money market and vendor payable accounts
TD Bank, where Wellesley has a depository account ("all the money we collect in the office on a daily basis"), as well as payroll and credit card accounts
Eastern Bank, which holds funds that go into the town's lockbox for utilities, real estate taxes, etc., plus a credit card account for school, recreation, and other programs
Bank of America, also for utility and real estate payments as well as parking revenue
UBS, which is used for large investments—treasuries—backed by the federal government
PRIM, the Massachusetts Pension Reserves Investment Management fund
Mass Depository Trust Account, including general and short-term bond accounts
---