The plea came from a Wellesley Gardeners' Guild member. She needed help committing herbicide.
"Dear gardeners and anyone with opposable thumbs," began the email. "As many of you might already know, garlic mustard is a very bad bunny. Even bunnies don't like it much…we have the equivalent of a flowering forest fire of it in our yards, woodlands and public spaces. Please heed the call and haul it out!"
I was one of almost 100 garden club members cc'd on this formal summons to war. Actives, sustainers—all were called to action, and encouraged to recruit friends and family. It was time to stop a weed determined to eradicate native beauties such as woodland phlox, Solomon's seal, trillium, Jack-in-the-pulpit, and trout lily. I've seen every one of those lovelies in Welleslsey's open spaces including Fuller Brook Park, Centennial Park, the North 40, and Boulder Brook. I've also seen plenty of garlic mustard in those places, lurking about, gaining in strength and numbers as it goes unchecked. Don't let those little white flowers and heart-shaped leaves fool you. One garlic mustard plant can produce hundreds of seeds that spread with the wind, off to colonize another patch of unsuspecting ground. Garlic mustard is non-native, highly invasive, and going for broke.
What the town is doing
The town knows all about the situation, and in fact the Natural Resources Commission has garlic mustard on its list of Wellesley's Least Wanted Invasive Plants. (Not making this up. The NRC really does have such a hit-list.) To those who take a live-and-let-live approach to flora management, breezily claiming that a weed is just any plant growing where we don't want it to, well, that's part of the story. But then there is a subset of weeds known as "invasive species." The NRC says such plants are aggressive and "spread unchecked into undisturbed land, upsetting the balance of native species and changing the ecosystem."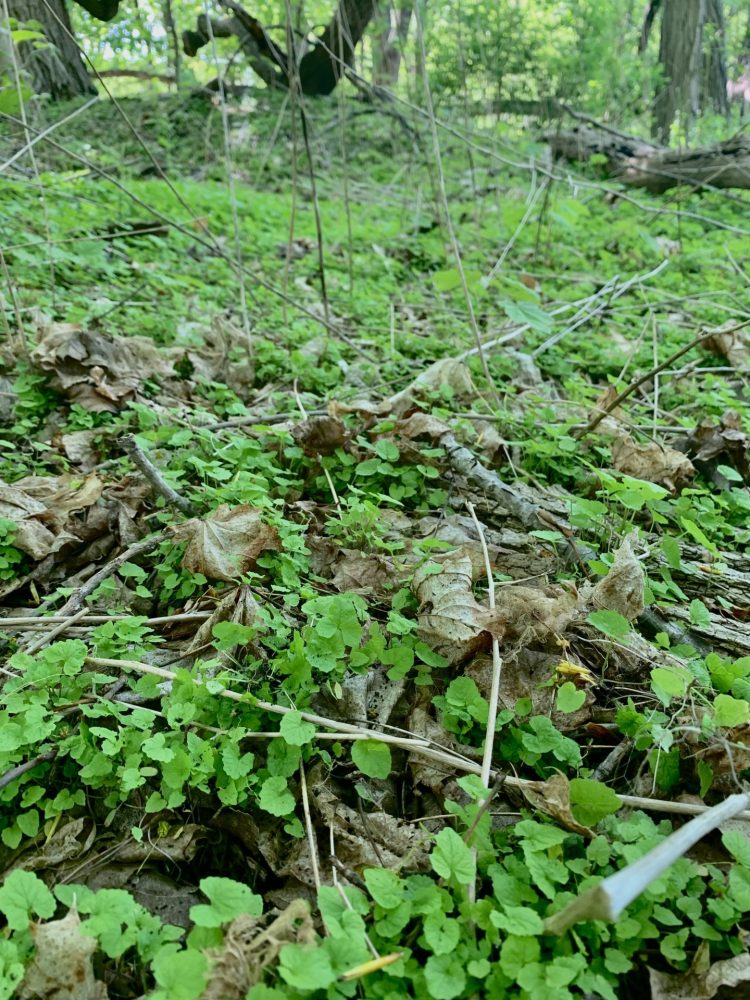 Once you see garlic mustard for the bully it is, you can't un-see it. Changing the ecosystem is exactly what the noxious plant does, in an insidious way. First, it emerges before other woodland plants in the spring, all the better to welcome them into a living hell of soil disruption and intimidation techniques such as dominance. Garlic mustard sidles up to native plants. Then it takes over their space and crowds then out. Once a patch is established, the roots of garlic mustard secrete chemicals that inhibit germination and growth of native species.
Our neighborhood nearly lost a gorgeous stand of hundreds of woodland phlox to the onward march of garlic mustard. When the woods lost several trees to Hurricane Irene in 2011, within a couple of years something lovely happened. The felled trees made way for increased sunlight, which encouraged the spread of a few phlox that had maintained a small, long-established colony in the dappled sun near the wood's edge. Drawn by the sunshine, the patch migrated and became so striking within another two years that passers-by would stop to take pictures. But by 2016, garlic mustard had gotten wind of the situation, and moved in. Trouble was, I didn't know garlic mustard was a menace. With its delicate white flowers woven through the tapestry of light pink and white phlox, the newcomer looked like another wildflower to me. So I welcomed it. Big mistake. By the time I wised up, it was almost too late. One sad spring, phlox blooms were down by more than half. Those that managed to soldier on were outnumbered by garlic mustard, 100-to-one, easily. It all happened so fast.
But I move fast too, when I have to. Like most bullies, garlic mustard folds when confronted. On the plus side, the plant is easy to pull. Just yank it from the base, and the tap root come right out. Today the phlox is back to its former glory, a process that has taken years. My garlic mustard pulling will probably never be done, but it's worth it. Although garlic mustard is easiest to pull up after a rain, this is not the best time to get rid of garlic mustard. Now is. Don't wait for the perfect conditions, just get out there and do it.
Call to action
It's up to Wellesley residents to do this job, because the town just doesn't have the resources or the staffing to do it. The Park & Tree Division has 15 full-time employees performing maintenance on trees, landscapes, and hardscapes across 900+ acres of  athletic fields, parkland, conservation land, ponds, and 70+ traffic islands in town.  Primarily a maintenance division, Park & Tree also takes on some projects working on lands owned by the NRC, Schools, the Select Board, the Water Division, Recreation, Libraries, Police, Mass Highway, and DPW.
"We don't have an effective weapon other than the chemical Glyphosate which is not organic and thus not used on public lands here in Wellesley," Cricket Vlass, Landscape Planner for the town said. "Just know, waging war is laudable but likely not winnable."
Not winnable? That sounds like a challenge. We have not yet begun to fight. I saved the phlox by pulling out 100 garlic mustard plants several times per week. Let's call this the "brighten the corner where you are" approach to garlic mustard management. Or as my mom used to say, "Look around, see what needs to be done, and do it."
Think of your outdoor Wellesley happy place. Now get out there and save it. Pull up 100 garlic mustard plants, bag them, and throw them in the trash (never in the RDF yard waste area or in your own backyard composting operation). Do this several times per week, and your happy place will thank you. This will take years. Maybe for as long as you live in Wellesley. Don't ever give up.
"We hope that homeowners will join us in the battle against these marauders," Vlass said. "We can't do it alone."
Wellesley Middle School students vs. garlic mustard
Earlier this month during a community service day, many Wellesley 8th graders helped remove massive amounts of the invasive  to help prepare for the Simons Park Lawn Conversion or Lawn "Habit to Habitat" Project. The Natural Resources Commission has reimagined the area adjacent to the main library and is converting resource-dependent conventional lawn into a thriving, ecologically functional landscape that supports native at-risk pollinator species. More here on the project, which is in its second year.
---