In our wanderings around town lately we've met some interesting people and seen some pretty sights. Matthew Dickey, behind the popular Instagram account Streetscape Curator (40k followers), was the featured speaker at a Mass Hort event last weekend. The Dorchester resident travels all over Massachusetts (and beyond), seeking out interesting homes and buildings, and telling their stories through crisp, beautiful pictures and meticulous research. During his talk at Elm Bank Reservation about the historic Manor House, Dickey told the crowd that the home was built for Alice Cheney Baltzell. Alice was the daughter of Benjamin Pierce Cheney, who founded what would become American Express.
Mass Hort just scored a $600K grant from the State to shore up the 100+ year old 40k sq. ft. building.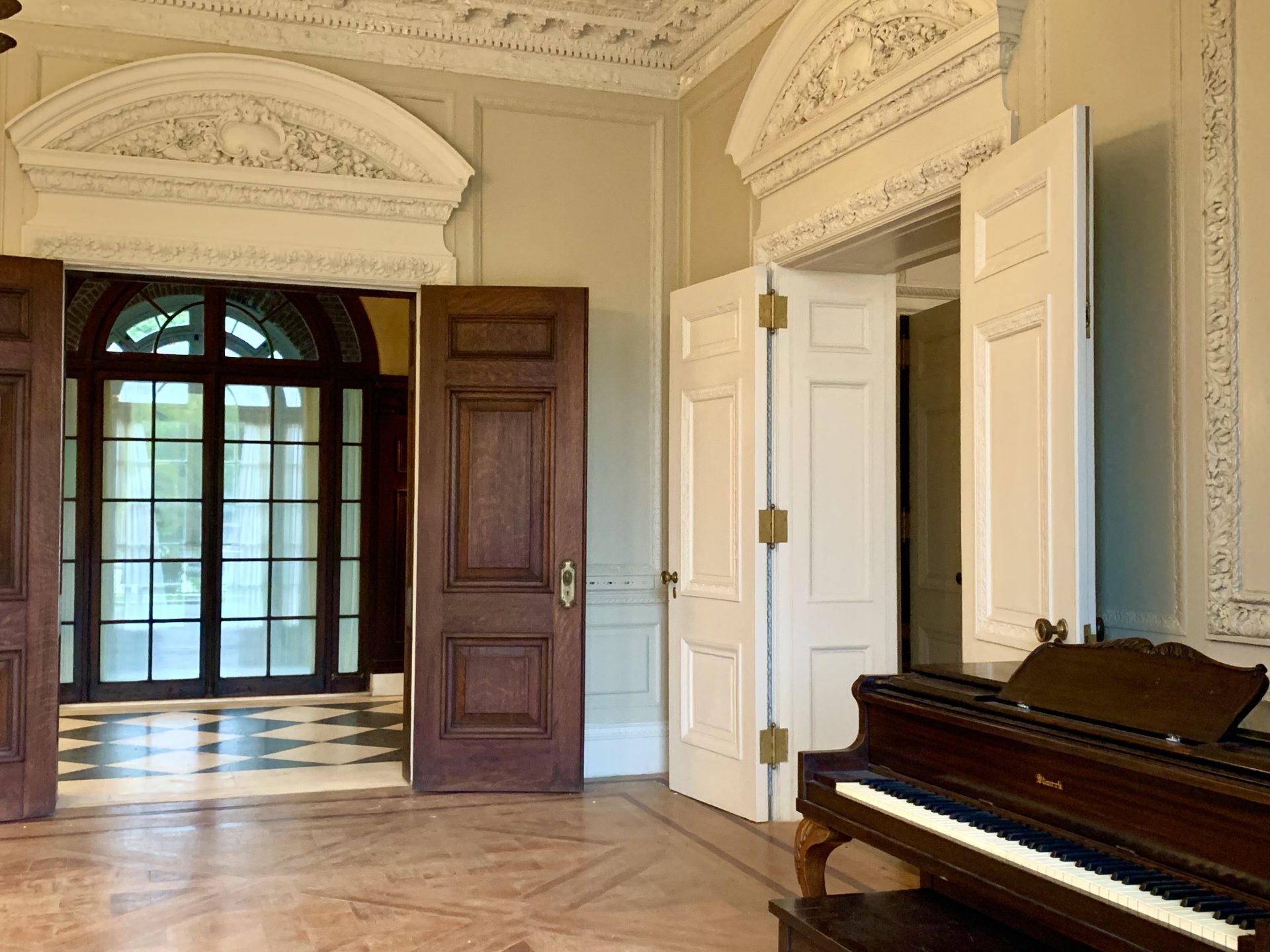 ---
Feeding Frenzy at Wellesley Village Church
It's been a long-standing yearly tradition at Wellesley Village Church for parishioners to don hair nets and plastic gloves, join the assembly line, and put together healthy, non-perishable meals to benefit food pantry clients across the region. In partnership with End Hunger NE, over 100 church volunteers worked last Sunday toward providing food to families and individuals facing food insecurity. With inflation bumping up the cost of food by 9.9% in 2022, according to the US Department of Agriculture, the need for food assistance is only growing.
If you'd like to volunteer to package meals at the End Hunger NE warehouse (203 Oak Street, Pembroke, MA, awning #7) just sign up for a time. It's a meaningful bonding opportunity for a group—people who arrive together serve next to each other on the assembly lines. Half of each team works the food bins and half weighs, seals, and boxes the meals.
More info here on how it all works.
---
Artist Wendy Letven swings by Beth Urdang Gallery
At Beth Urdang Gallery in Wellesley Square, multidisciplinary artist Wendy Letven stopped by for a reception and to talk about her work which includes sculpture, wall reliefs, wall installations, mobiles of painted aluminum and cut paper, and watercolors.
Based in New York, Letven teaches Art and Design at Parsons School of Design and at Montclair State University. You can see her work at the gallery at 15 Central St., and also check out the striking window display next to Tutto Italiano.
---
Spring in bloom at the Hunnewell tennis courts
---
More spring happenings during Wonderful Wellesley
Wonderful Wellesley is all about what's happening in town including special events, new stores and restaurants, special offers and more.
Sing and dance with Boston's beloved, award-winning family music entertainer, Vanessa Trien (of Vanessa Trien and the Jumping Monkeys), well known for her lively, interactive concerts for the whole family. Bring your kids and get ready to sing, dance, twirl, jump like a monkey, and tickle like a tickle monster with Vanessa and Jumping Monkey sidekick, Adam Rothberg.
DATE: Saturday, May 6
TIME/LOCATION: 11am concert in Linden Square Courtyard. Plus, the Frozen Ice Cream Truck with be giving out FREE ice cream to the first 200 kids, while supplies last.
TIME/LOCATION: 3pm concert in Wellesley Square in front of iCode
Concerts last approximately 45 minutes. Rain date is Sunday, May 7, same times.
---
More music with Wellesley Symphony Orchestra
Wellesley Symphony Orchestra will hold its "Cathedrals of Light" spring concert on Sunday, May 7, 3pm, at  MassBay Community College auditorium at 50 Oakland Street, Wellesley Hills.
This program consists of music inspired by the idea of cathedrals, and the idea of inspiration itself.
Music performed will include :
Jennifer Higdon's "blue cathedral" "
The Sunken Cathedral" written for piano by Claude Debussy and arranged for orchestra by Hubert Mouton
Estonian composer Arvo Pärt's "Fratres" (Brothers), written in 1977
5th symphony by Jean Sibelius
The Wellesley Symphony Orchestra offers a pay-what-you-can ticket pricing system, though recommends $30 per ticket. Tickets can be purchased online.
All attendees must be fully vaccinated against COVID-19 and present proof of vaccination at the door. Per WSO and MassBay policy, all attendees must be masked at all times.
---
DATE: Sunday, May 21
TIME: 11am-3pm
LOCATION: Central Street in Wellesley Square, from Juniper to Fire Station 1