Wellesley this past week got word that yet another 40B project — at 818-822 Worcester St. (Rte. 9 East)  — is getting serious. The quasi-public MassHousing outfit, which also funds 40B projects, sent a site eligibility letter to the town about this project and has scheduled a site walk for Feb. 1 at 10am, which will no doubt be super convenient for many neighbors.
This proposed 4-story, 28-unit condo complex would pale in size compared to some of the other 40B projects in various stages of planning in town. This project, which would reside near the Hardy Elementary School, would include 7 affordable units that would enable the team building it to comply with the 40B statute and gain possible zoning breaks. Developer Jay Derenzo's other 40B projects proposed in Wellesley, near the Sprague Elementary School, were reviewed by MassHousing and have not been given the go-ahead yet.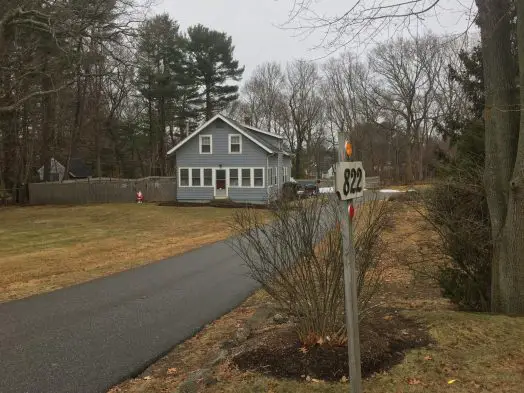 The project description for 818-822 Worcester St., reads in part: "The main goal is to minimize the overall impact on the two neighboring residential parcels. The main geometrical building mass is placed to the rear of the site as far from the existing homes as possible in order to create the maximum open space between the new and existing construction. The largest mass is placed near the mature tree line along the southern property line abutting the elementary school's open recreational field. Additionally, existing tree lines along the residential neighbors' borders are minimally disturbed. This area will serve as a visual landscape buffer between structures and will help screen residents' vehicle lights and noise. The site plan calls for a new, split ingress and egress driveway with a landscaped island in between which will heighten safety for the higher speed one-way traffic along Worcester Street. The radial driveway aids in vehicle deceleration and the landscaped island provides 'green' screening of the new construction."
The Town of Wellesley is working hard to get a Housing Production Plan in place to give it more control over where affordable housing is built. And that means developers will be stepping up efforts to get their projects introduced and approved as soon as possible.
A website for the Housing Production Plan is in the works, and a series of related public meetings are slated in the months ahead, with hopes for the plan's completion in September.
MORE: Weston Road 40B plan clears hurdle, Town explores development of Wellesley Square railroad parking lots