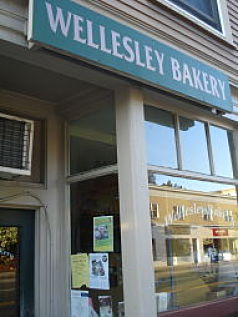 Our take, April 2014: When I tried out this breakfast and lunch place last summer, the sandwich that I ordered on French bread came out on multi-grain bread, to my dismay.  This time, when I ordered my tuna salad on lettuce (with a cup of soup and a soda for $8.25), I was determined to get my French bread, but no.  They were out.  OK, toast my multi-grain bread then. I was told sorry, they don't toast.  For heaven's sake, I could have taught them how to make toast with kitchen equipment no more advanced than a fork and a light bulb, but no.  I wasn't eating lunch out to teach the staff the fine points of high cuisine prep.  I was eating lunch out because my own kitchen was still not 100% tidied up from breakfast, and I was avoiding said kitchen.
My order was ready in no time, and the tuna salad was not too mayonnaise-y.  I got over the untoasted bread, because I had to.  The lemon chicken and rice soup was hot and had plenty of chicken and carrots in it and a nice lemony flavor.  The rice grains were pretty degraded, though.
I grabbed my favorite spot at the window, but the winter grime on its exterior left me hoping that a good spring clean would be coming soon.  The 5 tables and window seat area provide seating for about 15.  Parking is metered along the street, but if you can't score one of the choice spots in front,  take a right down Cameron St., manage to get yourself pointed in the other direction (I know, complicated), and park along the Hunnewell school playground.   Deborah Brown
Our take, July 2013:  Located on a great corner for people-watching from the window seat, I ordered a half chicken tarragon sandwich and a cup of gazpacho, chips, lemonade, and a cookie ($12) to eat in from exactly that perch.  The service was quick, but oops!  I ordered it for here, but it came out all wrapped up and ready to go.  Back to the kitchen went my lunch to be disrobed and slapped onto a paper plate.  Back to me, but oops!  I ordered it on French bread and it came to me on multi-grain.  I decided multi-grain would do, and brought my meal to the available window stool.
After all that, I did enjoy my sandwich and could really taste the tarragon in the chicken salad.   The gazpacho was the kind made with a thin tomato broth base with chunks of veggies added to it as opposed to the thicker-type offering that has gone through a blender.  It had a fresh taste and a nice kick to it.  My cakey oatmeal raisin cookie was made with golden raisins and was moist.