Wellesley businesses, organizations and individuals are endlessly generous, offering fundraisers throughout the year to support charities. Here are the latest:
**************************
An Evening of Art and Caring
The public is invited to join Chroma Art Group (www.ChromaArtGroup.com) and
Living Water Children's Centre Fund (www.lwccfund.org) for an Evening of Art
and Caring on Saturday, April 29 from 6:30pm – 8:30pm at the gallery at 161
Oakland Street, Wellesley, MA. The gallery will also be open to visitors on
Sunday, April 30 from 12:00pm – 3:00pm (The gallery is above the garage.)
The Saturday evening wine and cheese reception will include a presentation by
Sherry Fine, Director and Founder of LWCCF on the work they do in schools and
orphanages in Africa and Haiti. In addition to those programs, LWCCF also
provides a safe haven for vulnerable albino children and prosthetic limbs for
children. The LWCCF is staffed by volunteers and its mission is to help
disadvantaged children around the world. Ninety-five percent of donations to
LWCCF go directly to helping children.
Chroma Art Group is supporting LWCCF by sponsoring the event and donating
30% of sales to the organization.
Ten local artists will be showing their work: Marjorie Coll, Edite Gudrais, Carrie
Megan, Lala O'Neil, Mai Mai Pietrowski, Faith Goldshore, Laurel Landers,
Catherine Rulli, Karen Shaw and Beth Walton.
********************************
The Rotary Club of Wellesley invites you to Taste, Sip and Bid at the unique culinary fundraiser, Taste of Wellesley, being held on May 4th from 6:30pm – 9pm at the Gardens at Elm Bank, at the Massachusetts Horticultural Society located at 900 Washington Street, Wellesley, MA, 02482. The fundraiser will feature: food tastings from 10-15 top restaurants in Wellesley; Honorary Chairperson Dr. Kerry Healy, President of Babson College, Rotary Scholar; Ted Wayman as emcee; and wine and craft beer tastings. Tickets for the event are $50 per person.  For tickets and more information, please visit our website http://www.wellesleyrotary.org.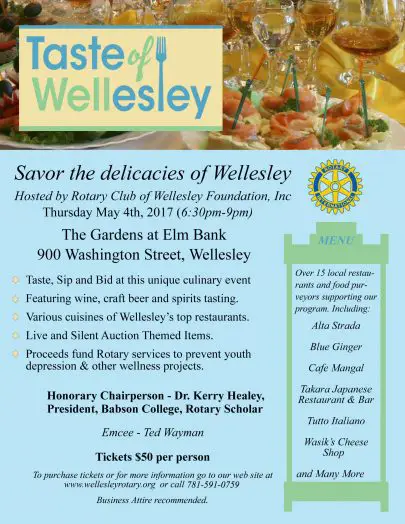 **************************
Author, academic, and parenting expert Dr. Richard Weissbourd will be the keynote speaker at the Foundation for MetroWest's Spring Inspiration Breakfast taking place at the Wellesley Country Club on Thursday, May 4, beginning at 9am. This public event celebrates the benefits (and explores the challenges of) engaging children with community philanthropy.
Weissbourd's work dovetails with this theme, as his studies focus on moral development, vulnerability and resilience in childhood. The senior lecturer at Harvard's Graduate School of Education also co-directs the Making Caring Common Project, a national effort to make moral and social development priorities in child-raising while providing strategies to schools and parents for promoting caring, a commitment to justice, and other key moral and social capacities in children. His most recent book is titled The Parents We Mean to Be: How Well-Intentioned Adults Undermine Children's Moral and Emotional Development.
For 20 years, the Foundation has worked closely with local youth, educating them about the importance of giving back to their community through the Youth in Philanthropy program. Currently, the Foundation offers twelve programs throughout the MetroWest region. Since inception, over 1,100 students have participated awarding $1 million to local youth-serving nonprofits.
Lend your support to the breakfast through sponsorship by contacting Lee Gagen [email protected] Individual tickets will go on sale in early March. To learn more about the event, visit foundationformetrowest.org or call 508.647.2260.
The Foundation for MetroWest connects philanthropic opportunity with demonstrated need in MetroWest. The Foundation promotes philanthropy in the region, helps donors maximize the impact of their local giving, serves as a resource for local nonprofit organizations, and enhances the quality of life for all of our residents. Since inception, the Foundation has granted more than $14 million to charitable organizations and currently stewards more than $18 million in charitable assets for current needs and future impact.
**************************
Charles River Center Benefit Gala Friday, May 5th
You are cordially invited to the Charles River Center's annual Building a Dream benefit gala at 6:00 pm on Friday, May 5th at The Westin Waltham.  It's an inspiring evening with cocktails, silent and live auctions, dinner and program. Proceeds benefit the 900 people with developmental disabilities supported by the Charles River Center in Needham.  This year we are pleased to honor Tim McCoy, Owner & Operator of McCoy Associates, the franchise that owns the McDonald's in Needham.  McCoy has made it a priority to hire those with developmental disabilities, and was the employer of Freia David, who worked at the Needham McDonald's for 32 years, garnering worldwide attention upon her retirement last summer. Emily Riemer, Co-anchor at WCVB-TV, will serve as emcee. Tickets are $175 each. To purchase tickets or a sponsorship, or for more information, visit www.charlesrivercenter.org or contact (781) 972-1030.
************************
The Wellesley High School Sailing Team will be holding a car wash to support the team on Sunday May 7, from 9am-12pm at Hardy Elementary School, 293 Weston Rd, Wellesley. The Team will also be selling raffle tickets for a chance to win one of two $250 VISA gift cards.
Raffle drawing will be on May 22nd at the Team Banquet.
All fundraising supports future capital equipment needs of the team, including, boats and sail replacements, as WHS does my pay for these expenses. The Wellesley Sailing Club, Inc. is a 501(c)(3) non-profit organization that supports the team.
Any questions? Please contact Kim at [email protected]
*************************
HRS will hold its 12th Annual Dinner and Auction to benefit The Human Relations Service on Wednesday, May 10 at Hunnewell House at Elm Bank of the Mass Horticultural Society, Wellesley. The cocktail reception and silent auction begins at 6:00 pm, followed by dinner and live auction.
The Human Relations Service (HRS) is the non-profit community mental health agency serving Wellesley, Weston and Wayland.
Founded in 1948, HRS provides a wide variety of clinical, consultation, community education and employee assistance services. Sliding-scale fees are available to residents who can't afford the full cost of care. The funds raised at this annual event help ensure that HRS can keep providing the highest quality care to those in need and continue to support the well-being of our community.
We hope you will join us for an evening of delicious food from local celebrity chefs, full bar, fine wines and a silent and live auction at Elm Bank, 900 Washington Street, Wellesley, (business attire).
Sponsors include: Captain Marden's Seafoods, Bokx 109, Tito's Handmade Vodka, Bocado Tapas Wine Bar, Oath Craft Pizza, The Cottage, Café Mangal, Seaport Hotel, RFK Kitchen, Wasik's Cheese Shop, Lower Falls Wine Co., Treat Cupcakes and more.
Individual tickets are $250 per person, and many sponsorship opportunities are available, including program book ads, and table sponsors.
For further information on donating to the dinner or to buy a ticket, please call Jenn Beal at KMC Productions, Inc., 781-356- 6616 or e-mail: [email protected]
To learn more about HRS call HRS Director of Development, Donna Poretsky at
781-235- 4950. Or go to our website to buy tickets at: www.hrshelp.org
*************************
The American Cancer Society Relay For Life of Needham, Dedham and Wellesley
Saturday, May 20-Sunday, May 21, 2017
4pm-6am
Newman Elementary School
1155 Central Ave, Needham
We encourage Wellesley residents to register and participate! Register at RelayForLife.org/NDWMA