When White's Bakery opens at Playhouse Square in the new year, it will become the latest business in Wellesley to boast a colorful name.
We used to have at least a couple of other businesses with "White" in their names: formal wear specialist Read and White, now in Needham, and White Mountain Creamery, which melted down in 2014.
White's Bakery gets its name from David White, who opened his first bakery in Florida in 1980, then opened his first shop in Massachusetts in the late 1980s.
Other businesses emphasize colors in their names or logos for marketing purposes. White indicates lightness or purity, blue means loyalty and trust, and green means freshness and natural, for example.
Perhaps the most famous of such colorful business names was Blue Ginger, the Asian fusion restaurant that opened in 1998 and closed in 2o17 
Blue Ginger's Ming Tsai credits his "genius wife" Polly for coming up with the restaurant's name: "Blue is fav color and also connotes water (Feng Shui), the seas and calm. Ginger cause it's the best flavor and trends to Asia…."
But don't get the blues about Blue Ginger being no more. There's still the Tsais' other restaurant, Blue Dragon, down in the Seaport District in Boston.
We also have Bluemercury in Linden Square to keep you pretty. Shockingly, Blue Hills Bank is about the only bank brand not in town. One other blue business: a Chinese restaurant called Blue Sky that reportedly had cheap chicken wings, according to a Facebook commenter who recalls the business being around in the 1970s.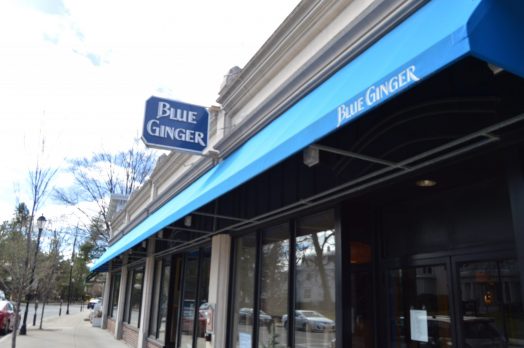 Tamara's Golden Needle, across for Whole Foods on Washington St., continues to handle sewing and alternation needs.
Not surprising that Wellesley would be in the green. We've got Green's Hardware fighting the good fight vs. the big box hardware stores over on Rte. 30. Tom Green started the business in 2005 in the same space where his parents ran Green's Stationary for 40 years.
Sweetgreen in Linden Square will keep you supplied in… greens.
…and Lux Bond & Green will keep you in bling. Morris Green opened his first jewelry store in the late 19th century. There are also the Wellesley Green condos on Grove Street.
Red Apple Convenience disappeared in 2018, and papered-over windows remained at 540 Washington St. heading into 2019, while RedPoint Global, a software company that gets its name from a sports climbing term, quietly goes about its business in an office park along Washington St., in Lower Falls.
Also gone from Wellesley are Tobey Grey, a Linden Square fashion shop that also had a couple of other names, and Pinkberry, part of a froyo chain that spent 6 years in Linden Square.
Orangetheory Fitness is helping to keep you buff in Wellesley Square by getting your heart rate into the orange zone.
Black? Purple? Brown? Yellow? What are we missing? Email us: theswellesleyreport@gmail.com