Basketball
Baseball/softball
Dodgeball
Offered in fall and winter by Wellesley Recreation
Football/cheerleading:
Hockey/skating
Babson Skating Center: It's open for public skating during specified hours weekdays and Sundays, plus certain holidays. Visit the site for details on cost, hours, skate rentals.
Lacrosse
Field hockey
Soccer
Swimming
Wellesley Swimming Association
---
Scouting
Cub Scouts (grades 1-5)
Both Wellesley Cub Scout packs offer a year-round family program designed for boys and girls in kindergarten through the 5th grade, or 6 to 10 years of age. The program emphasizes shared leadership, learning about the community, family understanding, character development, citizenship training, and personal fitness. Children meet once a month for a den meeting (based on grade) and for a pack meeting (all kids, grades K-5.) Throughout the year, there are exciting overnight outings (accompanied by parents) at places like the EcoTarium, Museum of Science, Battleship Cove, Plymouth Plantation, and Nobscot Reservation. Everyone works on age-appropriate achievements at home, to earn badges which are awarded at pack meetings (Pack 140) or the yearly Blue & gold advancement dinner (Pack 185).
Pack 140 welcomes all kids and all families from the Hardy, Fiske, Sprague, Schofield, Hunnewell and other elementary schools. Pack 140 meets in the basement Assembly Room of the Wellesley Hills Congregational Church at 207 Washington Street, Wellesley, MA.
Pack 185 is chartered by Bates Elementary School. Meeting locations vary.
Boy Scouts (grades 6-12):
Troop 182:First chartered in 1913, Wellesley Boy Scout Troop 182 is one of the longest, continuously active Boy Scout Troops in the United States. Meetings are Sunday nights in Wellesley. More than 125 Troop 182 scouts have advanced to the rank of Eagle Scout.
Troop 185: Boys in grades 5-12 meet Mondays, 7:30pm-9pm, at St. Paul's Church. Boy led adventures, service, and leadership to earn the rank of Eagle Scout.
Girl Scouts (grades K-12):
Wellesley Girl Scouts: Girl Scouting builds girls of courage, confidence, and character who make the world a better place. Wellesley girls from kindergarten through grade 12 and their families are invited to join the fun.
---
Wellesley Free Library Children's Calendar: Learn about coming events, including story times, a reading discussion group for 4th/5th graders that meets on Monday nights and craft get-togethers.
Wellesley Recreation Center: Art, basketball, etiquette and more.
Wellesley Teen Center: Supervised events/dances for all Wellesley middle school students, both at WMS and those who attend private school and Boston WMS students. There are 3 Middle School events each school year and a step-up event for Wellesley 5th graders in May. The events are run by the Wellesley Recreation Dept and Community Investors, and are held on select Saturday nights at Wellesley Middle School.
Wellesley Theatre Project: a nonprofit theatre company providing performing arts education to youth pre-K to 12th grade, and public performances.
Wellesley Youth Commission: Programs and services designed to ensure Wellesley's youth feel they are a valued part of the community. (781) 446-6274
Summer camps/programs
See our Wellesley Summer Camps page
Playground reviews
(keep in mind that playgrounds on school grounds are generally off limits during school hours for non-students)
Bates Elementary School playground (116 Elmwood Rd. Map )
Take your pick of 2 playgrounds, one in the back of the school and one in front.
The back one features a large play structure with 3 slides, plus a nearby 2-panel rock climbing wall, a handful of swings and a play car/truck. The nearby Wall of Hands is fun art to view as well. The playground adjoins the baseball fields at the school.
The playground in front of the school features a very large structure with a giant plastic fish in the middle of it. Included are a rope climb, rock climb, underground microphones, one of those things you grab overhead and slide across by holding up your body. A 7-foot-high basketball hoop is next to the play structure. The ground is a spongy material. No outdoor restrooms. Benches for adults. Plenty of parking at the school.
Brown Field on Colburn Road (map)
Erected in 2008, a modest playground beyond the outfield of the baseball field. Includes short, side-by-side slides, a teeter-totter, 4 swings (including a baby swing that the kid's legs can stick through, and another swing that kids sit in), a balance beam, a zig-zag overhead climbing structure and a spider web for climbing. Also includes assortment of small plastic shapes to step on, and a bit of a fort atop the slides. A shaded picnic bench sits outside the play structure, which itself is surrounded by wood chips.
Fiske Elementary School playgrounds (45 Hastings St., Map )
The school has two playgrounds, one near the front and one behind it and the ballfields. The front playground includes a very small structure with 2 slides for toddlers and a nearby short basketball hoop. The larger structure has 2 twisty slides and 2 side-by-side slides for racing. The structure includes a bridge and assorted climbing devices, including a series of discs connected to poles that kids can climb across. Nearby are a tire swing, a series of tires to crawl through and a zig-zag balance beam that is low to the ground. On the pavement are 2 hopscotch games and a circle game with letters and numbers.
Behind the school and ball fields and toward Rte. 9 is another playground. Its highlight is a sort of temple-shaped red rope climb. A large play structure includes a small rock wall and a high twisty slide. A few separate metal climbing structures are nearby, along with sandboxes and basketball hoops. A tire swing and one of those grab overhead and slide mechanisms are also on hand. No restrooms aside from what might be open in the school.
Hardy Elementary School playground (Hardy Rd./Weston Rd. —Map )
One of the best in town, with a mix of large and small play structures… woodchip foundation… a slide heaven, with a dozen or so, including six on one giant play structure in between baseball fields… an old-fashioned geodesic metal jungle gym… funnel ball game… 2 tire swings… picnic tables and benches… baby and big kid swings… 4 basketball hoops… parking can be limited on ballgame days… no restrooms aside from those in school.
Hunnewell Field playground near tennis courts (Map )
Small play structure with sandbox, baby swings, benches for adults.
Hunnewell Elementary School, 28 Cameron Street
Several climbing structures. Basketball hoops, foursquare, hopscotch.
Morses Pond playground 99 Turner Rd.
Small play structure near the beach, packed with 4 slides. Nearby are six swings. There's one more slide, but it goes into the water. Restrooms available. Play structure only open to beachgoers.
Ouellet Park playground (Cedar St. between Charles St. and Barton Rd.)
Small, fenced-in playground with 3 climbing/sliding structures, plus a set of swings. Great thing about this playground is that it is next to a ballfield, so parents can watch their kids play ball while watching other kids on the playground. Also 2 regulation height basketball hoops.
Perrin Park (At Thomas Rd., off Weston Rd.)
Shade-covered playground geared toward younger kids, with 3 not-so-very-high slides, 8 swings (4 for babies), a play house, several climbing structures including a chain-link wall, a tire swing, a see-saw, spring animal rides. Plenty of benches and tables, too. The park also includes 2 7-foot basketball hoops and 2 regulation height hoops, funnel ball, a lacrosse field and a baseball field, all tucked into a neighborhood section of Wellesley.
Phillips Park between Maugus Ave. and Seaward Rd. along Washington St. and the Brook Path (Map)
Features 2 moderate-sized play structures, plus a sandbox…. adjoins baseball field…. parking along Seaward Rd.
Schofield Elementary School playground (27 Cedar St., Map )
The playground is located just to the right of the school's front and includes 3 play structures, including one large one recommended for ages 5-12 (according to a sign on the structure). The main structure includes an unusual large green climbing structure that looks something like the side of a rocky mountain. It also features 4 slides, including small side-by-side ones. Adjacent to the structure are 3 sets of 6 swings (not baby swings). A second play structure features a jumping wall (it includes measurements going up to 7-feet-6-inches and challenges kids to jump and reach as high as they can. This structure also includes a sliding handle to grab onto and zip on. A third structure features a sort of shaky bridge/balance beam (fairly safe, it doesnt swing too much) and a variety of things to grab and swing from. Three basketball hoops (2 10-footers and one 8-or-so footer are nearby, as are 3 tennis courts, baseball/soccer fields and a hill suitable for sledding. The playground area also has a water bubbler, funnel ball and a wood chip covering on the ground. No restrooms aside from what might be open in the school.
Sprague Elementary School playground (401 School St.)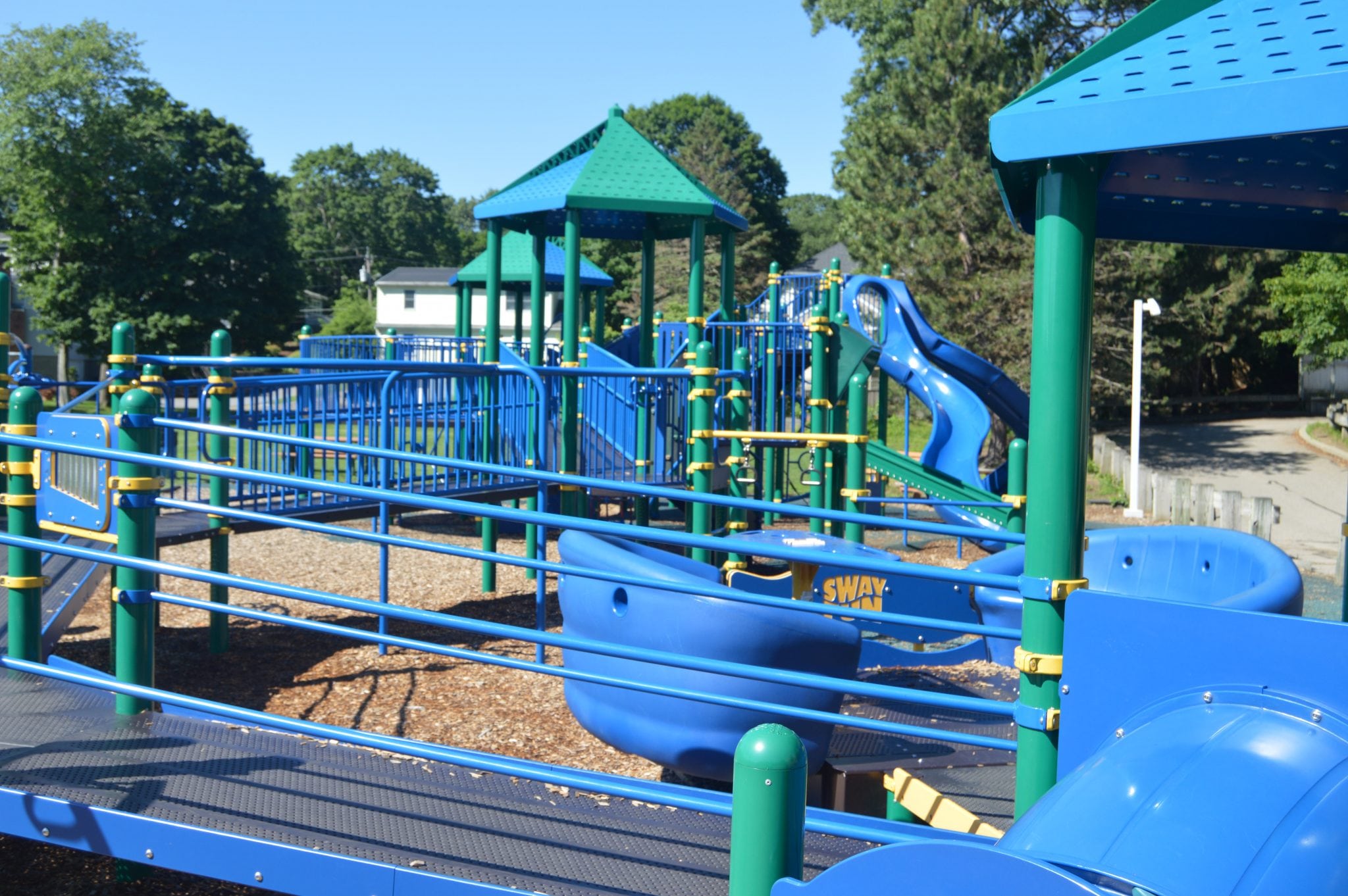 A nice compact playground, which is built to be accessible to all, features a variety of climbing, swinging and hanging structures, and a rubbery, soft surface. Highlights include a tunnel to scurry through, side-by-side overhead sliders, chain ladders, a bridge and a pedaling contraption. Two regulation height hoops are adjacent. The playground is convenient to the nearby soccer fields, enabling parents to occupy the little ones while other kids are on the soccer fields. The playground only has one slide. Around the corner in front of the school are 10 swings, including 1 baby swing. A handful of nice picnic tables are also next to the playground.
Upham Elementary School playground (35 Wynnewood Rd.)
The most modest of the elementary school playgrounds in town, though still features plenty to do, from 3 tire swings, to a dozen or so other swings, funnel ball, play structures for toddlers and bigger kids that boast a variety of slides (tube, side-by-side, curved). More out-of-the-ordinary apparatus includes spider web-like climbing structure, a series of chain ladders and a chain used to scale a little rock climb. The playground has woodchips on the ground. Adjacent to the play structures are 5 basketball hoops (4 regulation, one about 6-feet high). Behind the school are a soccer and baseball field and some more swings. On the pavement at the school are hopscotch and four-square games.