Wellesley offers a variety of eateries, from fancy to homey to chains. While some lament the lack of beer/wine served at most places in town, the silver lining is that you can bring your own booze to many restaurants in town and save yourself a bundle
Wellesley's best-known celebrity chef is Michael Schlow,  who opened the Italian restaurant Alta Strada in Wellesley Square in 2007.  Schlow has made his mark with several Boston-based restaurants, such as Radius.  His cook book, It's About Time: Great Recipes for Everyday Life is a chatty volume filled with stories, how to enjoy a solid session of culinary therapy in your own kitchen, and oh yes, about 150 recipes, too.
2014 newcomers Juniper, run by the owners of popular eatery Sweet Basil in Needham, and Bocado, a Spanish tapas bar, round out the town's offerings of high-end cuisine.
OK, enough with the fancy-pants places.
Also standing apart is The Cottage,  an airy restaurant (with bar) with southern California cuisine that was opened in 2007 by a Wellesley native with a sister restaurant in La Jolla, Calif.  The Cottage was one of Linden Square's first anchor tenants, and another Cottage restaurant has opened in Newton.
A slew of Asian restaurants  dot the town, from sushi-and-more joint Yama to Chinese restaurants like CK' Shanghai to Thai eateries such as Lemon Thai Cuisine and Amarin (which also has a Newton location).
Other restaurants featuring ethnic delights include Italian restaurants such as Comella's,   which has a signature dish called the "Mess" and Papa Razzi,  part of a chain; Singh's Café,  an Indian restaurant on Washington St. that opened in 2009, and Café Mangal,  a Wellesley Square restaurant known for its Turkish cuisine.
Maugus,  mentioned earlier, has a Greek flair. It's an old-timey diner that attracts a mix of clientele, including business types wheeling and dealing over breakfast.
One of Wellesley's densest restaurant rows is Linden Street, which in addition to previously mentioned Cottage is home to seafood restaurant The Captain's Table and Takeaway, better known as Captain Marden's.  Also on Linden Street are: Takara Japanese Restaurant;  the Linden Store, a deli; plus chains Qdoba and California Pizza Kitchen.
Not to be overlooked in town are more modest eateries such as the Weston Road Cafe, which offers breakfast and lunch. Another unique breakfast and lunch spot is CrepeBerry,  opened in 2017 by Amelia Childs. Across the street, just to keep things competitive, is Caffe Nero, at the old Wellesley Hills train depot.
Wellesley is home to a host of other pizza joints as well. These include Wellesley North End Pizza and Old School Pizzeria, an Italian-style pizzeria with a nostalgic decor, and 2015 newcomer Pizza Peddler.  Also in town are chains such as Bertucci's and Upper Crust Pizzeria.
If you're looking for a cold treat, Wellesley has a bunch of options, including Truly Yogurt,  J.P. Licks (Wellesley Square), Pinkberry (Linden Square), and Baskin-Robbins on Washington Street.
If you're more in the mood for baked goods, options include Susu, Quebrada,  Wellesley Bakery and others.
Then there's always Dunkin' Donuts, which has locations on Linden St., Washington St. and Rte. 9, as well as Starbuck's, which has spots in Linden Square and Wellesley Square, plus just over the line in Newton in lower falls.
More details on these and the rest of Wellesley's eateries below:
Alta Strada  92 Central St.  781-237-6100
Italian; owned by Michael Schlow, who has made name for himself with several popular Boston restaurants.
Our take, July 2013:  This is the type of restaurant where you sit down and have a lovely lunch, tended to by knowledgeable but unobtrusive wait staff.  The clean, open space allows you to see and be seen at either tables or at a bar (where, for now anyway, you must order food if you want to consume alcohol).  There was plenty of summer on the menu when we were there, and the sweet corn with smokey bacon ($6 on the antipasti menu) was fresh and delicious.  The corn is served off the cob, mixed with the bacon and served in a small bowl in a portion size that is plenty big enough for two.  The shrimp, grilled vegetable, and gigante bean salad with herb vinaigrette ($15) was also generously sized.  I wasn't so sure about the gigante beans, though.  I expected a healthy dose of them in my salad, figuring they would give my meal an extra boost of protein, in addition to that from the shrimp, but there were only a few beans scattered about. Overall, however, it was a perfectly seasoned salad and I was glad I didn't pull a Meg Ryan in When Harry Met Sally and insist on getting my dressing on the side.
My dining companion had the fingerling potato, spring onion, and taleggio pizza ($15).  Taleggio cheese, as I learned, is a semi-soft Italian cheese with a fruity tang.  It makes a nice pizza, and between the two of us we polished it off.
The lemonade ($3.50) was real, not the Country Time powdered mix I've been sustaining myself with all summer, and the ice water kept coming on this hot summer day.  It was a pricey lunch, sure, but it was a serene, relaxing, and healthy lunch.  We all need those, as often as we can make the time to get them.  Deborah Brown
Amarin of Thailand  27 Grove St.  (731)  239 -1350
Thai food
Bertucci's Italian
380 Washington St.  Phone: 781-239-0990
The menu offers pizza, salad, pasta and more at this location, known as Playhouse Square, that once housed a movie theater. Our take, September 2015
b.good, 102 Central St., (781) 772-1804
Healthy chain, with salads, smoothies, burgers and lots of Kale. (our original review from early 2017 when restaurant first opened)
Blue Ginger  583 Washington St.  781 283-5790
East-meets-West cuisine at restaurant opened by celebrity chef Ming Tsai and wife Polly in 1998. Worth noting: Movers and shakers on food allergy front; reservations can be tough, but tell 'em you're from Wellesley and that should help; lounge and noodle bar offer alternatives to the more formal dining area.
Our take, April 2014: After a  Thursday night book signing and author's talk at the library (Andre Dubus III, author of Dirty Love, Townie, and House of Sand and Fog) we headed over to Blue Ginger's lounge area to continue our literature discussion. There was a table available right away, and we settled in with a very nice Polly Tini ($13), a cocktail with a tropical flair named for Tsai's wife, and a Grey Lady ($5.75), a Belgian white beer by Cisco Brewers, a brewery located in Nantucket.  From there we ordered Ming's Bings dumplings ($14), an appetizer the menu describes as Asian tapas.  For our choice of three, we tried the duck, pork, and cheeseburger bings, all wonderful, as were the crisp taro chips and fresh Asian slaw included in the order.  We also tried the sweet potato-taro fries ($4), which my dining companions described as so light they might float away, but I didn't see it that way.  To me they were too greasy; you couldn't get a more opposite opinion from diners who were sitting there eating the same thing.
Lately it seems to be in vogue to disparage Blue Ginger.  Yes, it's expensive.  True, every dish will not appeal to every diner.  But we love it here. There's something special about having our own world-class restaurant in little old Wellesley.   Business people bring their out-of town colleagues here (we're not all bumpkins in the suburbs! Behold, fine cuisine), Babson College's Latin American Club was enjoying an event the night we were there (let's have it someplace really nice, but where?  Blue Ginger, of course).  Families mark special occasions here, and couples enjoy important date nights.  All without leaving town.  Why pop out of the bubble when you don't have to? DB
Bocado Tapas Bar , 45 Church St., (781) 772-2390
Spanish wine and tapas bar/restaurant, with seating for 100-plus, including inside and outside. Opened in October, 2014. See review here.
Bruegger's Bagels  97 Central St. 781 235-2358
Bagels, sandwiches, soups. Worth noting: Every so often they surprise you with special bagels tied to things like big Patriots football games.
Cafe Mangal  555 Washington St.  (781) 235-5322
Our take, Feb. 2016 We stopped in a this popular ladies-who-lunch spot where every table was taken by noon on a Thursday. But we saw that coming and beat the rush, getting ourselves all settled in at a prime table where we could dine in comfort and watch the comings and goings at this spotless, bustling, eatery that's been in town for 16 years.
Since Mangal specializes in Mediterranean cuisine with a heavy Turkish influence, I had the Turkish Lahmacun, a thin dough spread with ground beef, lamb, tomatoes, onions, peppers, and spices, served with  side salad that was crisp, fresh, and not too heavily dressed ($14.50). It looks a little like a burrito, but the lamb, which gives it a touch of gamey-ness, and Mangal's use of spices puts it culturally worlds apart. There was a little too much fresh parsley for me, but I was able to easily set most of it aside.
Other dishes that caught my attention for maybe next time: The Turkish Borek (baked pastry layers filled with feta cheese and parsley); the Yengen sandwich (grilled with Turkish soujouk, tomatoes, kaser cheese on white toast bread); the arugula salad with poached figs and proscuitto di parma.
Also on the menu: sandwiches, soups, and salads. Open for breakfast and lunch Monday – Saturday. Worth noting: Closed Sundays and no dinner on Monday/Tuesday. BYOB. They accept dinner reservations only.
Caffe Nero, 339 Washington St, (781) 283-5700
Caffe Nero, the coffee shop-and-more that's nestled into the old Wellesley Hills railroad station, opened its doors in September 2016. Regular hours will be Mon. – Fri., 5:30am-9pm; Sat. and Sun., 7am – 9pm.
California Pizza Kitchen  183 Linden St.  (781) 416-3690
Pizza, plus salads, tacos and more
Captain Marden's/Captain's Table & TakeAway  279 Linden St.    (781) 235-3737
Seafood restaurant and store. Worth noting: Brunch only on Sundays.
CK' Shanghai  15 Washington St.  (781) 237-7500
Chinese food. Full bar service.  Our take: Ate there on New Year's Eve 2010. Appetizers of chicken wings, chicken fingers and peking ravioli were all tasty and hot (temperature-wise). Entrees were OK (Shrimp fried rice didnt have tastiest shrimp). Service was excellent, and the restaurant itself is bright and clean and lively. Watch out for sitting in booths facing the front door on a winter night though — chilly. (BB)
Cocobeet, 57 Central St., (781) 772-1213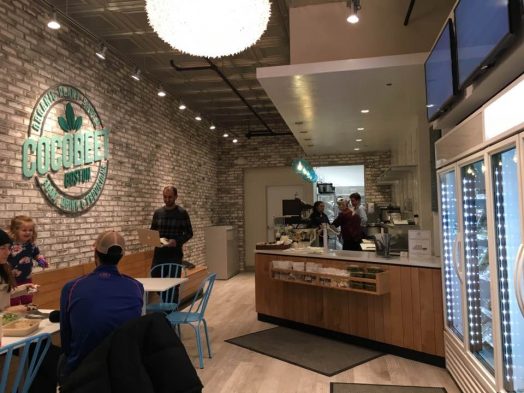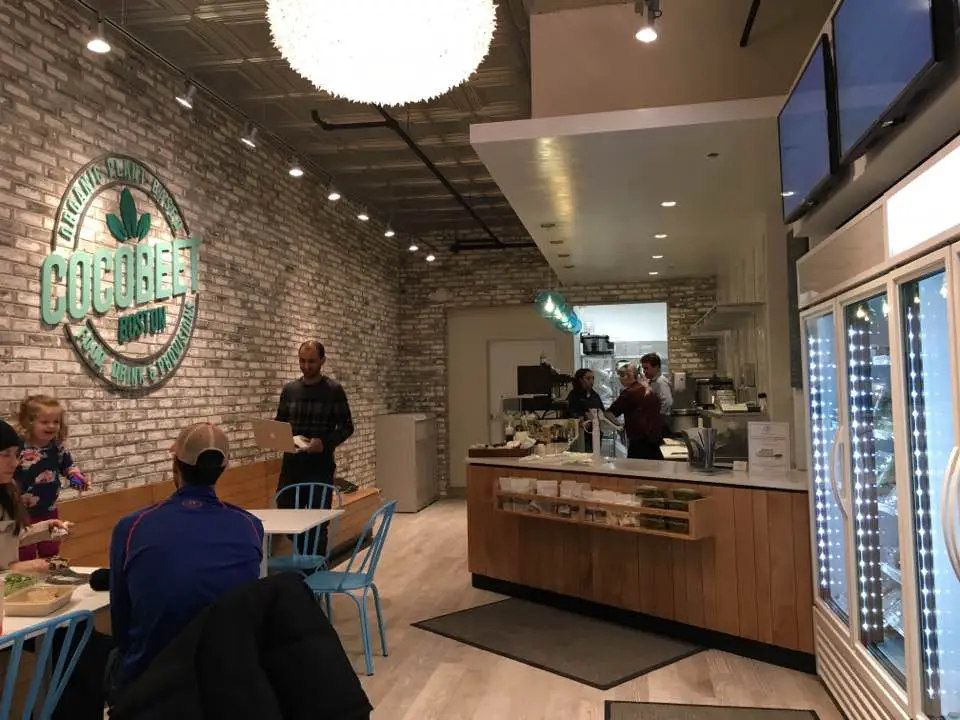 Raw vegan food, superfood smoothies, and organic juice cleanses, as well as breakfast items, sandwiches, and salads. Opened in 2017 (more here).
Coconut Thai Cafe, 11 Forest St.  (781) 431-2388
Comella's, 288 Washington St.  (781) 235-7300
The biggest pizza bargain around, Comella's $5 16-inch pizzas, went up to $6 effective December 2014. The loss leader for Comella's will still cost way less than any other big pizza in town as far as we can tell.
And if you suspect this is purely a Wellesley tax, it isn't. The same sign shown at the Wellesley store is also at the Natick one.
The popular Italian eatery also offers signature dishes are called "Messes" and feature a mix of veggies, pasta and more. Comella's has several other locations in surrounding communities, including Newton and Needham.
Cook's Window House of Pizza, 19 Washington St., (781) 237-1331

Pizza, salads, wraps, calzones, pasta, and more.
The Cottage, 190 Linden St.  (781) 239-1100
Features food with Southern California flair. Full bar service. Has another location in Chestnut Hill.
CrepeBerry, 352 Washington St.
CrepeBerry, a new Wellesley eatery promising a diverse and healthy menu, opened in June 2017 in the space at 352 Washington St. that Dorset Cafe occupied for the past 10 years.
Deluxe Pizza, 1 Forest St. (781) 235-6811
This place has a Greek flavor (pictures of Greece on the walls), has about 20 seats, features Tiffany-style lamps and an assortment of foods beyond pizza: salads, calzones, vegetables, etc. Be warned: No credit cards accepted.
868 Worcester St.  (781) 235-6800
Dorset Cafe, 352 Washington St.  (781) 239-8988
Dorset, owned and operated by sisters Sally and Sue Khudairi, serves breakfast, lunch, and afternoon tea service in a calm, cozy restaurant where you order your meal, make yourselves comfortable, and they bring it over and clear it away when you're done. I tried the salad special with a bowl of mushroom soup, which was earthy but not heavy.
Dorset Cafe serves breakfast and lunch Monday – Saturday, 8am – 5pm
Afternoon tea service Monday – Saturday, 2pm – 4pm
Breakfast only on Sundays, 8am – noon
Tea, coffee, breakfast/lunch/snacks.
951 Worcester Street (Rte. 9 west)  / 781-235-9815
978 Worcester St. (Rte. 9 east) 781 237 1437
12 Washington St. / 781-431-7321
277 Linden St. (shown)
Jin's Fine Asian Cuisine & Sushi Bar, 11 Washington St.  (781) 237-5888
J.P. Licks  63 Central St.  (781) 416-1799
Ice cream, yogurt, coffee.
Our take, July 2013:  We've stopped by recreationally many times since their 2010 opening, but  haven't taken the time to review the homemade ice cream parlor.  Now that they've settled in,  we wanted see how J.P. Licks is getting along.  I knew my companions would mock me, and they did, but the kiddy size cup ($3.09) is what I ordered.  That's really all the Oreo Cake Batter ice cream richness I require after dinner.  Besides, in the interest of research I naturally needed to try a taste of the Brownie Brownie Batter ($4.69 for two scoops).  It was a chocolate-lover's dream, densely packed with all it promised, and likely impossible to get out of a white t-shirt.  The Peach (three scoops for $5.39) was good, but I prefer bigger, firmer chunks of fresh peach in a purer vanilla base.  They marinate their peaches in brown sugar giving it a more fall-is-coming look and flavor rather than the summer-is-here attitude I need in July.
The seating inside, the bench outside, and the fun fake grass on the walls all encourage customers to graze awhile and indeed, we did.  Deborah Brown
Juniper, 13 Central St.,  781-446-6950
Greek Mediterranean cuisine, from the owner of Needham's Sweet Basil restaurant. Full bar. Opened in July, 2014. Here's our review.
Lemon Thai Cuisine  555 Washington St.  (781) 237-6995
The Linden Store, 162 Linden St.  (781) 235-9837
Our take, February 2015: The fun family-owned deli that seats 31, including 2 handicapped-accessible spots, has a ton of variety on the menu (from sandwiches — cheesesteak is yummy — to smoothies to soup) and can be a real madhouse at lunch, though the staff does a great job juggling it all.
Owners (and brothers) Greg and Mark LeBrun expanded the 1,380 square foot restaurant into the once- empty space next door in February 2015, increasing their business to 2,400 square feet.
We stopped in on the first day they re-opened to see what they'd done with the place. Walking in was a bit like entering a saloon in that everybody seated at the stools near the entrance stopped eating, stopped talking, checked us out, and then went back to their lunches.
Clearing that hurdle, we bellied up to the counter and ordered lunch. There was plenty of friendly, efficient staff on hand to take our order of a toasted meatball sub with cheese and a bacon, lettuce, and tomato sub, no mayo. Both items came as ordered, and we were moved along smoothly to the cashier, and then to what was, at the time we went in (12:30, weekday, school cancelled due to snow day), plenty of seating to choose from.
The meatball sub was hot with plenty of cheese in the proper state of melt, and a nice tomato sauce. My companion reported that the BLT came with lots of bacon, tomatoes that are about as good as they can be in the middle of the winter, and crisp lettuce.
The menu has all the old stand-bys, but the place has certainly changed in appearance. The white subway tile backsplashes and the crisply painted grey, white, and bright blue accent walls give it a clean feel. The gleaming stainless steel appliances let you know that the owners made their wish for more modern food storage a reality. Look for the university pennants and other homey touches to go back up in the next week or so as the LeBrun's make the space their own.
The Linden Store is open:
Monday: 6:30 a.m. – 4:00p.m.
Tuesday through Friday: 6:30 a.m.- 5:30p.m.
Saturday: 6:30 a.m.- 3:00p.m.
Closed Sunday (Open by appointment only)
The Local, 11 Forest St. (781) 694-1210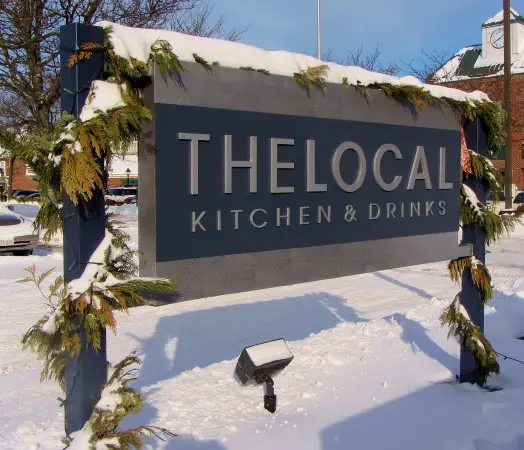 Wellesley's Frank Santo, and Tom Wynn have opened their latest restaurant at the location of the former China Sky.  With additional locations in  Wayland and Newton, the gastropub offers food and drink in a warm, sophisticated interior.  Check out our review here.
Mark's Pizza & Subs 12C Washington St. (781) 237-3850
Maugus Restaurant, 300 Washington St.  (781) 235-9647
Classic breakfast and lunch diner, with Greek flair.
Old School Pizzeria, 552 Washington St.  (781) 235-8300
Our take, February 2014: Their pizza crust is neither thick nor crispy-thin, and they don't skimp on the mozzarella or the slice size, if you're not ordering a whole pizza.  My bowl of minestrone, however was a disappointing bland collection of mushy pasta, a few cannellini beans, and some canned tomatoes floating about in an unseasoned broth.  That's what I get for ordering soup at a pizza parlor, I suppose.
Tons of nostalgic memorabilia and oldies tunes on the sound system keep the atmosphere lively.  You can't leave here downhearted after dining to classics like "Help Me Rhonda" and "Be My Baby."
Papa Razzi, 16 Washington St.  (781) 235-4747
Italian food, including pizza.
Peet's Coffee & Tea, 9 Central St. (781) 235-0018
Peter's Pizza, 57 Washington St.  (781) 489-3205
Breakfast, lunch & dinner, plus catering. Cash/checks, ATM inside.
Pinkberry, 180 Linden St.  (781) 239-3400
Tangy frozen yogurt.
Pizza Peddler, 263 Washington St.
Hand-thrown Neopolitan-style pizza ($10.99 for a 16″ pie); salads; fresh, never frozen, burgers; Boar's Head meat sandwiches; house-made meatballs, chicken and veal cutlets; chicken salad; spinach and artichoke rangoons; and grilled veggie wraps. They're also bringing their Natick location's #1 best seller,  the buffalo chicken wrap, across the border to see if Wellesley palates are as sophisticated as those next door.
Opened December 2015, Pizza Peddler is an 8-seat store.
Qdoba Mexican Grill, 185 Linden St. (781) 235-339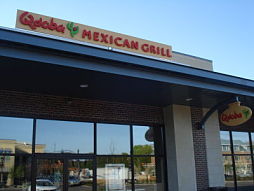 Quebrada Baking Co., 272 Washington St.  (781) 237-2111
Baked goods, including muffins and breads.
Singh's Cafe, 312 Washington St. (781) 235-1666
Fine Indian cuisine.
Starbucks Coffee
68A Central St. (781) 235-2390
190 Linden St. (781) 237-5282
Subway 268 Washington St. 781-237-1000
Our take, March 2014:  With 41,422 locations in 104 countries, it's no wonder Wellesley didn't want to be left out.  You don't need me to tell you that they can put together a decent tuna melt.  I will say that it took some time to make it all happen from ordering to paying up.  It always makes the line crawl when you have to tell the cashier your entire order, item by item, as he rings it up.  And the person before you had to do the same.  There's gotta be another way.
Susu Bakery Boutique  575 Washington St. (781) 237-7977
Lunch, baked goods, including muffins and breads; summer cupcake camp for kids.
The latest: Susu has joined forces with La Voile, the award winning Boston based Brasserie, to bring French cuisine to Wellesley.  The joint venture offers new a la carte menus on Friday and Saturday nights. Reservations run from 5:30pm – 10:00pm.  The menu is classic French at its best with such favorites as boeuf bourguignon, Sole Meunière, braised rabbit, traditional fish soup, foie gras, and salad Lyonnaise.
We love the idea of classic French food served right here it town and gave it a try. We were not disappointed. Here's our review.
3/2017
Takara Japanese Restaurant, 151 Linden St.  781-235-9888
Thirst Juice, 41 Grove Street. (781) 591-8189
11/2016: Thirst Juice is a green juice and smoothie bar, which opened Fall 2016. I stopped in and tried out the Bad Monkey, a 20-ounce smoothie made with banana, almond butter, cacao nibs, cacao powder, dates, coconut milk, ice ($8.75). Not too sweet, it went down all too easily. Other interesting-looking things on the menu available now: Kale-idoscope juice, made with kale, spinach, carrot, and pineapple (12 oz., $6.95 and 16 oz., $8.50); shots of apple-ginger juice, and others, 1 oz., $3.10; 2 oz., $4.80); and acai bowls. To come: soups and teas.
Thirst Juice is the first business to open at the Belclare complex, which still hopes to lure a full-blown restaurant and other retailers into its Washington Street space.
Tutto Italiano. 570 Washington St. (781) 431-2250
Italian specialties, including lunch and breakfast offerings.
Wellesley's Tutto Italiano owner goes Hollywood — sort of 
Truly Yogurt, 35 Grove St. (781) 239-1356
Upper Crust Pizzeria  99 Central St. (781) 235-5011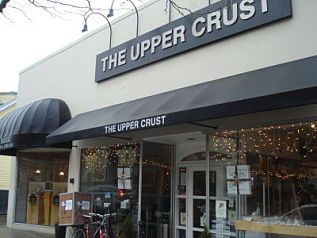 Our most recent visit, December 2015: When we want New Haven-style pizza without the two-hour drive, we come here for our dose of thin crust pizza in a city atmosphere. I stopped in for their $7.25 salad and slice combo, but was disappointed that they didn't have their slice of the month available for me — a delicious-sounding white bean, spinach, roasted red pepper, and garlic creation. They offered to make it up special for me, but I didn't have the patience to wait the 10 minutes, so oh well. I was there for a late lunch (2pm), so I suppose the regular lunch vultures, I mean crowd, had cleaned them out. I was happy enough with my thin-crust slice of cheese pizza and the Greek salad component of their combo special. Plenty of feta in the salad, and nice crisp greens. — Deborah Brown
Thin-crust pizza place.  Our take, February 2014:  I stopped in to try their slice of the month, a Hawaiian offering, complete with ham and pineapple.  It was a quiet Monday and the Top 40 music playing said they were less concerned with providing a cool vibe than with serving a nice slice of pizza.  The crust was crispy, just the way I like it.  I admit to fleeting thoughts of Hawaii.
I did see something unusual on the way out.  The slice of the month is corned beef and cabbage, in honor of St. Patrick's day.  I will have to work up to that one.
Our take, July 2013:  When we want New Haven-style pizza without the two-hour drive, we come here for our dose of thin crust pizza in a city atmosphere.  Recently I tried the slice of the day, a carmelized onion, fontina cheese, and portobello mushroom pizza served to my table piping hot and delicious.  In the spirit of trying new things, I attempted to chase it down with their new drink offering, ZICO coconut water, but couldn't  get beyond a few sips.   Too healthy, maybe?  The standard soda and juice offerings are also available if you have a similarly unrefined beverage palate.  With White Stripes and Wilco on the sound system while I was there, plus a couple of tunes that were so cool that my Shazam app couldn't even identify them,  I figured this was about as urban wannabe as I was going to aspire to on a plain old Tuesday afternoon.  Deborah Brown
Wellesley Bakery & Cafe  542 Washington St. (781) 235-1171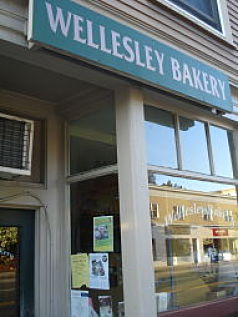 Baked goods, soups, sandwiches.
Our take, February 2016: They've renovated a bit since I was last in. Gone are the high stools at the window, replaced with a marble-topped table for two, along with the rest of the old seating, at this 12-seat cafe that serves baked goods (croissants, cookies, muffins, scones), soups, sandwiches, wraps, and salads. It's cash or check only here, so be prepared. I ordered the 1/2 sandwich and soup combination for $6.95. The generously sized 1/2 portion of chicken tarragon on French bread had the right touch mayo and tarragon. The tomato soup was served hot and chunky, but didn't taste much like tomato for some reason. The star of the meal was dessert, a shortbread heart cookie with red raspberry jam filling. So good, and worth every calorie. Everything is paper plates and plastic utensils here, strictly a quick place to grab a bite or get take-out. Paintings for beauty and for sale from local artists decorated the cheerful yellow walls, and Christmas ornaments lingered in the window.
Click here for previous Wellesley Bakery and Cafe reviews
Wellesley College eateries
Collins Cafe (across from Davis Museum)
Campus Center Emporium on 2 (in Wang Center)
Claflin Bakery (Claflin Hall)
Leaky Beaker (Science Building)
Cafe Hoop (Wang Center)
Punch's Alley Bar (Wang Center)
Wellesley North End Pizza
7 Washington St. (Rte. 16)  (781) 237-3388 or 3389
Breakfast, lunch, dinner
Our take, Jan. 2011: Our first visit was a good one, with our family enjoying a broccoli & chicken calzone served hot and fresh, buffalo chicken wings and a garlic and cheese pizza. The staff was friendly and accommodating. We sat at one of the 4 tables near the front door, so was a bit chilly. Decor is pretty modest, mainly consisting of posters of food. There's a flat screen TV, though it wasn't on when we were there. Prices are reasonable.
Weston Road Cafe  336 Weston Rd.  (781) 235-1116
Breakfast and lunch, with salads, subs, etc. Motto is: A place where you can meet anybody.
Whole Foods  442 Washington St.  (781) 235-7262
The 26,000 square foot grocery store is big with those looking for natural and organic foods.  Its prepared foods have gotten our attention lately,  however, leading us to make space for the supermarket on our Where to Eat page.  It's one of the few places in town where you can belly up to the bar as long as what you're expecting isn't an adult beverage but salad or hot and cold prepared foods.  You can also get sandwiches and pizza, and for dessert, gelato or kefir.   Seating in the community room is ample, but if a pesky community group is hogging it, there is additional seating near the check-out area.  There is outdoor seating in the summer.
Most recently, we gave it a shot for breakfast.  It's a grab-and-go type of experience for most people.  The warming trays have breakfast sandwiches wrapped and ready, and the coffee bar employees are there to tend to your caffeine needs.  We tried the egg and cheese on a croissant and grabbed a Stonyfield smoothie from the refrigerated wall rack.  The breakfast sandwich was warm and obviously hadn't been sitting there forever, and smoothies are always good.   The news was tuned in on the flat screen in the community room for those who cared to linger.
On a March 2013 visit, we tried out the gelato.  The mango gelato was the sunshine in early spring we'd been looking for, and the chocolate gelato was dense and smooth.  The almond coconut suffered in comparison to my gold standard of that taste family, the Hershey's Almond Joy candy bar.  But if Whole Foods is going to go leaving out the corn syrup and the artificial flavors, they're going to have to face the criticism of those of us with pedestrian tastes.  – Deborah Brown
The Wok
180 Worcester St. (Rte. 9) (781) 235-0238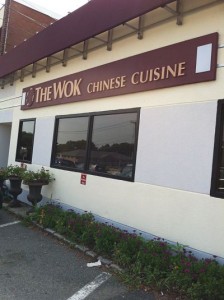 Chinese food.
Yama Japanese Restaurant  245 Washington St.  (781) 431-8886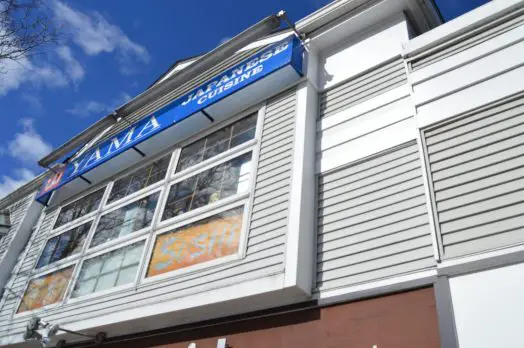 Includes sushi bar. BYOB.
Yogurtology, 552 Washington St. — CLOSED, December 2016
I'll miss their salted caramel frozen yogurt topped with crushed Twix bars and and caramel sauce.