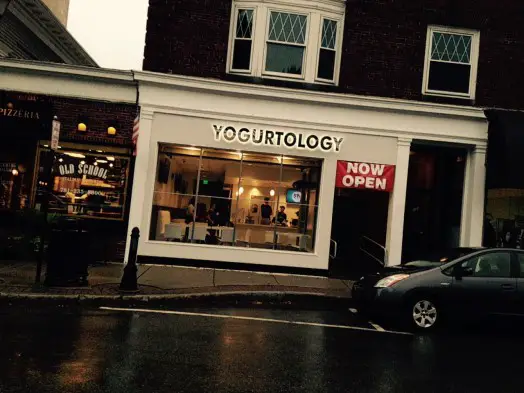 We wanted so much to believe that Yogurtology would open in Spring 2015, as their sign promised. But spring sprung right on by and the promised super-premium frozen treat spot remained under construction. All summer long we drove slowly by, keeping an eye on the slow-but-sure progress. One day the facade faded from the bright green of White Mountain Creamery to crisp white of new beginnings. Another day, important-looking equipment was delivered. When, oh when, would it come to be?
At last, we got the call today from those who would know about such things first — teenagers. Yogurtology was open, like, now, and they were going to get some like, now, and no arguments about spoiling their appetites for dinner were to be tolerated. Here's what the frozen-treat aficionados, who prefer to remain anonymous, told us about the place:
The interior is a modern, light and bright space with lots of white and chrome finishes. And that's enough about that, let's get down to the tastiness.
Our sources described something they called an Underbar. The Underbar apparently features all those things you typically put under your yogurt such as pound cake, baklava, donuts, brownies, cookies, Rice Krispie treats, and more. You never typically put anything under your frozen yogurt, you say? You do now.
Next comes the frozen yogurt itself. We've heard tell of flavors such as pomegranate, raspberry explosion, pina colada, cookies and cream, salted caramel, flavor-of-the-month Rice Krispie Treat, and — wait for it — vanilla.
At last, it's time for the toppers. Choose from an array of fruits, cheesecake bites, all kinds of candy, and syrups galore.
When I asked about price, my sources devolved into accusations of gluttony on one side and skimpiness when confronted with amazing riches on the other side. One said it was "shockingly inexpensive" considering all this person loaded under and on top of the poor, defenseless yogurt, escaping with a $6 charge. Another source, noting that the previously mentioned source was rather a big eater, made it out of there about $2.50 poorer, and said that at .59 per ounce it was quite a good deal.
This latest frozen-treat option in town will surely appeal to Old School Pizza customers looking for dessert, Hunnewell elementary school kids celebrating their (every, single) Wednesday early-release days, and the rest of us just ready to try out something new.
Welcome, Yogurtology.
Oh, and the dinner my sources (one a family member, one a regular) completely spoiled their appetites for? It was Whole Foods rotisserie chicken; a lovely late-summer couscous with feta, cucumber, tomato and dill; and green beans.  Oh yeah, it's tough to compete.
RELATED: Latest scoop on Wellesley Yogurtology
Also of interest…
Check out our newest page, Wellesley Restaurants, Rest in Peace
Where to eat beyond Wellesley, CJ's Northside Grille, Framingham