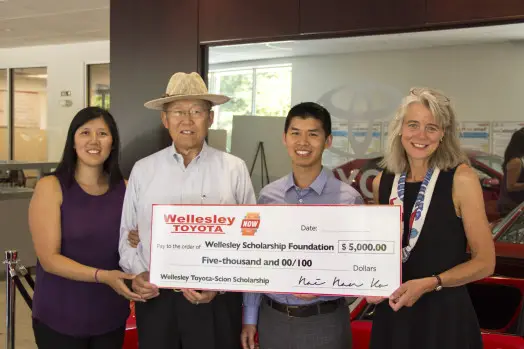 The Wellesley Scholarship Foundation (WSF) has accepted a newly-established community scholarship award of $5,000 from family-owned Wellesley Toyota-Scion.
The dealership was purchased in 1989 by Nai Nan Ko, Sr., who ran it with its wife, Julia Ko, before turning over management to son and daughter Nai Nan Ko, Jr., and Jessica Ko Beck. Nai Ko, Sr., and his wife were born in mainland China, became sweethearts in school, and eventually fled to the United States with $300 in their pockets after the Communist Party took control in China in 1949. Both were able to continue their education – Nai Ko, Sr. benefitted from a scholarship to attend a graduate engineering program at Boston University and Ko attended East Texas State University.
The new scholarship is being administered by WSF, which has been providing need-based higher education scholarships to Wellesley residents since 1951. The WSF Scholarship Committee will select recipients for this new scholarship who have demonstrated academic excellence and exemplary leadership skills in the community, their high school, or on the athletic field.
(Condensed version of announcement sent by Beverly Donovan, WSF Trustee.)