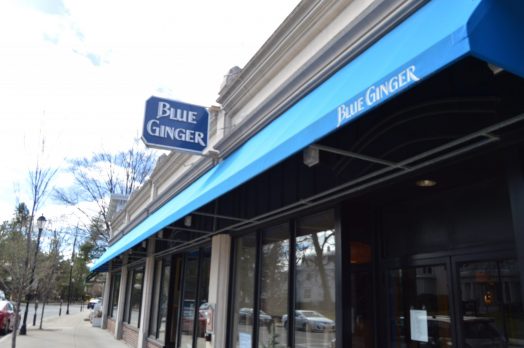 Blue Ginger, the East-meets-West restaurant that has made Wellesley a destination for foodies since 1998, is closing on June 3. So no more Sablefish, no more Ming's Bings, etc.
The restaurant evolved over the years, adding a lounge area in 2008 and increasing its message of food allergy awareness. Blue Ginger also survived years of having a crater across the street left behind by the Wellesley Inn teardown and then withstood construction of the Belclare condos in that space.
Owner and Chef Ming Tsai calls the closing "incredibly bittersweet" even as he and business partner Sean Gildea (also of Blue Dragon in Boston) ramp up to start "ChowStirs — a fast casual Chinese concept that will not only serve delicious, healthy, affordable and freshly wokked stir fries, but will also have a mission to give back." ChowStirs is slated to open in Boston in early 2018.
Tsai tells the Boston Globe that the closing syncs up with the end of the restaurant's lease.
A celebratory yard sale will be held on June 4,  proceeds of which will benefit Family Reach.
It remains to be seen whether another restaurant will slide into the space at 583 Washington St. Meanwhile, newer Wellesley restaurants such as Juniper and Bocado, and standbys like Cafe Mangal, will continue to dish up fine fare.