We like to think The Swellesley Report is one-of-a-kind, but plenty of other communities have local independent online news outfits of their own. We hung with reporters, editors, publishers and other business types from dozens of such sites at the LION Publishers Summit this past month in Nashville, swapping best practices, bonding over financial and editorial challenges, and drawing inspiration from one another.
Having launched in 2005, The Swellesley Report is one of the more established LION members. We're smaller than most, too. But our entire staff (Mr. & Mrs. Swellesley) attended this event, dividing and conquering for some sessions and workshops, joining forces for others.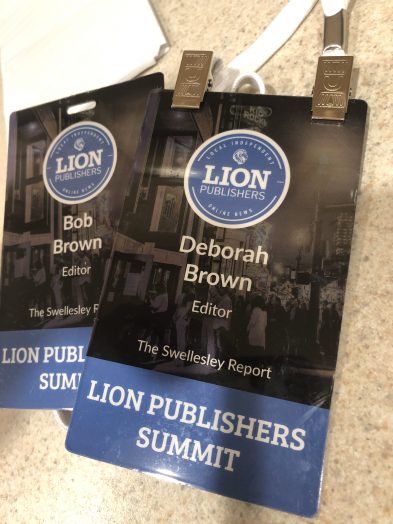 One shared frustration for the media is the decreased access to interview subjects at public and private institutions. Organizations increasingly hide their supposedly trusted employees, the ones they often boast about in their marketing campaigns ("It's our people who make the difference!"), behind communications departments and lawyers. Frank LoMonte of the Brechner Center for Freedom of Information at the University of Florida, is on the lookout for test cases where organizations threaten employees' first amendment rights to speak freely. Such gag orders have never stood up well in court, he says.
Local independent online news organizations come in many varieties, from for-profit to non-profit, from solo to staffed, from blog-style to podcast- and newsletter- and podcast-focused (Santa Cruz Local). Non-profits, especially those serving news deserts from which traditional media outlets have fled or never existed, often seek grants to subsist. In light of the country's political climate and downward-spiraling mainstream news business, speakers said, more organizations are emerging to offer grants and other support. The Reynolds Journalism Institute at the Missouri School of Journalism will even send its students to help you out via assorted fellowship programs that the school's Randy Picht describes as the "most flexible in the country."
This includes Facebook and Google, both of which had reps at the conference—and both of which have reps that make news publishers wary because of their online advertising strength. Joe Hyde of San Angelo Live! in west Texas noted during a session on Ad Tech for Local Newsrooms that his publication no longer posts videos on Facebook, since the social media giant was getting all the ad revenue despite San Angelo getting strong viewership of its videos. "Don't give up control of your stuff," he preached.
Community focus
One thing that most of the new breed of publications has in common is a true community focus. Not only do the publications track news and give voice to residents and organizations, but they also get involved, as we've done over the years from supporting spelling bee teams to speaking at events to sponsoring events like Wellesley Theatre Project's Cone Crawl. Some of these publications put on concerts and debates, in part to increase exposure and in part to diversify their revenue streams beyond online ads and sponsored content, subscriptions/memberships, and reader contributions.
The Swellesley Report needs to get better, for example, at asking our 1,500 email subscribers and thousands of other website and social media followers to contribute. We keep hearing rumors that much of our audience is affluent, after all. But it's tricky since we've always offered everything for free.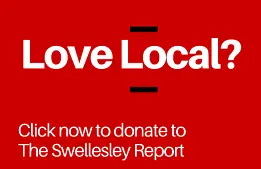 Because so many of our fellow online news outlets are small and nimble, experimentation comes naturally. Though it was Alexandra March from the New York Times, which aims to be nimble despite its size, who I first heard discussing experimentation at this year's conference. Newsletters are a great sandbox for trying out new things, as the Times' opinion