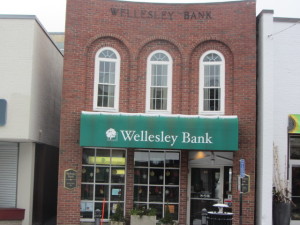 Wellesley Bank, which has 3 branches in town, revealed this week that it plans to open a 3,000 sq. ft. or so branch at One Federal St., in Boston's financial district, where plenty of the bank's customers work.
CEO/President Thomas Fontaine stated that: "Opening an office in Boston has long been a key component of our Company's strategic plan for growth. We have been actively looking during the past year to establish a presence in Boston as a means to more effectively serve our clients and further increase the significant growth we have experienced as people leave larger financial institutions and seek stable, more personalized banking and wealth management services at companies such as ours for their financial needs."
While banking competition in Boston is tough, it's pretty tough among the 20 or so different bank branches in Wellesley, too.
Wellesley bank, which made the announcement while reporting its quarterly financial results, went public early last year. It celebrated its 100th anniversary in 2011.