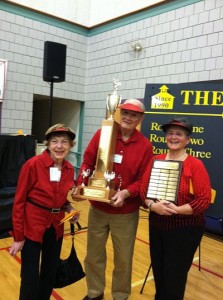 The Wellesley Education Foundation (WEF) is on the prowl for teams to take part in the 24th annual Wellesley Spelling Bee, which takes place Nov. 7 at 7pm at Sprague Elementary School. The deadline for teams to sign up is Oct. 15.
The adult spelling bee, which is free for spectators to attend, is a big fundraiser for WEF, which over the past 12 months has funded over 30 grants to the Wellesley Public School system worth a total of $215K.
It costs $450 to enter a team (register here). Donors are also sought to sponsor rounds and teams. About 50 3-person teams take part.
Last year, the Spellbinders from the Council on Aging (shown here) won the bee.