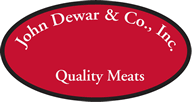 John Dewar, the Wellesley butcher and cheese shop on Linden Street, has closed its doors about 10 years after opening them in town.
The company issued the following message on its website "To our incredibly loyal and valued customers we thank you for your business and support over the years. It has truly been an honor and our privilege to have had 'a seat at your table' over all of these years."
Customers are urged to contact the business regarding any questions about gift certificate redemption.
John Dewar closed its 30-year-old Newton shop about a year ago.
According to a 2004 Boston Globe write-up about the shop opening in Wellesley, Dewar said: "I just want to emulate shopping prior to the supermarket invasion." Since then, of course, Roche Bros., has gotten a lot fancier and Whole Foods has moved in not far away.
According to a Townsman interview with Dewar's parent company, customer numbers were slipping in the face of increased competition and constraints on people's time to visit multiple food stores. Several people have lost their jobs, but it sounds like the parent company is trying to accommodate them.