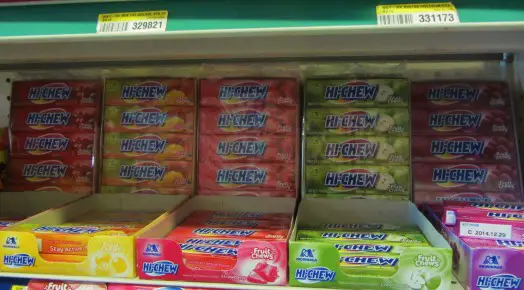 A thriving gray market for a succulent and chewy candy from Japan called Hi-Chew has taken hold at Wellesley Middle School this year.
The candy, described by some as a tastier and last plasticky version of Starbursts, is chewy — as the name implies — and features a colorful and  flavorful goo in the middle of a firmer white exterior. Hi-Chew can initially work in your mouth as gum before being gulped down. You didn't want to hear this, but it has been described as "crack for kids," according to one woman who passed along this comment from a 7th grader.
Wikipedia says Hi-Chew, from  Morinaga & Co., has been around since 1975, though changed to its current form in 1986. The always reliable Urban Dictionary states Hi-Chew is "The best candy ever."
The Hi-Chew Twitter account informs us that Hi-Chew is actually not just a candy, but a lifestyle.
That lifestyle for some students in Wellesley entails buying packages of the strawberry, mango, grape, cherry and sour apple candies for $1.19 from Wellesley Variety on Forest Street, then breaking down the packages into 10 individually wrapped pieces that are sold for as much as $2 apiece. Some kids are making a mint on the deals.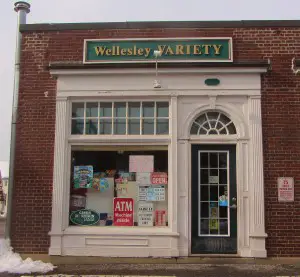 So is Wellesley Variety, reportedly the only source of the candies in town. The gent running the store the day we dropped by just before February vacation started said he's selling 10 to 15 boxes of the candies a day when he has supplies, and has had to hit up another store in Natick to resupply in a pinch. He said moms dropped by on Valentine's Day to get their kids Hi-Chews.
Hi-Chew mania is not isolated to Wellesley, though perhaps its popularity here will spark a wider trend. Count singer Skylar Grey among Hi-Chew fanatics, having tweeted about the best Valentine's Day ever including a big box of sweets. Seattle Seahawks running back Marshawn Lynch, whose Skittles habit became a story during the run-up to the Super Bowl, also gave Hi-Chews a thumbs up when treated to them by the Japanese press.
As for the action at WMS, the administration does not condone the selling of goods between students and described the budding Hi-Chew market as a "very minor event."  Well, let's hope at least a few valuable lessons were learned by students about commerce and The Wellesley Tax that we all know and hate.
(Photos by Deborah Brown)