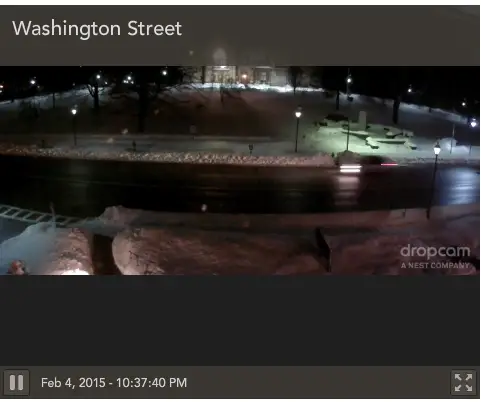 The Wellesley Police Department and Wellesley Free Library have joined forces to provide a live webcam that shows what's happening on Washington Street between the main library and Town Hall. (Not much when I snapped this screengrab.)
The webcam should provide some much needed support for the studious ("Look Ma, I'm really at the library!"), some airtime for the geese that trample across the Town Hall lawn and a round-the-clock venue for any number of Flash Mobs looking for attention.
And for those of you wondering if it's snowing downtown and not just in your yard, you'll now have an answer. The webcam could save the Wellesley Police from answering some of those weather-related calls.
This isn't the first time the police have wielded a webcam in town. They've provided a live stream of the Boston Marathon and also have a cruiser cam to give an officer's eye-view of Wellesley's streets.
The Wellesley webcam unfortunately is only the second-most exciting such live-streaming site to debut this week: The makers of the new Jurassic World movie coming out later this year have launched a bunch of webcams that let you peek in on the dinosaur theme park.
RELATED: Wellesley College sets up webcam to spy on birds