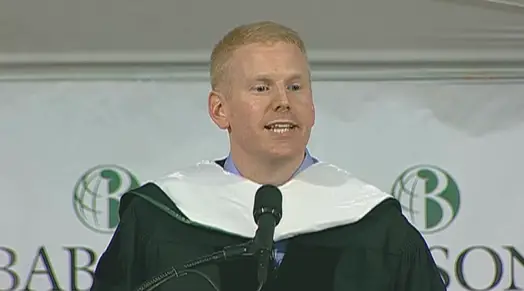 Here's the transcript of the Babson College commencement speech delivered earlier this month by venture capitalist Kevin Colleran, an early Facebook employee and 2003 Babson alum who nearly lost his life in February after being struck by a bus in Boston while walking (for more, see Boston Globe profile). A video of the speech can be found at the bottom of this post.
Ladies and Gentlemen of the Class of 2015. Parents. Friends. Faculty and staff of this great college. I'm honored to be here for this incredible moment in your lives.
A few months ago, when I received an invitation from President Healey to speak here today, I didn't know what to say. I was so honored to be asked, but I was worried for you, as an audience. My concern, as I told President Healey at the time, was that I wasn't sure I had a good enough story for you. Or the right advice to share. She said, wisely, "Think about it, something will come up."
A few weeks later something she never could have predicted did happen.
On February 27th, I walked across Tremont Street to pick up breakfast at a nearby deli. And ninety minutes later, I was in the Operating Room at Mass General Hospital, having brain surgery for an epidural hematoma.
I had been hit by a bus while crossing the street. And after initially picking myself up and thinking I was ok, it quickly became clear that I was not. So later that day, I sent an email from my bed in the Neuro ICU. It said, "President Healey, I think I finally have a story for you."
RELATED: Wellesley High's "You Are Not Special" Commencement Speech transcript (2012)
The lengths I will go to to make sure you all get a good speech!
I had four days in the ICU to reflect on everything that had happened. I was in excruciating pain, with a newly shaven head and 22 staples curving across my scalp. That's when I realized I had an important lesson to tell you all…
What is that lesson?
Ladies and Gentleman of the class of 2015….I am here to tell you, look both ways before you cross the street!
In all seriousness, I do have a few stories to tell you today. And this is Babson College, so let's talk about entrepreneurship.
As you may know, 12 years ago, in May 2003, I sat where you are now and received the same diploma that you will today. Back then, I was certain I could be successful, I just had no idea how… and that scared the crap out of me.
But I did it, and the funny thing is you might even say that I am standing here before you—as a proud alumnus and even now as a DOCTOR, and, most importantly, as commencement speaker at the best entrepreneurial college in the world—you might say all of this is precisely because I was NOT an entrepreneur.
What do I mean by that?
Well, it's true I've been fortunate and successful in my career. But in large part, that success came from working FOR another company, instead of starting one myself. Many of you may be in a similar situation: entrepreneurial at heart, motivated self-starters, certain to work for yourself one day. But also, maybe about to start a regular job with any one of the great companies here in Boston, or around the world.
So, while thinking about what I wanted to share with you, it became clear that the most valuable message I could bring to you might be an unpopular one. But it's this. You do NOT need to work for YOURSELF and start YOUR OWN business to be an ENTREPRENUER!
If this sounds crazy, hear me out. I'll start with a story about my own journey to being an entrepreneur INSIDE of SOMEONE ELSE's organization.
My first business, long before Babson, was pretty cliché: a lemonade stand. I started multiple businesses, if you can even call them that, from middle through high school, and even more once I arrived on this campus.
In fact, I was so determined to start my own businesses at Babson that I even raised $10,000 of non-profit funding from several entrepreneurship organizations so that I could build my own office on campus. That helped me convince the President of Babson at the time to let me use the basement space in Coleman Hall to create Babson's first undergraduate business hatchery… which I am humbled to learn still exists today.
So by the time I was sitting exactly where you are, graduating from one of the best entrepreneurial colleges in the world, armed with the ideals of a Babson education, and, having already started some 10 'businesses' … I was ready to prove to myself, and to the world, that I could be a successful entrepreneur.
So in 2004, I got a call from Sean Parker asking me if I wanted join a tiny little company called "The Facebook." He asked if I wanted be one of its first ten employees, if I wanted to receive a substantial share of equity, and to work for a then-unknown genius named Mark Zuckerberg, and to help build the advertising sales team for a company with huge potential.
I made the very obvious choice. I said, "no."
Why WOULD I say yes? I was an entrepreneur! That meant being my own boss. There was no way an entrepreneur could be anything other than his or her own boss, and I was convinced of it.
(Spoiler alert, I was wrong.)
My counter offer to Sean was that instead of hiring me, Kevin Colleran, he should instead hire my "company" Kevin Colleran INCORPORATED, which would be a team of one (me) selling ads on Facebook's behalf in exchange for commission. No salary, and no equity. This felt much more 'entrepreneurial' and Babson-worthy than accepting a "normal job." I laid this out to Sean, and he made the very obvious choice.
He said, "no."
He explained that eventually, this small company, called Facebook, would grow large enough to where it would need to build its own sales team internally. And as a third-party reseller like I had proposed, the better I did the sooner I would be obsolete—which means my new "company" would quickly grow itself out of business.
I was conflicted. On the one hand, I wanted to be my own boss. But on the other hand, I wanted to build and scale an organization with real business purpose… and it felt like Facebook was going to be that opportunity. What to do?
Well, thinking at the time I was putting my entrepreneurial dreams on hold for a while, I said YES to the job and got to work. My first office was a Dell laptop by my bed in my shared New York City apartment. I went to nearby colleges, picked up school newspapers, and called the businesses that had purchased ads. I spent a lot of my time having to explain what 'social networking' even meant, let alone what Facebook was. Seven years later, I had become the most tenured employee at Facebook other than Mark Zuckerberg, and I was ready for a new challenge. By that time, I was leading the partnerships between Facebook and some of the largest advertisers in the world, helping to build deals worth nearly a hundred million dollars.
And I realized something: Without knowing it, even though I was working for somebody else's company, I had in fact been an
entrepreneur the whole time. I had NOT actually put those dreams on hold like I originally thought. By taking a "real job" I had not betrayed myself or wasted that Babson education. In fact, I controlled my own schedule, I owned my client relationships, I built my own sales materials, and my level of effort directly impacted the amount of commission I received. I was my own boss.
More importantly, I had learned total commitment. I think that's important. I wasn't trying to start another business during the evenings like I had always done previously. Nor was I waiting for a better opportunity to come my way. Instead, along with many other highly motivated people, I was building a company— and my unique role was to help generate the advertising revenue we needed to do that. Today that business connects more than 1.4 billion people and is valued at over 200 billion dollars.
So, as many of you think about the future, remember it's okay to have your definition of entrepreneurship change. In fact, PREPARE to have your definition of your goals and desires changed. Prepare for yourself to change.
Because, if you can't imagine a world different from the one you see today, you will never be able to build a better one. I learned that while working for another company, and I see it today in my current work as a venture capitalist. No matter what path your career takes, even if you are taking a "regular job" at a large company, remember you are building the SKILLS necessary for real entrepreneurship.
Which brings me to my final point: it is better to prepare than to plan. Don't try to plan for your own big opportunity, but instead make sure you are prepared and ready for when it comes. There is no way to make your dream job, or your dream business opportunity, materialize precisely when you'd like it to. But it IS possible to spend your time ensuring you'll be able to make the very most of that opportunity when it does come your way.
Before I was finally convinced to join Facebook, my entrepreneurial plan for my life was to be a passionate self-starter CEO with several businesses of different types, all overlapping at the same time. To have a breadth of interests and enterprises which, together, made up a rewarding and constantly interesting life. That was the plan. Committing 100% to a single company was nearly as blasphemous to me as working for someone other than myself.
Fast forward to today.
One month ago, with two former colleagues, we announced the launch of our own venture capital firm called Slow Ventures. More than a hundred CEO's, founders, and leaders in the tech world, and more than a dozen other venture capital firms, have decided to invest in Slow Ventures. They have entrusted us with more than $80 million of investment capital. If it were not for my time at Facebook, "working for somebody else", learning thousands of entrepreneurial lessons in the process, and building a personal network of technology leaders throughout Silicon Valley, I would have never been able to prepare for this new responsibility.
So, finally, 12 years after graduating Babson, I am starting my own company!
Now, I get to work every day with dozens of young founders, sharing years of lessons from my Facebook tenure to help guide all of their companies to success!! And learning more every day. I am finally doing what I'd "planned" to do 12 years ago, when I sat in the very chairs you're seated in now. I never planned for my entrepreneurial career to play out this way. And, more importantly, I could NOT do what I do today if I hadn't
challenged my own notions of entrepreneurship back in 2005. If I hadn't committed myself 100% to somebody else's company, and then built my own entrepreneurial career inside that organization, I wouldn't be here today. If I hadn't grown my personal network in genuine, meaningful ways throughout my career at Facebook in order to launch my own venture capital firm, I wouldn't be here today.
Which is why I said earlier—the reason I'm here today, as an entrepreneur, speaking to all of you, graduates of Babson College, is precisely because I'd been prepared by Babson to do what I thought was NOT entrepreneurial by taking that "regular job" at Facebook. I hope all of you will also experience this very "good" kind of being WRONG.
Finally, I'd like to end on a serious note. I opened by joking lightly about how I got hit by a truck. Well, you can imagine that when I woke up from brain surgery and found out I had been only an hour or two away from death, I took some time for reflection. I asked myself all of the usual questions… Am I living the life I always wanted? Have I made any decisions I regret? Am I happy and fulfilled?
A lot of people ask me what I would CHANGE as a result of my reflecting on the accident— And my honest answer is…nothing.
Which is actually far more PROFOUND than the accident itself. I woke up from surgery and saw my wife and family by my side. Immediately, I took a selfie (and put it on Facebook, of course), happy to be alive and happier to share my story with all of my friends. Because, as I think about it, there is NOTHING I would change. And if there is any real definition of success in your life, IT IS THAT!
Now, I would not wish any of you to EVER get hit by a bus. But I do hope that you live your life in a way that leaves you without regrets. Build your career and develop friendships and relationships in a way that—when you DO have a reason to look back on it all—there's nothing you would change.
Graduating Class of 2015. You are graduates of Babson and entrepreneurs in life. Remember these lessons:
1. it's okay to think differently about entrepreneurship.
2. Being an entrepreneur in somebody else's company IS JUST as important as starting your own business.
3. Commit 100% to something, and don't try to plan for a specific opportunity, but instead always be preparing so that you are ready for the right opportunity when it comes.
And the degree you have earned today is absolutely the best place to start. Wherever YOU are going… and whatever unpredictable path you take along the way… I'm certain you will do great things. And I, for one, simply can't wait to cheer YOU on from the sidelines!
Thank you.