Jack-O-Lantern Spectacular, Roger Williams Zoo, Providence, Rhode Island, Oct 3 – Nov 1, 2015
Every year around this time, as things get spooky and Halloween approaches, I have a history of vowing that this is the year I will go to the Jack-O-Lantern Spectacular at the Roger Williams Zoo in Providence, Rhode Island. Finally, this year I made it happen. And yes, the jack-o-lanterns were real, and yes, they were spectacular (to borrow from a Seinfeld episode).
Before heading out, we checked the Yelp reviews, which warned us about parking issues and crowds. A couple of sourpusses groused that they sped through in 15 minutes and didn't see what all the fuss was about. Here's what we have to say about those charges.
Parking challenges: True, if you're the type that needs a primo space. We parked a bit farther out than your average event-goer might care to and walked 7-10 minutes, because we are that sturdy.
Crowds: They were there. It wasn't the crowd of people that bothered us, actually. It was the gauntlet of vendors you have to pass through before you get to the pumpkins. Hot cider, they're hawking it. Glow necklaces, they can be yours. Carmel popcorn, t-shirts, fried dough, and I don't know what-all, they had it. Ignore them and move along.
Speeding through in 15 minutes: Only if you are chasing a track-star of a four-year-old. Or if you're a curmudgeon who was forced into this by the last cheerful person in your life who will still tolerate you, and you're still on your worst behavior. Or if you work there and you're in section one and you're needed in section eight, stat. Otherwise, absolutely not. You'll be too mesmerized by the sheer spectacle of it all to rush through.
Try to imagine over 5,000 carved pumpkins, all illuminated, all arrayed along the wetlands walking area of the zoo. About 4,900 of the jack-o-lanterns are there for sheer volume and drama. About 100 of them are actual works of art. King Kong, Charlie Chaplin, and The Beatles were represented. Michelangelo's David was there, too, and he was a big hit with the ladies. Employing a bit of pumpkin-carver's artistic license in an effort to keep things family-friendly, David himself was depicted holding a pumpkin, strategically placed.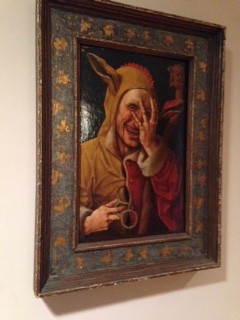 We saw Wizard of Oz pumpkins, Disney princess pumpkins, fairy tales and nursery rhymes, Legoland, and Man's best friend pumpkins. Look up.  There are even pumpkins in the trees in the show's dazzling grand finale, the Laughing Tree. Don't worry, there are scary pumpkins, too. Frankenstein's monster was looking like his Gothic, misunderstood self, and the Headless Horseman cut quite a figure.
It's almost a crime that all this artistry is but a temporary installation by nature of its medium. But rest assured that when you go, the display will look its best. Pumpkins are never allowed to fester and rot. Weekly, before even a hint of pumpkin collapse shows, new pumpkins are added and old ones taken away and fed to the animals, so the display looks fresh for its entire 4-week run.
Jack-O-Lantern Spectacular, Oct 3 – Nov 1, 2015
Roger Williams Zoo
1000 Elmwood Ave, Providence, RI 02907
$16 for adults (13+), $13 for children (3 – 12)
Here's a family-friendly place we went for dinner beforehand, about a mile away from the zoo:
Brass Monkey, 800 Allens Ave, Providence
The Brass Monkey describes itself as a neighborhood restaurant and bar, and that pretty much covers it. The staff was friendly when we walked in, and the hostess brought us to a table right away. There were a couple of other families there, an after-work contingent, and some hipsters.
We started out with the Nachos ($10), a massive pile of nacho chips covered with cheesy deliciousness, jalapeños, salsa, and red onions. We also ordered chicken wings (ten for $8), and our experienced wings-eater described them as having a kick, but not of the thermonuclear sort.
The steak and cheese ($11) came with a full 8 ounces of shaved, medium-rare steak and plenty of cheese on a roll, and the burger and fries ($10) were also generously portioned. Our party who ordered the burger asked for it medium, but it came rather raw in the middle.
The Sauteed Shrimp ($11) was the star of the meal, exceeding expectations, by far. Tucked away on the appetizer menu, but definitely plenty filling enough as a meal, it was made up of about a dozen medium shrimp in a spicy tomato broth, served with a generous helping of garlic bread for dipping. Seriously delicious.
Brass Monkey hasn't forgotten the classics. There are plenty of burgers and pizzas on the menu, as well as interesting-looking options such as Narragansett Beer Battered Cod Bites and their Cuban sandwich, made up of  Genoa salami, smoked ham, Mojo marinated slow cooked pork shoulder, Swiss cheese, pickles and dijon mayo on a French roll
Their extensive beer list included Angry Orchard, Travelers Jack-O Pumpkin Ale, Nitro Milk Stout, Pabst Blue Ribbon, and over 30 other choices.
About a mile away from Roger Williams Zoo, Brass Monkey is the perfect place to stop right before you go to the Jack-O-Lantern Spectacular. Although the distance is short enough, I'd say don't walk from the restaurant to the zoo. For locals it would be fine, but out-of-towners could easily take a wrong turn here or there and end up lost down a dark alley. Let's not mess with Providence, shall we not?