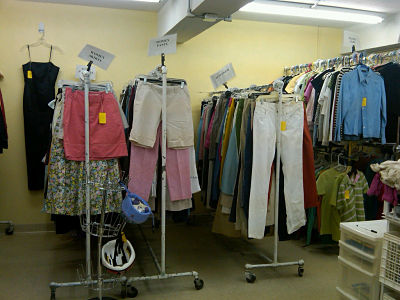 Shopper's Corner, Schofield Elementary School's PTO-run resale shop that sells sells gently used clothing, accessories and sports clothing, including skates and cleats at rock-bottom prices, is re-opening on Saturday, October 3, 9am – 11am. after its annual summer hiatus. The popular shop is opening a bit later than usual this year due to some construction over the summer at Schofield.
Established in 1954, Shopper's Corner stocks its inventory through consignments and donations. The Schofield moms are a stylish lot who like to keep the merchandise moving through their own well-appointed closets and straight through to their favorite school fundraiser. I once scored a fabulous pair of pristine Tory Burch white jeans for $3 (they retail for $185) that I wore until stains and dinginess eventually set in. All of this thriftiness translates into almost $10,000 every year to the Schofield PTO. Not bad.
Shopper's Corner is located in the basement of Schofield School at 27 Cedar St. The store is open during the school year every Wednesday that school is in session (starting 10/7), 8:30am – 12:15pm, and the first Saturday of most months (starting 10/3), 9am – 11am.
Also of interest…
Thrifting in Wellesley
Beyond Wellesley: thrifting at the Good as New Shop, Sherborn