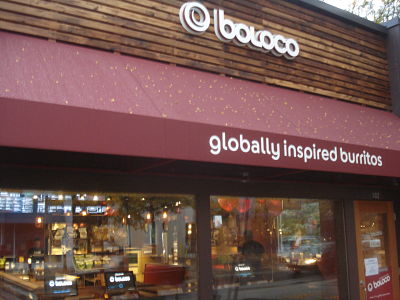 The Swellesley Report has learned that b.good, a restaurant chain whose motto is "real.food.fast", will soon be replacing the Boloco restaurant that moved into Wellesley Square at 102 Central St., in about 4 years ago.
Burgers, salads, kale and grain bowls, smoothies and veggies are among b.good's locally-sourced menu items. b.good has about 3 dozen locations in the Boston area and elsewhere along the east coast and even overseas, and is an active member of communities that it serves (have seen them doling out green smoothies at road races in recent years).
"As a Boston-based company we are very excited to spread to a new location like Wellesley," we were told by b.good.
Boloco employees at the Wellesley shop this week told customers the restaurant's last day will be Wednesday, Oct. 19, and that Boloco in Natick will also close.
That move was confirmed on Saturday by Boloco CEO John Pepper, who issued this note, explaining that Boloco is selling 5 restaurants to b.good. "For those of you asking the most important question in the world… WHY??!!… please know that were it not absolutely necessary to sell a few of our better-performing restaurants to make up for some bad decisions made a few years ago, we would never have done so. Both Natick and Wellesley have enjoyed immense loyalty despite our own imperfections. Thank you for that. I hope B.Good will be as fortunate – they are good people doing very good things."