Here's our round-up of the latest Wellesley business news.
Want to place a paid blurb in Wellesley Business Buzz or become this regular feature's sponsor? Let us know
Jacqueline's Bridal vows to open in square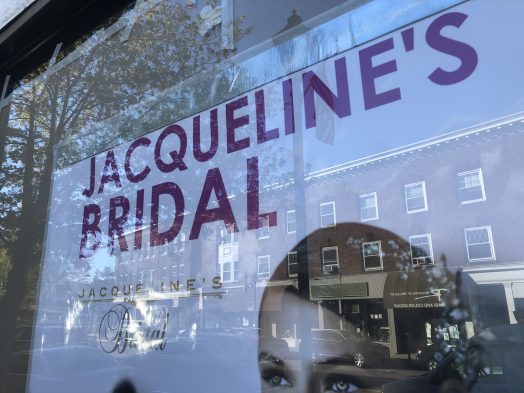 Jacqueline's Bridal shop, which currently has a location in Lexington, is readying to move its shop to Wellesley Square in the space at 555 Washington St. that appliance company Miele vacated last fall.
The business offers evening gowns and prom dresses in addition to bridal gowns and accessories such as veils and lingerie. Jacqueline's, the brainchild of designer and beauty expert Jacqueline Hormann, features well-known brands as well as its own.
"We love Wellesley and we are very excited to be in this beautiful location," Hormann says.
Wellesley Historical Society honors Anderson's Jewelers family
The Anderson family, which has owned Anderson's Jewelers in Wellesley since 1947, was the toast of Wellesley Historical Society's Swing into Spring fundraiser this past week at Wellesley Country Club.
The family's store, which sits at the intersection of Grove and Washington Streets, once the home of Seiler's Restaurant, was opened by John Walter Anderson and has since been the home away from home for many members of the family. Vickie Anderson Mancini wrote in the event program that the family has adapted over time to various fashion trends from circle pins and charm bracelets to bold gold jewelry and chains inspired by the A-Team's Mr. T back in the 1980s.
Red Sox World Series trophy in town
Red Sox employee Greg Rybarczyk, whose wife Tanya works at Elizabeth Seton Residence in Wellesley, recently arranged to bring the 2018 World Series trophy to the Catholic, not-for-profit skilled nursing and rehabilitation facility. The trophy also made its way to the neighboring Marillac Residence, where a 103-year-old woman (alive during the 1918 Red Sox World Series win) posed with the trophy.
Wellesley Theatre Project Teal Tie Affair on top May 17
Wellesley Theatre Project (WTP) will hold its Spring Soirée….A Teal Tie Affair on Friday, May 17 at 6:30pm at Wellesley Community Center, 219 Washington St.
This fundraisert will provide entertainment and fun for the whole family including a photo booth and performances by students. Tickets and silent and live auction sales help support this local nonprofit which has an active community service program and provides scholarships, after school programming, performance opportunities and theatre education to area youth. Tickets for adults are $65 and include food, open bar with wine, beer, and a signature cocktail; students are $25. To purchase tickets to the event, please visit
http://www.
wellesleytheatreproject.org
.
Want to place a paid blurb in Wellesley Business Buzz or become this regular feature's sponsor?
Let us know