Part of a series of occasional posts profiling places of worship in Wellesley.
New to Wellesley's religious landscape is Milestone Church, which is located at 42 Elmwood Road, formally Elmwood Chapel.  Milestone identifies as a life-giving Bible-based Christian church. After giving the interior  of this older structure a fresh coat of paint and some much-needed renovations, Lead Pastor Jay Mudd held the space's first services on Easter Sunday 2019. Pastor Mudd and his wife Holly were married in 2006 and have five children: Makayla, Adalynn, Louie, Zachary, and Rhett.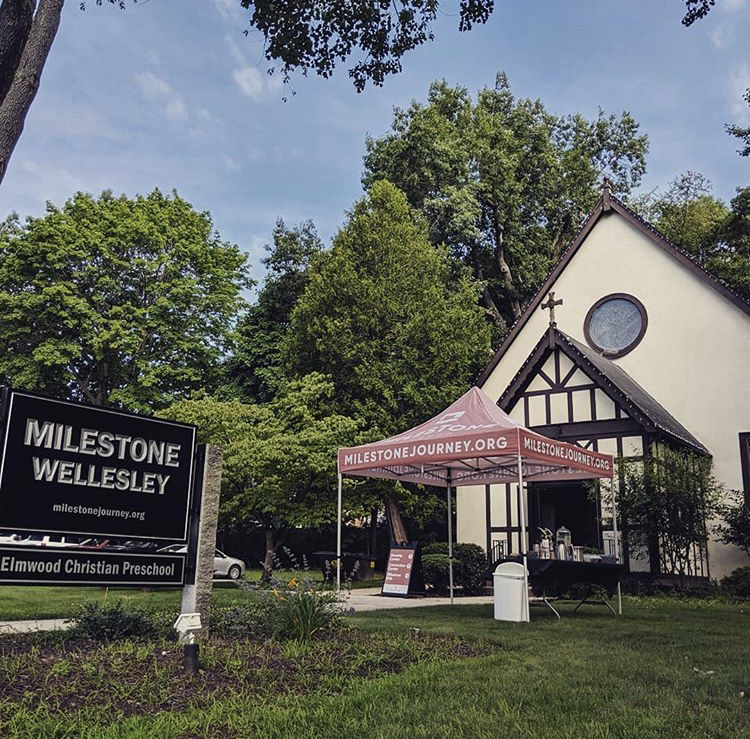 Milestone holds weekly Sunday services at 9am. Adults attend services at the Worship Center, and there are coffee and refreshments available. Kids (babies through grade 5) go to the Milestone Kids program where they participate in Bible-based activities. There are also activities for teenagers outside of Sunday mornings.
Elmwood Christian Preschool is affiliated with the church and operates out of three classrooms and a playground located on church grounds. Starting in Fall 2019 the preschool will offer a transitional kindergarten program in addition to their programs for children from ages 2.9.
There is an additional Milestone campus at 217 West Central Street in Natick.  You can learn more by visiting www.milestoenjourney.org
Summer fun
Milestone on Sunday, August 25, 4pm – 6pm will support the town of Wellesley with a Wellesley Friends and Family BBQ. There will be food, bounces houses, kids activities, and yard games like corn hole and spike ball. All are welcome.