Dedicated to not squandering the beautiful weather over Labor Day weekend, we started with a day trip to Newburyport, just over an hour's drive north of Wellesley.
Despite our lazy-bones 10am start, we made it to the popular coastal city without fighting too much traffic. We headed initially to Maudslay State Park, a Department of Conservation & Recreation (DCR) property. We had checked the library last minute for a parking pass, but someone had beaten us to it, so we paid our $5 parking fee via the Yodel app (cash didn't appear to be an option).
We parked at the main lot and ventured on our hike from there. We saw families with little kids circling in the parking lot, so there are options for biking as well. Our goal was to trek along the Merrimack River. A path led us through a meadow colorful with early fall goldenrod, Joe Pye weed, and asters, as we made our way to the river trail.
We saw a sign warning that part of the trail is cut off to the public Nov.-March due to bald eagle nesting, and in fact, several people along the way said they saw eagles either flying or perching. We weren't among these people, but we did hear what we think were eagles screeching.
One hiking tip we did pick up from a young girl along the way is that one's hair is a great place to store a candy necklace. What good is a conventional ponytail holder on a long hike when hunger could strike at any moment? If this young lady isn't involved with her local scout troop, she should be. Such survival skills should be passed along.
The trail is root-y at parts, smooth at others, but overall easy on the legs. We errantly wound up a little too close to the river bank on a trail we realized too late wasn't a trail. Markings are largely nonexistent on the section of trail where we walked for about an hour out and back, and indeed, throughout most of the property. The exception is a short, well-marked loop through a naturally-occurring stand of mountain laurels, one of the largest in the state according to DCR.
Overall, there are about 16 miles of trails in the park, which includes a long pond (Flowering Pond), which can be viewed via a couple of bridges, not that there was a ton to see on the day we visited. It's a dog-friendly park, and pooches were kept leashed by their owners. The area also is frequented by horses, though we only saw their telltale signs.
We ate lunch perched on a large rocky outcropping along the river across from a marina. We admit to having a bit of fun pretending we could have docked a yacht way better than the guy who was having difficulties—"Hard right! No, cut sooner!" When we got bored with that game, colorful bands of jet-skiers zipped by to keep us entertained.
From the park we headed into the bustling Newburyport business district, which has embraced outdoor dining. Numerous eateries were jam-packed with diners and drinkers during the early afternoon. Maybe this was the vibe way before COVID -19 shooed everyone outdoors for a couple of summers. Or maybe this city has always been willing to sacrifice a few parking spaces in the name of summertime fun. Whatever the reason, the highly visible crowd gave the area a lively, adventurous feel.
The shops in Newburyport were surprisingly non-redundant with those in Wellesley, mainly featuring unique offerings, including of a recycled variety. New England Sketch Book drew us in, and featured lots of whales on things. If you go to Newburyport, don't miss Oldies, a 30,000 square-foot antiques mall with over 100 vendors that's practically on the water. They've got everything from old typewriters and David Ortiz bobbleheads to license plates and jewelry. Huge farm implements and lots of old street, highway, and advertising signs, too.
Newburyport offers relatively cheap garage parking ($1-$1.50 an hour) and free street parking, though you need to change your street space every 2 hours until 8pm on Saturdays, and until 6pm on Sundays.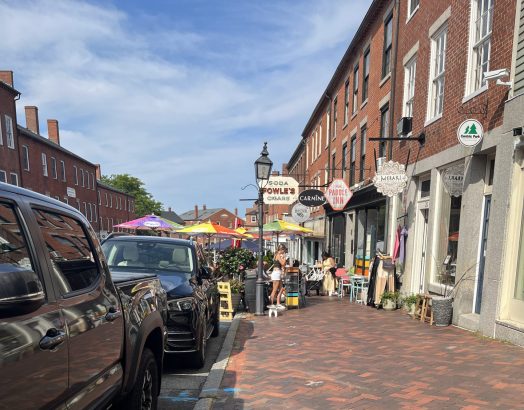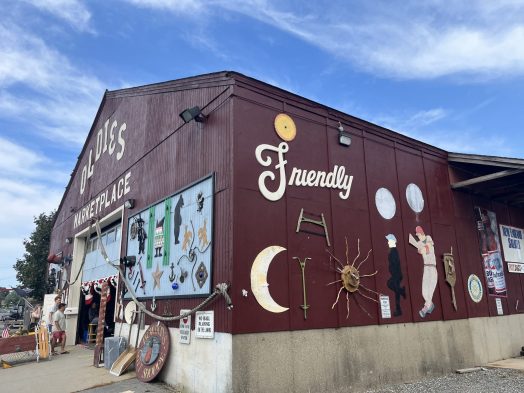 On the fly, we shifted to the water next, seeing that there was a 1-hour Yankee Clipper harbor tour ($23 per person) available at 5pm, as well as later 90-minute cocktail cruises aboard a 45-person vessel. Our boat offered cocktails and other beverages, too, as we made our way up and down the river. We were relieved the speaker system was on the fritz, allowing us to just hang and cruise without being educated about diving cormorants or famous residents. Sightings included a seal, an eagle, and some pretty sweet homes and boats. The boat has booth-style seating, so we got to know our table mates a bit—they brought binoculars, not a bad call for zooming on the birds. They were testing out the cruise to see if it might be appropriate for the guy's parents, and sure enough, it passed the test. Our skipper and mate were friendly and accommodating, and got us back in time for an early dinner.
We targeted Michael's Harborside for dinner, having been there once before years ago. It's a sizeable place with indoor, rooftop, and deck seating and bars. We probably could have waited out an outside bar spot, which is first-come, first-served, but opted for the easier route of an indoor bar seat.
The service was friendly and efficient, and our meals hit the spot. We tried out the grilled seafood (shrimp, scallops) over coconut rice with plenty of fresh green beans on the side; and swordfish tacos, which were filling and flavorful.
The night could easily have continued, but we were talking a day trip here, and while we did technically extend it into evening, we were satisfied with our adventure and headed home.
---