Even though Wellesley's most controversial piece of outdoor art — Tony Matelli's undie-clad Sleepwalker at Wellesley College — has moved on, Wellesley has lots of public sculptures, paintings and other art to admire, if you know where to look.
---
Contribute to the arts, as in the independent journalism of Swellesley! Thanks
---
Colleges
Babson College
The Babson Globe
Moved to Kerry Murphy Healey Park in 2019
Former location at Coleman Map Building
Babson Beaver at Webster Athletic Center
A little child will lead us (near Glavin Chapel)
Babson Totem outside athletics center
Previous location closer to athletics center
Burned at the stake memorial (outside Coleman Hall)
Ominous Ikon #6 and smaller Yaddo Study, both made of Corten steel and located behind Kriebel Hall (by Dennis Kowal)
Bird at Park Manor South (no longer on display as of 2016)
Wellesley College
John Rood's Persephone, installed outside of Bates Hall in 1952. (More from Wellesley News)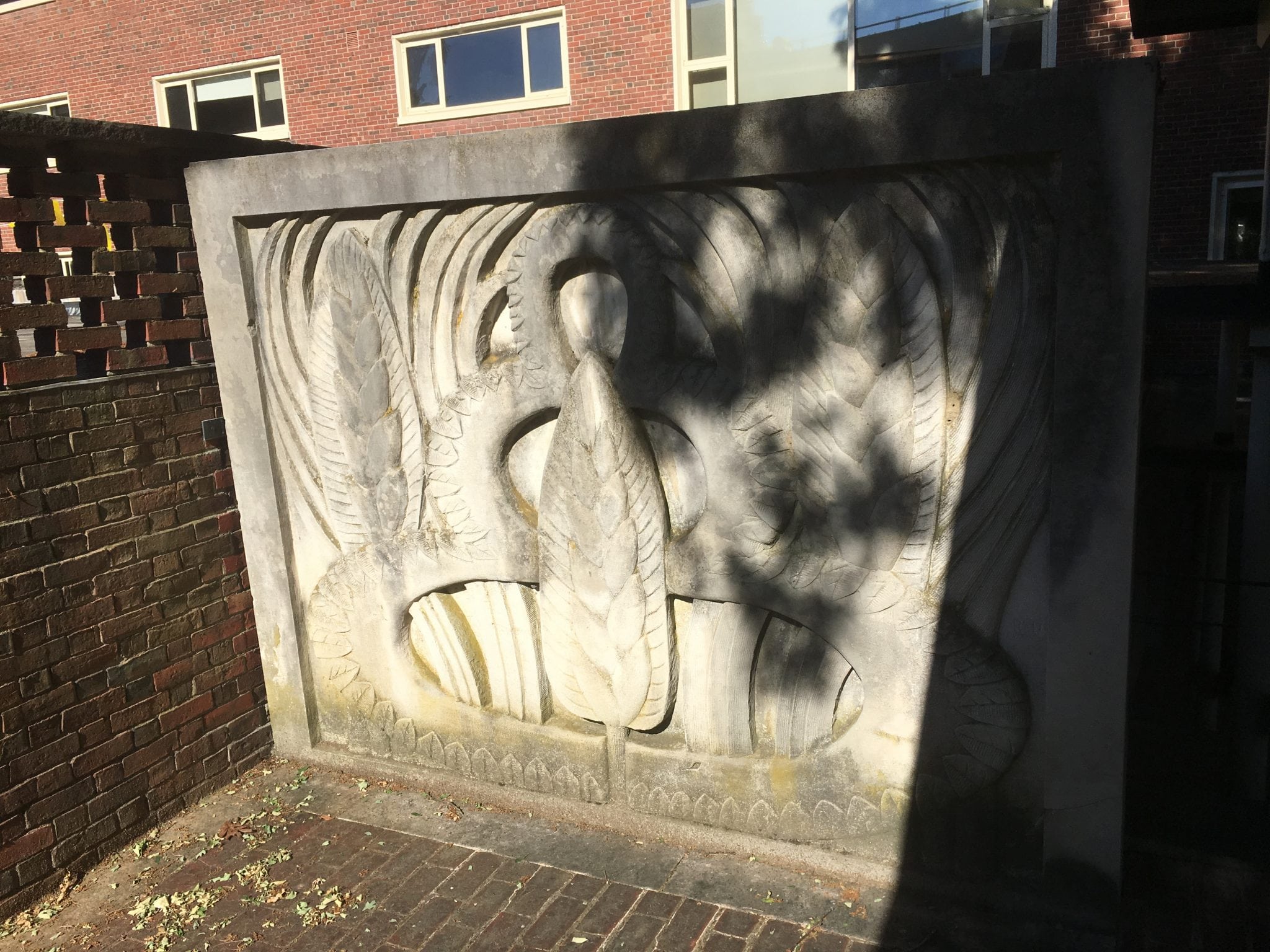 Clement Meadmore's Upsurge sculpture in front of Alumnae Hall, installed in 2012 (more from Swellesley)
Kenneth Snelson's Mozart III has been on campus since 2008 (originally loaned, then gifted)
Wellesley College Clapp Library Greek Goddess sculptures in bronze: Hestia (goddess of the hearth, 1913) and Athena (goddess of wisdom, 1912)
Hestia
Athena
Robert Irwin's Untitled (Filigreed Steel Line for Wellesley College) along shore of Lake Waban near Clapp Library
Shechinah Temptations (1976) by Jules Olitski, Wellesley College academic quad (had once started to sink, so was relocated on campus)
Two-faced woman at Tower Court (trying to get more details on this…)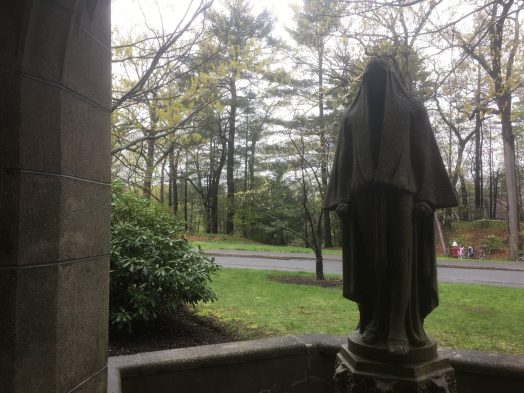 Michael Steiner's Long Spread (1974)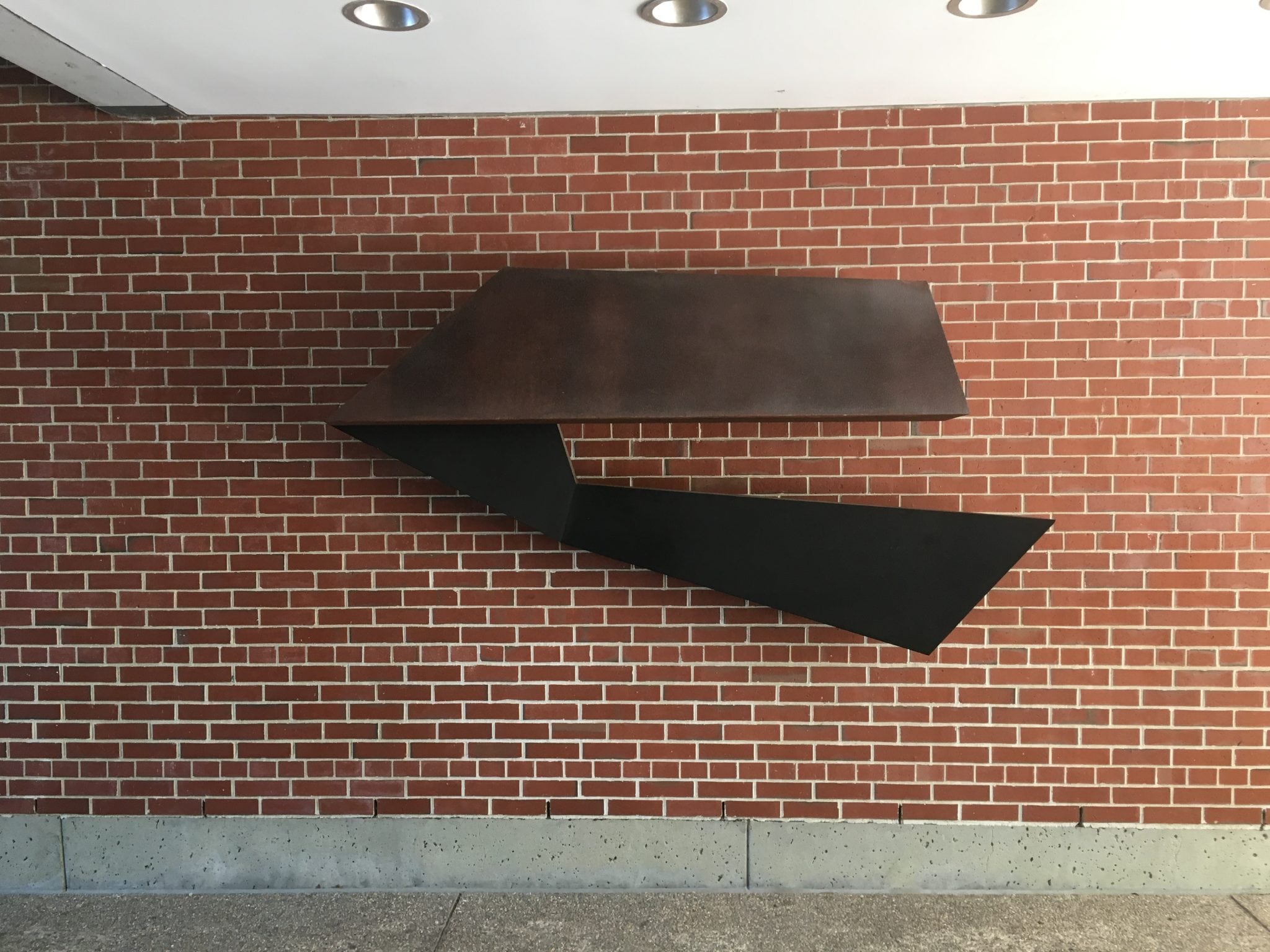 Wellesley College's outdoor sculpture map
MassBay Community College
Liminal Bloom, Andy Zimmerman
Wellesley Square
Kepes panels at Wellesley Free Library
"Reaching for Knowledge" by Nancy Schön was installed at the Wellesley Free Library entrance in October, 2023. Schön, who created the bronze sculpture, is an internationally known artist, whose most famous local work is the Make Way for Ducklings sculpture in the Boston Public Garden.
Girl with the Butterfly (Merrilyn D. Marsh)  in Central Park at intersection of Central and Grove Streets
Church Square bench at Terrazza
K-12 Schools
The Grandmother Steps, by Louise McCagg, at Dana Hall School, outside the dining center
Saliba Courtyard at Dana Hall, located between the Upper School Classroom Building, the Lucia Farrington Shipley Science Center and Helen Temple Cooke Library Building. According to Dana Hall: "The architect of the Courtyard is Tom Wirth, who has contributed to PBS's This Old House. Stone sculptor Roger Hopkins, who has narrated a PBS piece on Stonehenge, placed, sculpted, and polished rocks that were mined in a quarry in Chelmsford, Mass. The Courtyard design combines concentric circles in the midst of granite pavers and brick walkways. The center circle surrounds an in-ground fountain. The area closest to the Classroom Building offers a small patio with wooden benches. Many trees, including five large gingkos, enhance the Courtyard."
Fenway mural at Upham (by Priscilla Christie). This mural has been painted over with the Upham Eagle….
Bonus (Fenway yard on Amherst Street)
Chalk outlines at Hardy Elementary School (Weston Road)
Hands wall at Bates Elementary School
Dana Hall School
Places of worship
Animal Lover (Merrilyn D. Marsh) at Cloister Garden at St. Andrew's Episcopal Church
Caron Tabb's "Prisoner a-7713: Antisemitism = Racism = Hate Sliding Back in Time Or, Did We Actually Ever Move Forward?" at Temple Beth Elohim's courtyard  (10 Bethel Rd.)
Town buildings
Memorial to fallen officers at Wellesley Police station (dedicated in 2005)
Town Hall bell
Linden Square
LINX mural (painted over in 2023 to make way for Goddard School)
Alexander Golob's 600-foot long mural, "Crayon Box."
Mural in front of Linden Store (removed 2022)
Hunnewell Field
Trees on restroom building near tennis courts (removed 2022, building replaced)
Waban arches
Graffiti
Lake Waban
Hunnewell Topiary along trail around Lake Waban (now off-limits by Hunnewell family)
On the border
Goddesses of Horticulture (Flora, Ceres, and Pomona) at Elm Bank Reservation. Technically, Elm Bank Reservation's Mass Horticultural Society has a Wellesley address, although the land in the park is in Dover.
Electrical boxes around town
The Wellesley Public Art Committee and Wellesley Police Department have joined forces to run this program of converting bland electrical boxes into work of art. You can check them all out via this online map.
Yard art
The buck tree on Overbrook Drive
Squirrels and friends tree carving at Squirrel Road and Woodlawn Avenue
No longer here
Tony Matelli's The Sleepwalker, at Wellesley College, 2014.
MORE: Creative spirit recycled at Wellesley Dump Art Day (2016)