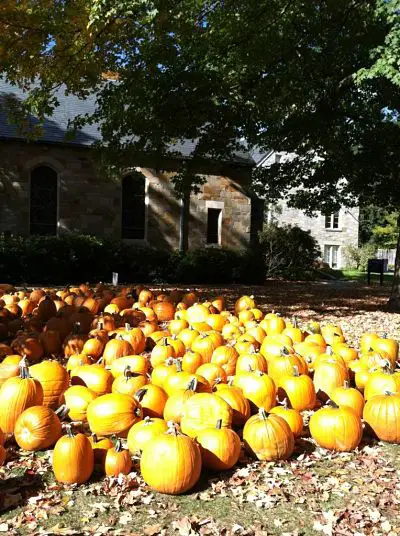 Here's a sampling of Halloween activities in Wellesley this fall (feel free to let us know of other activities):
*Wellesley Hills Congregational Church: The pumpkins arrive on Oct.14…
*The annual Bates Elementary School Pumpkin Fair is slated to take place on Saturday, Oct. 14 at the Elmwood Road school from 10am-2pm. As usual, it will feature a chance to buy pumpkins, get spooked at a haunted house, plus take part in assorted games and activities, enjoy live entertainment, and have refreshments.  Lots of prizes and old fashioned Halloween fun are promised at this family friendly event, which is open to the public.
*Come dressed in your Halloween best on Friday, October 27 for our creeptastic Halloween Spooky Storytime in the Wellesley Free Library Story Hour Room (4-4:45pm). We will read some spooktacular Halloween stories, dance to some spooky songs on the ukulele and parade around the Children's Room to show off our costumes. Drop in, no registration required.
*UU Wellesley Haunted House, 309 Washington St., Sat., Oct. 28th. Enjoy Charming Enchanted Chapel (ages 3+) from 3-5 pm or our Horrific Haunted Hallway (teens only) from 7-9 pm. $5 per child or teen ($10 max. per family) for unlimited walk-throughs. Cider and treats available for purchase. For more info, go to: http://uuwellesley.org/haunted-house or email [email protected].
*Wellesley Hills Merchants' Halloween Parade on Saturday, Oct. 28, starting at 11am at across from Wellesley Hills train station and ending at Clock Tower Park.
*Join us for Sing and Swing – Happy Halloween with Deb Hudgins on Monday, Oct. 30 morning from 10:30-11:15 am at Wellesley Free Library. Preschool kids and their grown-ups will enjoy singing, dancing and movement along with stories and a variety of fun props including rhythm instruments, scarves and more. Drop into the Wakelin Room for this fun program. No registration is required.